Star Wars, mobile and free-to-play: Ubisoft's bid to transform its business
CEO Yves Guillemot: "Other publishers buy companies, we try to build things"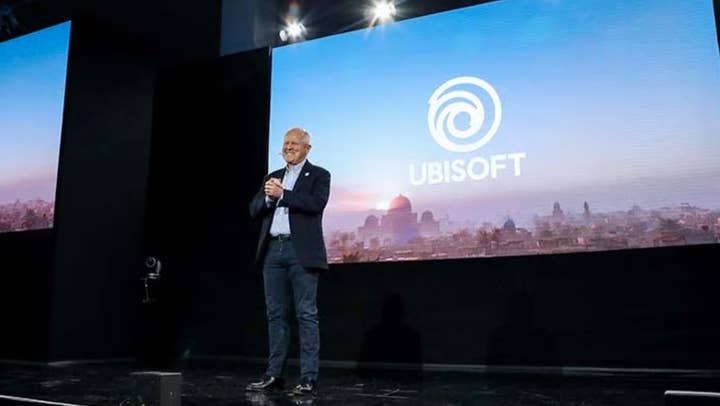 In my view, one of the best games of last year was by Ubisoft.
Mario + Rabbids: Sparks of Hope is a wonderful strategy game, and I'd picked it to be a breakout hit. Its predecessor had exceeded ten million players, it was the Mario game of Christmas, and its only real competition was Pokémon, which was arriving a month later.
It didn't quite work out that way. It would be harsh to call the game a flop, but it missed Ubisoft's targets significantly. In fact, it was a disappointing Christmas overall for the publisher, with Just Dance 2023 failing to hit the financial mark, too.
Ubisoft pointed to a growing trend, partially driven by the current economic climate, of gamers gravitating towards the bigger brands. And when you look at the record-breaking performances of games like God of War, Pokémon, Zelda and Hogwarts Legacy, there's certainly evidence to support that analysis.
"The market is suffering a little bit with the inflation situation," Yves Guillemot told GamesIndustry.biz during the firm's Forward event last week.
"It's a shame the industry isn't putting more effort into getting together to show their games"
"There's more pressure on all the families to be more careful. We see that everywhere... we met with a first-party partner at midday, and they have also seen the influence of the economic conditions on how much people are buying.
"Although, I think it was a different issue with Mario. We had already released a Mario Rabbids game [on Switch], so by doing another we had two similar experiences on one machine. On Nintendo, games like this never die. There are 25 Mario games on Switch. Nintendo [has advised] that it's better to do one iteration on each machine. We were a bit too early, we should have waited for [the next console]."
(I, for one, am glad they didn't.)
"Because you could play a great game. And we think it will last for ten years, because we will update it for the new machine that will come in the future."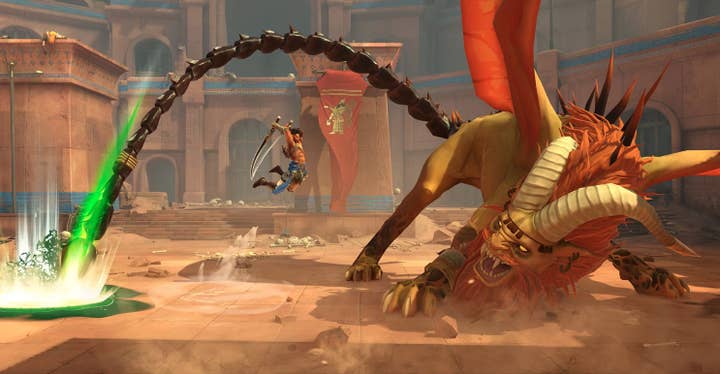 Mario + Rabbids aside, Ubisoft has re-evaluated its slate on the back of a disappointing year. There have been redundancies to some areas of the business, and it has cancelled projects. The firm says it will be focusing more on its bigger IP, such as Assassin's Creed, and bringing those to more platforms.
Considering the economic situation and overall consumer trends, it sounds like a prudent business decision. However, part of Ubisoft's success has been its penchant for trying new things and building new brands.
"We are taking advantage of opportunities to make sure the brands we create can be played by more people across the world," argues Guillemot.
"It's very important to concentrate on that. Having Assassin's Creed on mobile means that game can be in more territories and more people will experience it. This will enable us to increase the budget so we can create and innovate within the brand.
"I just met some Star Players [Ubisoft fans that the company invites to its events] and they told me they never thought they'd play a Division game on mobile – they are Division fans. But they played it today and are now going to get it, because it got to the essence of what The Division is. It's just another way to experience the brand.
"Ubisoft is putting more energy into the big brands, but we still have quite a lot of new things on the way. So there is no worry to have on that front."
Indeed, Ubisoft had some big games at its Forward event last week (and we'll come onto those), but there were new things, too. And some oddities. There was a TV show called Captain Laserhawk. Skull and Bones was here with its own sea shanty. Skating game Roller Champions is doing a tie-in with cult Dreamcast favourite Jet Set Radio. New shooter IP XDefiant received a spot. And one of the biggest surprises of the week was a 2D Prince of Persia platformer.
None of those were the headline acts, of course, and last week Ubisoft had three. There was the new Assassin's Creed game, Mirage, plus two AAA open world titles based on massive movie franchises - Avatar: Frontiers of Pandora and Star Wars Outlaws.
"There are plenty of diversified experiences that you saw," Guillemot comments. "The last one that we announced, Star Wars, had a fantastic reaction. I think out of the games we have, this one will also be huge. Avatar is also something I'm sure people will want to get into… Assassin's Creed, it's a different format, but many people have asked for it. And for The Crew, it's the third iteration for that series, and we've had excellent feedback."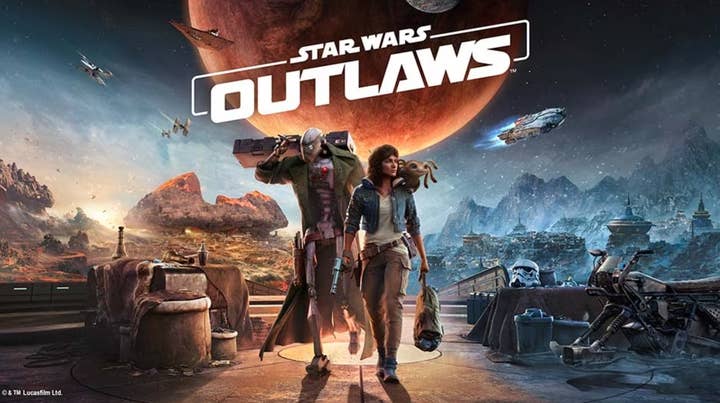 With a line-up like that, you can see why Ubisoft was the only major games publisher to publicly commit to E3, before pulling out when it became apparent few others would be joining them.
"I miss E3 a lot," Guillemot says. "I think it's a shame the industry isn't putting more effort into getting together to show their games. At the same time, as there are not may publishers out here, we can spend more time with the journalists. They can spend hours with our games, having also done that with Microsoft and Summer Games Fest before.
"But we don't get the same level of [mainstream] attention when it's only two or three publishers."
The game that is closest to release on Ubisoft's slate is Assassin's Creed Mirage in October. As Guillemot says, this game isn't the same format as the more recent Assassin's Creed titles, including the huge 2020 hit Assassin's Creed Valhalla. Whereas the last three titles have been more like RPGs, Mirage is more akin to the stealth action games of past Assassin's Creeds. As a result, Mirage is very much a game for the fans.
"Ubisoft is putting more energy into the big brands, but we have still quite a lot of new things on the way. So there is no worry to have on that front"
"We approached this as… how can we please Assassin's Creed fans," Guillemot says. "What do they want to experience? We test these games with them on a regular basis to see if they like it, and some want us to go back to that [old style]. This is a different Assassin's Creed to the last three."
It's still an ambitious undertaking, however. For Mirage, Ubisoft's teams have gone about recreating ninth century Baghdad, the remains of which are largely lost to time.
"Here you have Baghdad as it was at that time, it's just amazing to discover that," Guillemot says. "I think it will please many players to be able to go there and learn about that civilisation and how advanced those guys were. It was the centre of all the economic world at that time."
Assassin's Creed is Ubisoft's own IP, but its other big two games last week were both licensed IP. Guillemot tells us that the decision to work on Star Wars and Avatar was not so much a business decision, but a creative one.
"It was our teams that wanted to explore those universes and create something special, which is why we moved in that direction," he tells us. "There are lots of Star Wars fans within Ubisoft and they wanted to be able to take the Ubisoft open world and [combine it] with Star Wars. It was a dream for many of the creators. So we said okay, we'll do it. The passion we see in the team, it's impressive.
"We had people go to [Avatar and Star Wars developer] Massive, they moved to the country… or worked at distance, just to be part of that experience."
"We will create our own AAA mobile games, and we'll work with other publishers, too"
The fourth game that Guillemot listed was The Crew Motorfest, which is the third game in Ubisoft's racing series. It's not a series that gets a lot of media attention, but it's got a fanbase and has been a consistent performer.
"When The Crew 2 was introduced, it didn't get all the attention it could have had because it was new but without all the functionality of The Crew," explains Guillemot. "People thought it was good on certain aspects, but everything wasn't in it. With Motorfest, we are coming with everything that was in The Crew 2 plus lots of innovation. That will help people to recognise what the brand is capable of."
Although there were plenty of big games from Ubisoft on display, there were also quite a few missing. Skull and Bones, which has been continually delayed and is running a closed Beta in August, only received a brief mention (and a song). Beyond Good and Evil 2 hasn't been seen for six years. The remake of Prince of Persia: The Sands of Time was scrapped and restarted.
Ubisoft isn't the only company to suffer from development challenges. The COVID-19 lockdowns have played havoc on dev schedules across the industry. Yet Ubisoft has also faced serious workplace misconduct scandals, which has caused major disruption at some of its larger studios.
Nevertheless, Guillemot tells us that the issues these games have faced are more to do with the wider challenges of building AAA games today.
"It's just difficult to create new brands," he explains. "When you look at Rainbow Six Siege, it was six years in the making, Assassin's Creed was around the same. The Division was seven years. To create games that are very different to what we are all used to… you need iteration, you need time. The more innovative it is, the more time it takes. So that's why."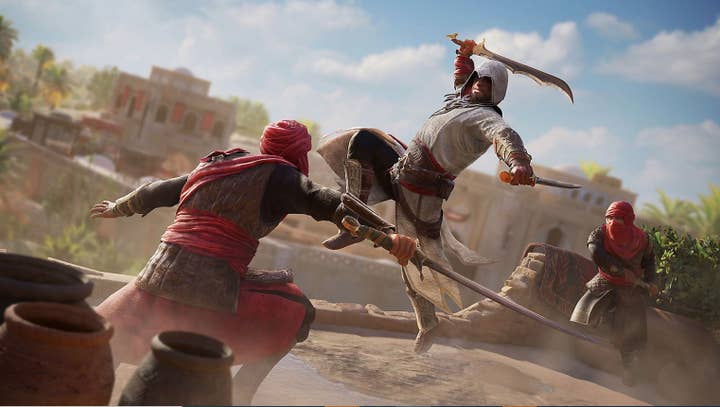 The challenge for Ubisoft is to develop a business that simply isn't reliant on having a major game or two every year. The issue with its last financial results wasn't that Mario + Rabbids and Just Dance underperformed, but the fact the company was reliant on them in the first place.
Ubisoft's competitors such as EA, Take-Two, and Activision all have numerous major service-based games that ultimately drive their performances. Ubisoft's live-service and mobile games aren't quite at the same level, and it doesn't have the ability (or the inclination) to simply buy itself a Zynga or a King.
This is why Ubisoft is often the first to jump in on new things, whether that's a platform, or a business model, or a technology like VR or Blockchain. Even if it had the capital, it's not in its nature to buy its way into these spaces should they take off, and so it gets involved early.
Yet Guillemot believes that Ubisoft has the brands, and the partners (including major shareholder Tencent) to help it get to where it needs to be.
"Those other publishers… they buy a company. We try to build things," Guillemot says. "Having said that, Activision was able to do a deal with a Chinese publisher to do Diablo and Call of Duty [on mobile]. So we have done a bit of the same. We will create our own AAA mobile games, and we'll work with other publishers with some of our brands, too. It takes a little bit of time, especially when you enter a new world like free-to-play."
He concludes: "If you look at our last Assassin's Creed… it did more than $1 billion in revenue. Rainbow Six is also doing well and we are coming with Rainbow Six Mobile, which will help reach a broader audience. We are growing our brands. And it's our goal to make sure our plans become bigger for these games, as well as creating new things, too."