Square Enix president says blockchain will be a "major strategic theme" in 2022
Yosuke Matsuda predicts rise of decentralised gaming will be driven by users who "play to earn" or "play to contribute"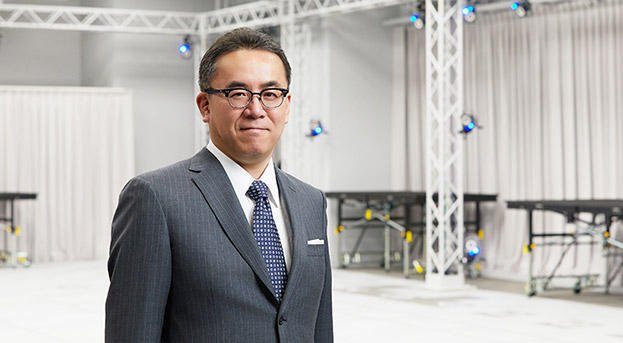 Square Enix president Yosuke Matsuda has emphasised the importance of blockchain, NFTs and decentralised gaming to the future of the Japanese publisher.
In his New Year's Letter, the exec commented on the biggest trends of 2021, including the metaverse and NFTs, with a significant amount of his post dedicated to the latter.
He referred to 2021 as 'year one' for NFTs and "a year in which NFTs were met with a great deal of enthusiasm by a rapidly expanding growth base." He also reiterated Square Enix's interest in 'token economies' in games powered by blockchain technology, noting that the increasing number of people who "play to earn" suggests this will gain momentum in 2022.
"I realise that some people who 'play to have fun' and who currently form the majority of players have voiced their reservations toward these new trends, and understandably so," he wrote. "However, I believe that there will be a certain number of people whose motivation is to 'play to contribute,' by which I mean to help make the game more exciting.
He claimed that traditional gaming offers "no explicit incentive" for anyone who wants to play to contribute, linking it to the limitations of user-generated content, which he says exists only for self-expression and has not produced "major game-changing content" so far.
But he claims token economies will provide those incentives and therefore motivation, which will lead more people to devote themselves to contributing to a game economy.
"From having fun to earning to contributing, a wide variety of motivations will inspire people to engage with games and connect with one another," he wrote. "It is blockchain-based tokens that will enable this."
Matsuda added that he hopes decentralized gaming will become "a major trend in gaming going forward," and that building such titles into Square Enix's portfolio -- as well as traditional games -- "will be a major strategic theme for us starting in 2022."
In his post, Matsuda did acknowledge the controversy around NFTs, citing "examples here and there of overheated trading… with somewhat speculative overtones" that goes beyond the observed value of the NFT.
He agrees that this is "obviously not an ideal solution" but predicts an "eventual right-sizing" as sales of digital goods become more commonplace, adding: "I look for them to become as familiar as dealings in physical goods."
NFTs and blockchain have become divisive terms in the games industry over the past year, and Matsuda's comments have been met with criticism among developers on social media.
Nonetheless, Bloomberg (as spotted by VideoGamesChronicle) reports Square Enix's share price jumped 8% on the first day of trading after the letter's publication -- the biggest single-day rise since August 2021.
We've made our stance on the current state of the technology clear, although our contributing editor Rob Fahey notes that the concept of 'play to earn' -- people using these titles as a source of income -- is one to watch.
There are a few big names heavily investing in NFTs and blockchain games -- most notably Ubisoft, which has introduced its first NFTs into Tom Clancy's Ghost Recon: Breakpoint. GSC Game World announced plans to implement them into the upcoming Stalker 2 but scrapped this just two days later after backlash from fans.
Veteran developers Will Wright and Peter Molyneux are also adding NFTs into their current projects, both working with cryptocurrency gaming platform Gala Games. Meanwhile, Valve has banned developers from distributing blockchain games and NFTs via Steam.
Elsewhere in the letter, Matsuda also commented on the increasing interest in the metaverse, which he believes "will likely see a meaningful transition to a business phase in 2022, with a wide range of services appearing on the scene" and "bring about changes that have a more substantial impact on our business as well."
Finally, he expects cloud technologies to continue improving, adding that Square Enix will be "making ample investments in the cloud space."