Sony's PlayStation profits slump 86 per cent in Q3
Falling hardware and software sales lead to collapse in operating income, portable forecast slashed by 3m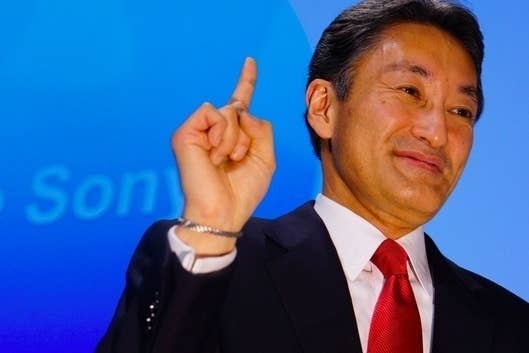 Sony's games business suffered a tough third fiscal quarter as operating income slumped in the face of disappointing hardware and software sales.
For the quarter ended 31 December 2012, Sony's games division posted revenues of ¥268.5 billion ($2.86b/£1.82b), down 15 per cent year-on-year from ¥316.1 billion - or 18 per cent on a constant currency basis. Operating income was in steeper decline, falling from ¥33.8 billion a year ago to just ¥4.6 billion ($49m/£31.3m) in the third quarter - a drop of 86 per cent.
These results were driven by declining returns right across Sony's hardware and software line-up. Sales of the PlayStation 2 and PlayStation 3 - Sony started to combine its console and portable sales last year - were down year-on-year, from 7.4 million to 6.8 million units. The company's full-year forecast remains unchanged from November, though the 16 million unit sales it expects is still 2 million fewer than the previous fiscal year.
The PSP and PlayStation Vita fared slightly better, with unit sales up from 2.4 million to 2.7 million. However, any apparent improvement is mitigated by the fact that the PlayStation Vita was only available in Japan for two weeks in the third fiscal quarter of the prior year.
Sony clearly expected a much stronger showing from its portable hardware, and has lowered its full year expectations from the 10 million expected in its November forecast to 7 million now.
In the presentation materials that accompanied the financial results, Sony highlighted the "slow penetration" of the PlayStation Vita as a major ongoing problem. At present, Sony's strategy is to tackle the Vita's slow progress with a strong software line-up, though a large number of Vita owners are still complaining of an absence of compelling games for the platform.
Certainly, an injection of new games would be welcome, as software sales were down on both console and portable hardware: Packaged game sales on PlayStation 2 and PlayStation 3 fell from 68.7 million units to 61.7 million units year-on-year, while PSP and PlayStation Vita software fell from 11.4 million units to 8.9 million.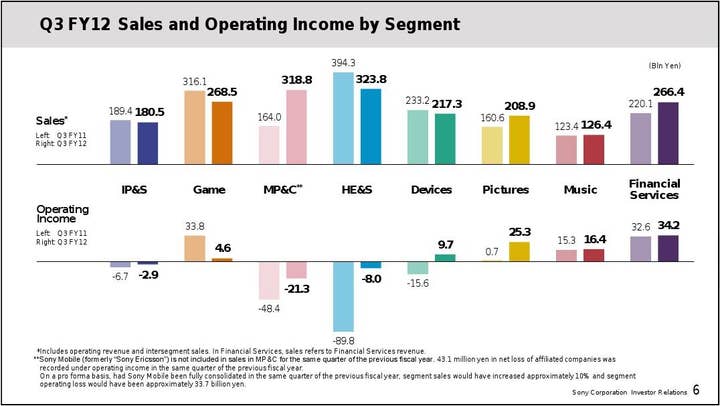 Overall, the Sony Corporation showed faint signs of recovery. Total revenues were up 6.9 per cent year-on-year to ¥1.95 trillion ($20.8b/£13.3b) - 3 per cent on a constant currency basis - though Sony attributed the change to the favourable depreciation of the Yen and the consolidation of Sony Ericsson in February last year.
The company made a net loss of ¥10.8 billion ($115.1m/£73.5m), significantly lower than the ¥159 billion loss it posted in the same quarter a year ago. This was helped by a marked improvement in its Mobile Products & Communications division, which, while it still made a loss overall, saw a 94.4 per cent increase in revenue.
Other Sony divisions to make an operating loss were Image Products & Solutions and Home Entertainment & Sound.
Sony is hosting an event in New York City on February 20 that is widely expected to be the reveal for new PlayStation console.
The investor call which followed the release of the results revealed little else of the future of the games division, with Corporate Executive Officer, EVP, and Chief Financial Officer Masaru Kato keeping his cards close to his chest in answering questions on the subject.
Kato deflected questions on any new platforms, but reassured investors that the corporation still sees a long future ahead of the PS3 and reiterated that profit is now made on every PS3 sale.
He was a little more open on the prospects of the Vita, recognising that the handheld hasn't reached its expected potential.
"One thing is clear for us," he told listeners. "In terms of profitabillity we have to do a better job of promoting the Vita." Software was highlighted as the key factor in improving Vita sales, with Kato singling out high-quality third-party software as an essential step towards success.
Generally, however, Kato was cautiously optimistic about the future of the games division, seeming to indicate that home consoles specifically are one of the healthiest parts of the entire company's business. "Although we have reduced forecasts on many product lines, mobile phones and home game devices haven't been revised," Kato pointed out. "That should give you an idea of our confidence in the division."