Sony reveals developer-centric PlayStation 4
Update: System architect Mark Cerny unveils console, specs, streaming and peripherals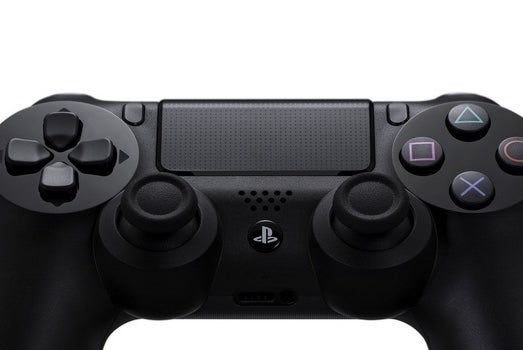 At its press conference this evening, Sony finally announced its next-generation console offering, the PlayStation 4, for release in "holiday 2013."
Sony Computer Entertainment CEO Andrew House set the stage for the reveal, talking up the PlayStation ecosystem so far. According to House, Sony has been focusing on "reconceptualizing how the next-gen gamer would want to play PlayStation." The company expects to "revolutionize not just the console," but also Sony's "entire portfolio of products."
"Our goal was to create an architecture that would facilitate the expression of [developer] ideas"

Mark Cerny
Sony's new lead system architect Mark Cerny came on stage to detail the new console, citing an 8-core x86 processor, "enhanced GPU", 8 GB of unified GDDR5 memory, hard drive, and a secondary custom chip to handle social features and uploads/downloads.
The system will come with Sony's new DualShock 4 and a stereo camera peripheral to track position of controller. The new DualShock will feature enhanced rumble, reduced controller latency, a touchpad, share button, headphone jack, and lightbar to identify players.
According to Cerny, Sony was looking to "create a platform by game creators, for game creators." Sony stuck to a few main design principles for gaming on the PlayStation 4: Simple, immediate, social, integrated, personalized. Cerny also showed off the title he is currently directing: Knack, an action-adventure title by Japan Studio, featuring a small robot who can form himself out of various part around the world.
"Our goal was to create an architecture that would facilitate the expression of [developer] ideas," said Cerny.
For players, the PlayStation 4 will feature an instant suspend and resume feature, not unlike a portable console. The system is also heavily built around the cloud and social sharing.
With the DualShock 4's share button, players can stream video to friends instantly, with the second custom chip handling encoding and uploading. Video compression and decompression is handled on the fly, allowing for seamless uploading of gameplay. Sony's ultimate goal is to make game video sharing "as easy as sharing of photos is today". The custom streaming hardware also allows players to being playing digital titles immediately, while the game is still downloading.
Gaikai CEO Dave Perry then came onstage to announce the full integration of Gaikai with the PlayStation 4 console. Sony is partnering with Facebook and UStream to make the entire system work.
"What we're creating is the fastest, most powerful network for gaming in the world," said Perry. "With Gaikai cloud technology, our goal is to make free exploration possible for any game in the PS4 library."
Not only can players send their live gameplay to friends with the share button, friends will also be able to jump in and remotely play for you. Developers can also insert buttons into the steam, allowing friends to drop special items into your game. This remote play also extends into allowing PS4 gameplay streams to run on the PlayStation Vita. Cerny demoed Knack on the Vita, controlling and viewing the game on the portable, while the PS4 was doing all of the hard work.
Perry said that the eventual aim of Gaikai was to allow gamers to play PlayStation 3 games "everywhere" and on any device. Sony has greenlit the expansion of the Gaikai network to build "the world's fastest gaming network" worldwide.
UPDATE: Sony has released documents showing the system specifications for the PlayStation 4 and its accessories.
According to the first document, the PlayStation 4 will feature:
CPU: x86-64 AMD "Jaguar", 8 cores
GPU: 1.84 TFLOPS, AMD next-generation Radeon based graphics engine
Memory: GDDR5 8GB
Storage: Hard Disk Drive Built-in, Blu-ray Optical Drive (BD 6x, DVD 8xCAV)
Misc: USB 3.0, Ethernet (10BASE-T, 100BASE-TX, 1000BASE-T), IEEE 802.11 b/g/n, Bluetooth 2.1, HDMI, Analog-AV out, Optical Digital Output
Sony will also be releasing a PlayStation App for iOS and Android, allowing players to use their tablets and smartphones as second screen for their systems. This is not unlike Microsoft's Xbox SmartGlass app currently available on Android and iOS.
According to the second released document, the DualShock 4 will have a stereo headset jack for the Mono Headset that will be bundled with every PlayStation 4. Unlike it's predecessor, the DualShock 4 can also charge while the PlayStation 4 is on standby. The updated PlayStation Eye for the new console will include two cameras and four microphones, so players can control games with body movements or vocal commands. The Eye also has face recognition, allowing visual user logins.