Sea of Thieves to shift to battle pass model
Rare is introducing a new seasonal progression system starting January 2021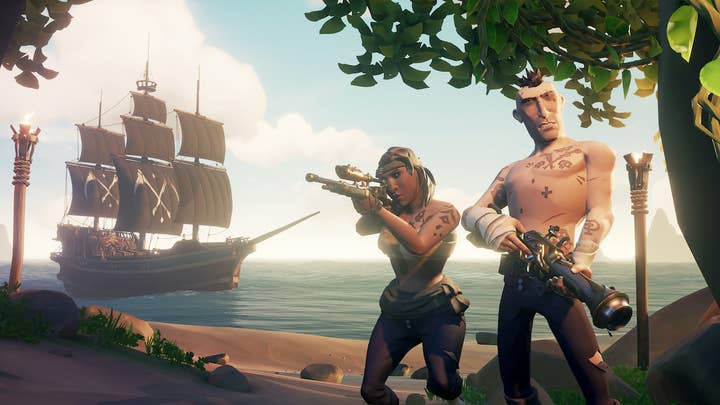 Sea of Thieves is moving to a seasonal progression system, with the introduction of a battle pass, starting January 2021.
In developer Rare's latest video update, creative director Mike Chapman explained that, after a year and a half of updating the game on a monthly basis, Sea of Thieves is moving to a new system with the introduction of seasons -- a model adopted by games such as Fortnite or Fall Guys.
"Each season will last approximately three months and will begin with a new piece of content, a new experience or way of playing," he explained. "Alongside that, over the three months, there will be regular and featured live events."
These events will bring new rewards to players, with quality of life patches and updates being implemented regularly as well throughout the seasons. This new seasonal progression system, which Chapman said was the "biggest change in [Sea of Thieves'] progression system since launch," will also come with an optional premium tier. Called the "Plunder Pass," it will give access to unique rewards and exclusives to those who buy it.
"What's really exciting for us is that outside of the progression system that's already there, you can feel that sense of progress each time you play," Chapman said. "So even if you don't finish your adventure, you still feel that tangible sense of progress when you play Sea of Thieves."
Season 1 will start in January, but the precise date has yet to be announced.
In addition to this new system, executive producer Joe Neate announced that Rare will be focusing on Sea of Thieves' Adventure mode going forward, as 97% of play time is spent in that mode, as opposed to its competitive mode, Arena.
Arena will continue to be a part of Sea of Thieves, and Neate said the studio will keep it running, but it won't be investing future development time on new features for the mode.
11 million people played Sea of Thieves this year alone, Neate also revealed, with the Steam launch in June bringing one million new players during its first month. At the moment, the player base is divided equally between PC and console, he added.
Sea of Thieves passed the 15 million players milestone over the summer.