Rovio ups the ante on Angry Birds marketing
Angry Birds Action! is a new pinball-styled game to serve as the focal point for marketing around The Angry Birds Movie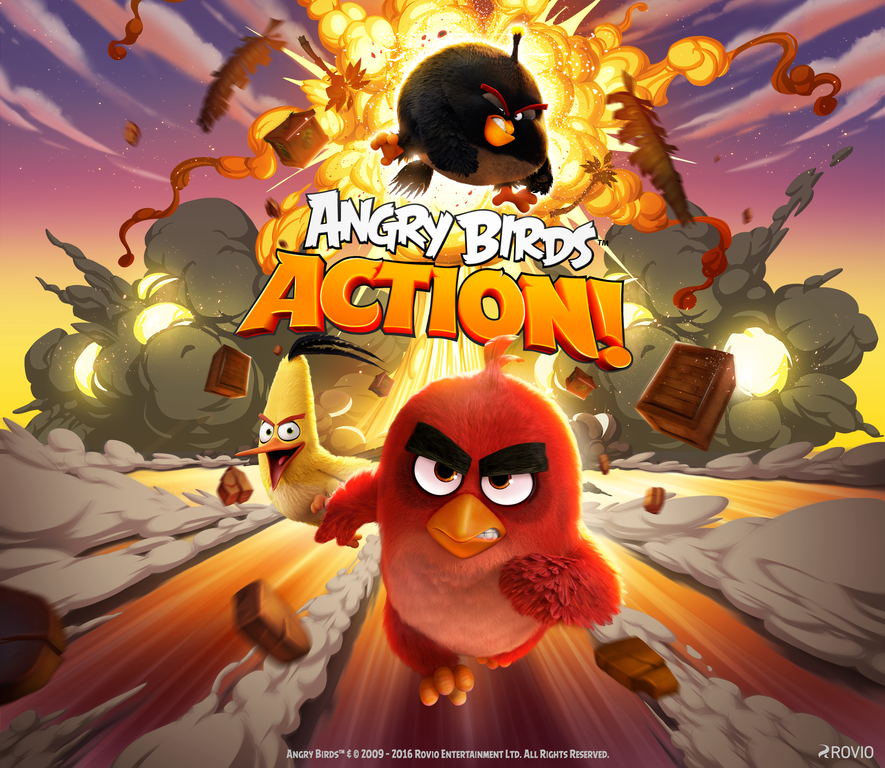 Angry Birds maker Rovio has had a rough go of it. In the last few years since the company announced that it would be making an Angry Birds movie, multiple rounds of layoffs have led to total headcount being cut roughly in half, CEO Pekka Rantala stepped down after just a year on the job, and its head of games Jami Laes parted ways with Rovio. All told, calendar 2015 was a year of struggle with an operating loss of almost $15 million.
Now, however, Rovio feels it's poised for a bounce-back year, with The Angry Birds Movie leading the charge when it hits theaters on May 20. The company today announced a new Angry Birds mobile title, Angry Birds Action!, a pinball-styled experience that will leverage its movie momentum. Miika Tams, Rovio VP of Games, told us that the game would be instrumental in getting the Angry Birds fan base adjusted to the new look of the characters and the universe depicted in the film.
Unlike past Angry Birds games, Angry Birds Action! will have characters with limbs and personalities and they won't use slings. "When companies start updating the look and feel it becomes a contentious issue sometimes, but we love the way the new characters look and we love the extra life they bring into the stories of the games and the film," Justin Chacona, director of digital marketing at Rovio Animation Company, told us.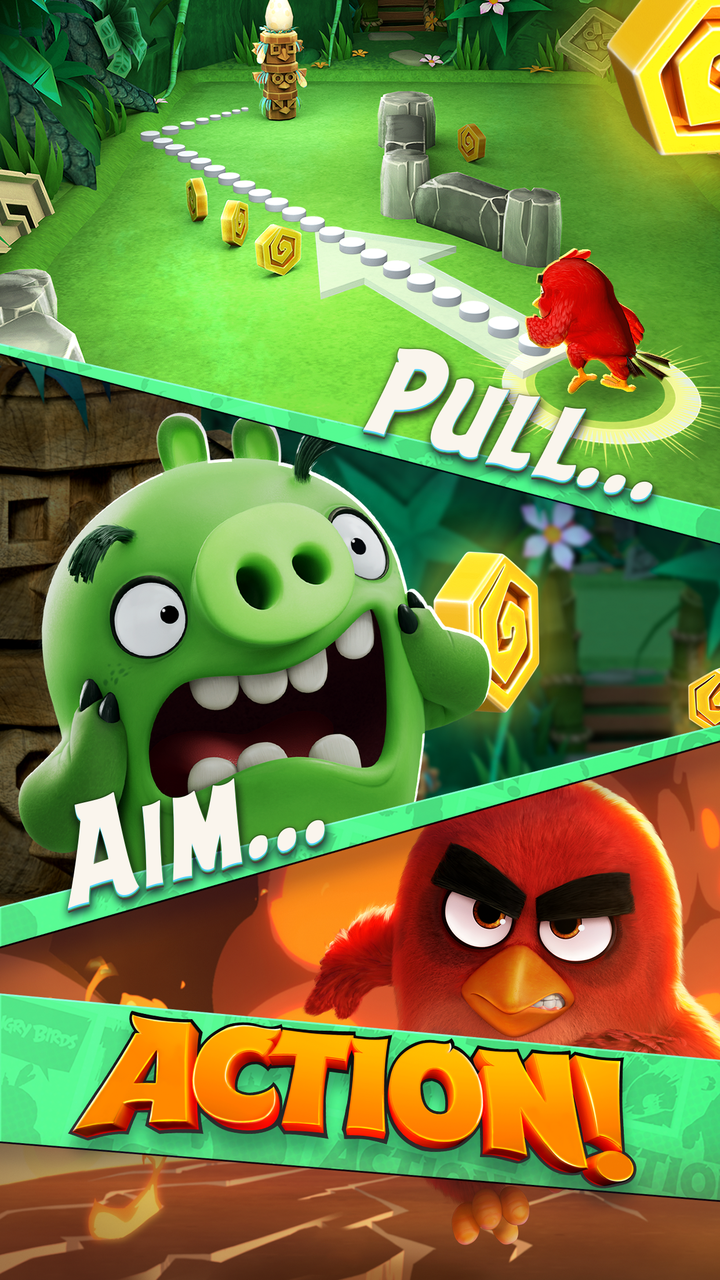 Where the marketing really comes into play is through something called BirdCodes. Rovio has teamed with over 20 retail partners globally, including McDonald's, Lego, Pez, Walmart and H&M, to circulate over a billion BirdCodes on consumer products or on retail displays. When these codes are scanned via Angry Birds Action! they unlock additional content and bring certain real-world objects to life with augmented reality features. For example, a BirdCode on a McDonald's cup can be scanned for an instant whack-a-pig mini-game or the movie poster can be scanned to unlock a 360 version of Matilda's Hut (a location inside of the film). Additionally, thanks to Rovio's partnership with Lego, there are six Angry Birds Lego sets already available, and the BirdCodes on the instruction booklets bring the sets to life in the app.
Rovio's tease to the media hinted at "unprecedented digital-physical integration," and while our minds instantly thought of the toys-to-life market, clearly the company had other ideas in mind.
"We were actually thinking of how to keep as much as possible in the digital world," Tams explained. "We didn't want to create something where you necessarily have to buy [extra] physical products. You can enjoy the experience without having a toy."
Chacona added, "Obviously we have a very big fanbase that is extremely loyal and dedicated to seeking out different games and initiatives that we have. But what we wanted to achieve, especially on the heels of the film coming out, is we have an entire scope of people that haven't played the games before. We've been around seven years now and there are younger audiences that have grown up outside Angry Birds' timeframe, so this is a way for us to reach new audiences as well."
Angry Birds Action!, developed by Tag Games, will be free-to-play like all Rovio titles, and will feature in-app purchases, but Tams believes that the widespread implementation of BirdCodes at retail will give people an added value and ability to unlock new features and power-ups without spending more on in-game items.
Not only that, but Rovio wants to make sure that movie goers are incentivized to get Angry Birds Action! prior to seeing the film. Bringing your phone to the theater during opening weekend and keeping the game open during the credits will lead to a whole new area of the game to explore and an additional exclusive movie clip that can't be seen anywhere else but inside Angry Birds Action! The way it works is that the game has been programmed to detect an inaudible digital watermark that plays only behind the end credits.
Obviously, Rovio has a lot riding on both the movie and the Angry Birds Action! launch, but the firm is optimistic that the investment will pay off.
"We didn't want to go the route of having a traditional movie game. We wanted to create a new, cool experience around the movie. We trust the new universe, we trust where we are going. And from a business viewpoint, we've been profitable [in 2016] and we're doing better this year with the new games coming out. With Angry Birds Action! we wanted to build this campaign around the movie and then obviously continue building the game," Tams said.
"The film for us is the biggest undertaking we've ever made as a company, so it's obviously very important for us, but we view it as just an evolution of where we're going as entertainment company"

Justin Chacona
Chacona added, "Of course the film for us is the biggest undertaking we've ever made as a company, so it's obviously very important for us, but we view it as just an evolution of where we're going as entertainment company and as a brand, versus just a games company that is trying to make a movie. We have always tried to be an entertainment company and this is just a new venture that we're going down and we're very excited about the film. It's got a great voice cast and has been doing very well so far with the clips we've released online... so we are very optimistic that this will be a great year for us."
While Rovio has dabbled in IP outside of Angry Birds, the company has never really managed to succeed with anything on the same scale as its core Angry Birds franchise. Rovio, however, isn't concerned about being pigeon-holed into being just the Angry Birds company.
"We are doing different things. We've got the new Battle Bay currently in a soft launch, so we are definitely innovating and trying new things, but at the same time, we are really happy with Angry Birds; it's a big brand and opportunity for us," Tams commented.
Ultimately, Rovio is hopeful that it can build a portfolio to rival the top entertainment firms in the world, and to that end, Chacona said Rovio has only just begun.
"In the big picture, we've only been around for seven years and when you look at other comparable brands in terms of brand awareness like Disney or Marvel they obviously have the scope of different characters but they've also been around for decades," he said.
"Of course, we'll always have the ambition to do something new and fresh and offshoot this and spinoff that, but we also love and respect the Angry Birds brand because it is all uncharted and we've made an origin story film essentially that we've had the freedom to develop completely on our own. We don't have 50 years of comic books that we have to adhere to in order to meet the fans' expectations because of this or that. We actually have a brand that we can create as we go along, which is very unique in many respects. I think we'll always be exploring and trying new things but we'll never dismiss the importance of the Angry Birds brand."