Representation of Black women in video games is on the rise, but there is still room to grow | Opinion
Javon Goard explores the lack of Black female leads in AAA blockbusters, and why Forspoken ought to be the first of many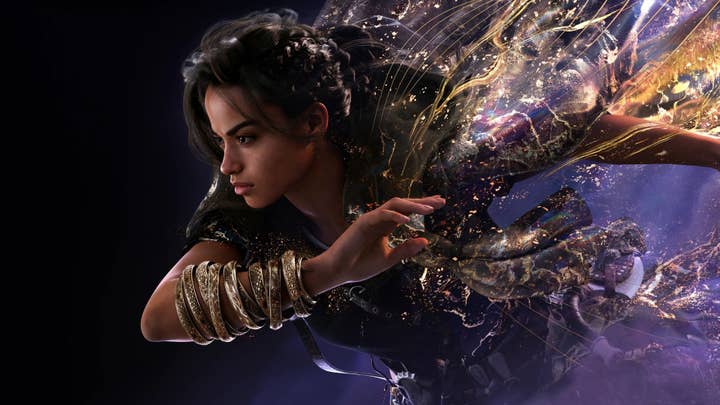 Forspoken is one of the few AAA video games within the past five years to have a Black female protagonist.
Despite the warm reception for Alfre 'Frey' Holland, the game's energetic and sharp-witted heroine, games publishers and stakeholders still need to reassess their apprehensions and invest in publishing Black-led characters — especially Black women. If there continues to be slow growth in the development of Black-led characters, the AAA sector of the games industry will continue the fragmentation of its Black consumers.
While Black female characters exist in games, they are not often the main characters. For example, 2022 had the release of major titles with Black characters (i.e., Angrboda from God of War: Ragnarok and Sojourn from Overwatch 2). Angrboda is relevant to the narrative in God of War: Ragnarok, but she is still a supporting character the player interacts with via a separate protagonist. Sojourn is a playable character in team-based shooter Overwatch 2; however, there are no protagonists or main characters in team-based games. Both these characters are utilized differently as a part of the player experience — and either way, the player is not adopting the digitized lens of a Black female protagonist.
Black female leads are not entirely unheard of in video games — but they rarely headline the AAA blockbusters
It is not as if gaming studios no longer have room for Black women as lead protagonists in certain genres. The shooting game genre is a prime example. We have games based around military vs. military conflicts (Call of Duty franchise), military vs. aliens (Halo franchise), military vs. robots (Overwatch franchise), military vs. dinosaurs (2020's Second Extinction), and military vs. demons from hell (Doom franchise). If a person did not know any of these franchises, what would be the assumed gender of the protagonists? I argue most would still see an image of a male figure as the main protagonist.
Now, women are represented in action-centric games such as Kait Daiz from Gears of War 5, Dani Rojas from Far Cry 6, and Bayonetta from Bayonetta 3. The issue remains that Black women are not just underrepresented in the shooting genre, but in many other genres as well.
Black female leads are not entirely unheard of in video games — they can be found as far back as (likely further back than) 1999's Urban Chaos and its heroine D'Arci Stern. But they rarely headline the AAA blockbusters.
Dandara's titular character, Children of Zodiarcs' Nahmi, and Subnautica: Below Zero's Robin Ayou are from indie titles, albeit ones that gained critical acclaim. Assassin's Creed, Uncharted and Dishonored relegated their Black female leads to expansions and side stories, such as Assassin's Creed: Liberation's Aveline, Uncharted: The Lost Legacy's Nadine Ross and Dishonored: Death of the Outsider's Billie Lurke. Even Half-Life fan favourite Alyx Vance was only playable in her VR spin-off. The mobile market has begun to showcase more black women such as Insecure: The Come Up Game, based on the hit HBO show, Insecure.
The NPD Group (now Circana) has published the Top 20 best-selling games in the US every year since 1995. Within this 27-year time frame, there has never been a Black-female-led video game listed on the Top 20 best-selling video games list. (An argument can perhaps be made for Niobe in 2003's Enter The Matrix, but even then, she's one of two main characters)
Black men are represented in recent years, but not by much with characters such as Franklin Clinton from Grand Theft Auto V, Jameson Locke from Halo 5: Guardians, Bayek from Assassin's Creed: Origins, and Colt from Deathloop. This highlights that games with Black characters typically involve them doing some violent action.
The Madden and NBA 2K franchises also typically make the Top 20 list every year, so apparently in the absence of violence Black characters are most likely to sell if they play sports. They are relegated to certain archetypes to ensure the game sells to a mostly White male cishet audience. This audience is willing to continue investing in a game, just as long as the changes are not too radical — just look at the backlash against EA and DICE when Battlefield V prominently featured women.
So Forspoken and its Black female protagonist is a notable rarity. Unfortunately, the game released to the public in an underwhelming state.The initial quality of the game does not necessarily determine its overall financial performance. No Man's Sky and Cyberpunk 2077 went from glitchy messes to playable titles, thus leading to new sales.
Black characters should not be thought of as some random component, but an ideological position in which to say all walks of life belong in video games
Black-led games should have the same opportunities for representation and maturation of the gameplay experience as any other game. And if the character's identity is salient to the narrative, then let their identity be informed by individuals who live and hold those identities — race, gender, religion, and so on.
Forspoken may have left many wanting more, but the developers are committed to giving more, although given Square Enix's decision to fold Forspoken developer Luminous Productions into its main organisation after what it deems to be lacklustre sales, it remains to be seen whether the game gets a second chance.
Square Enix deserves kudos for positioning a Black woman to take the lead in introducing players to its fictional world of Athia. Regardless of sales performance, incorporating Black characters should not be thought of as some random component. Rather, an ideological position in which to say all walks of life belong in video games.
Sign up for the GI Daily here to get the biggest news straight to your inbox