Redfall devs cite unclear direction, high turnover, low headcount for game's shortcomings
Speaking with more than a dozen devs, Bloomberg details a troubled move to multiplayer for the immersive sim studio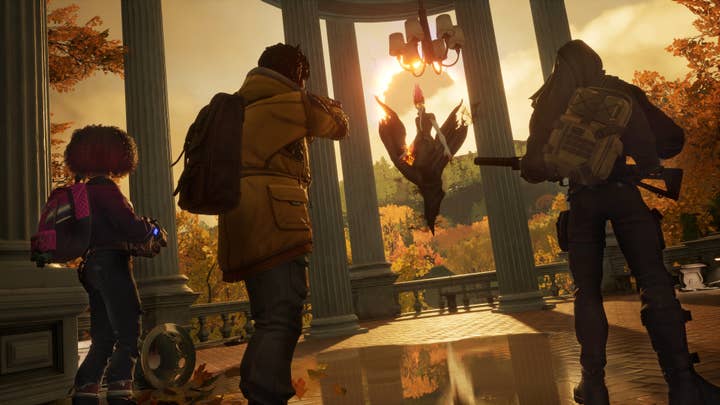 Sign up for the GI Daily here to get the biggest news straight to your inbox
Redfall developers have said the disappointing vampire shooter's development suffered from unclear direction, high turnover, and a team that was too small to realize its ambitions.
In a new report, Bloomberg spoke with over a dozen sources that worked on the title. Some sources said that ZeniMax's push to make it a games-as-a-service title was a key influence in the game's development.
When Redfall's development started in 2018, ZeniMax encouraged studios to create live service titles following the success of titles such as Overwatch and Fortnite. It also began pushing game markers to make monetization options within their titles, as seen with Fallout 76, Doom Eternal, Wolfenstein: Youngblood, and other releases.
Harvey Smith and Ricardo Bare, co-directors of Redfall, explained the project to employees as a "multiplayer Arkane game." However, there was uncertainty among staff that what the studio specialized in would be technically feasible in a multiplayer game.
The project's direction was unclear as management used different games as referrals, such as Far Cry, an open-world FPS, and Borderlands, a RPG shooter. These opposing examples resulted in departments having different understandings of what they were developing.
Arkane's Austin office had fewer than 100 employees working on the multiplayer shooter, with plenty of turnover on the team. By the end of Redfall's development cycle, 70% of the Arkane Austin team that developed Prey had left the company.
Aggravating the turnover problem was ZeniMax's struggle to fill roles following departures, which was attributed to a reputation for lower wages and not convincing developers to move to Texas, a state known for conservative politics.
In addition, due to the project's secrecy at the time, job listings did not specify that roles were for a multiplayer team title. As a result, job applicants typically expected to only work on single-player experiences of the sort for which the studio was known.
Following Microsoft's $7.5 billion acquisition of ZeniMax, developers on Redfall believed that the studio would shift to a single-player game or get canceled. Instead, however, Microsoft would let ZeniMax operate as it has before.
The title would go on to see a number of delays until its May launch, and Arkane's first Xbox exclusive would release to low critical scores.
The report on Redfall's troubled development comes nearly a month after Xbox head Phil Spencer acknowledged it had technical issues and a critical response beneath Microsoft's expectations.
Spencer said in part, "We have to be transparent about what we're showing, that what we're showing is representative of what our console customer, our most committed customer to our brand, financially committed, what they're going to see, what they're going to play. And our transparency just has to be better."
Sign up for the GI Daily here to get the biggest news straight to your inbox