Online gaming disorder test calls for volunteers
Academics plan to use the data to further study the impact of newly-classified condition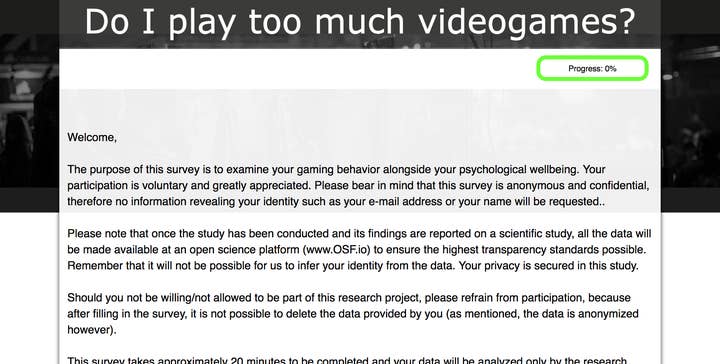 A new online test has been launched to help better identify the effect of gaming disorder.
The condition was recently classified by the World Health Organisation, and now a team of academics from the UK, China and Australia have compiled a test that will generate data for a more extensive study into the disorder.
Spotted by Eurogamer, the test -- entitled 'Do I play too much videogames?' -- takes about 20 minutes to complete and asks various questions about the user's gaming habits. They are given a score out of 20 upon completion, with five or more indicating higher tendencies towards gaming disorder.
The test also offers suggestions as to what is motivating the disorder in that particular user, such as competitiveness, and also scores these out of 20.
Users must be at least 12 years old to take part, and must have permission from a legal guardian if they are under 16. The test is voluntary but the data it generates will contribute to the team's scientific study, which will be published at a later date.
Lead researcher Dr Bruno Schivinski said the purpose of the test and its associated study is "to understand the point at which gaming becomes a health problem", as well as the factors that contribute to it.
Gaming disorder, as defined by the WHO, refers to "a pattern of behaviour characterised by impaired control over playing games, to the extent that playing them takes precedence over other interests and daily activities."
The industry reaction to the classification has been largely defensive, with trade bodies such as the ESA insisting there has not been enough research to warrant it being included in the International Classification of Diseases.
Writing for GamesIndustry.biz, UKIE CEO Dr Jo Twist said the existence of gaming disorder "remains, and will remain, a point of debate for years among health professionals."
However, our own Haydn Taylor offered insight into why there may be value in such a classification.