One month left to win a GamesIndustry.biz UK Best Places To Work Award
Request your surveys now for a chance to take part in the free event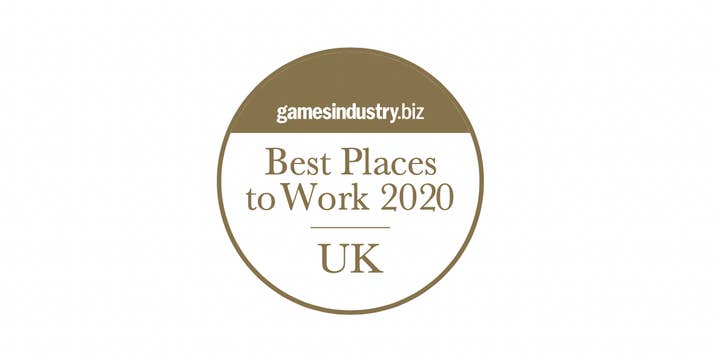 There is just under a month left to take part in the UK GamesIndustry.biz Best Places To Work Awards.
The event is part of our GI Live series of shows. It is free to take part and open to all UK games companies -- including developers, publishers, retailers and service companies.
Submissions require an employer survey to be filled in, and for employees to complete a staff survey. This can take several weeks, and both parts of the awards need to be completed by Thursday, August 13th.
To request the forms, click here.
The winners of the awards will be revealed during a special digital event on Friday, September 18th. Alongside an awards ceremony, the event will feature talks on topic such as handling abuse allegations, the impact of COVID-19 on the workplace and improving the diversity of your teams. The event is presented by Amiqus, and also sponsored by Playground Game. You can register for a free ticket here.
The Best Places To Work Awards badges will be awarded to all companies who score highly in the surveys. We will also hand out special awards for excellence in diversity, health & wellbeing, learning & development, CSR (Corporate Social Responsibility) and Crisis Management (a new award following the pandemic). There will also be awards for the highest scoring small, mid-sized and large company and the UK's best boss. Amiqus will also present a special G Into Gaming prize for diversity.
The awards are judged via a two survey system -- one for the employer to fill in and another for the employees. The results of those surveys determine whether you will receive one of our Best Places To Work badge. We've made some changes to this years survey to reflect the changing landscape, with input from experts in company culture, HR and recruitment.
All responses are entirely confidential and deleted once the judging is complete. Businesses that do not receive a high enough score will not be named.
Participant can receive a short report from us for a small fee (this is entirely optional) featuring their overall employee scores and how they compare so that they can identify any areas of improvement.
If you're interested in sponsoring this year's event, contact charlotte.nangle@gamesindustry.biz.