Omdia: Biggest subscriptions opportunity in mobile is casual and cloud | GDC 2022
Research firm's George Jijiashvili explores the scope for this increasingly prominent business model and its relationship with players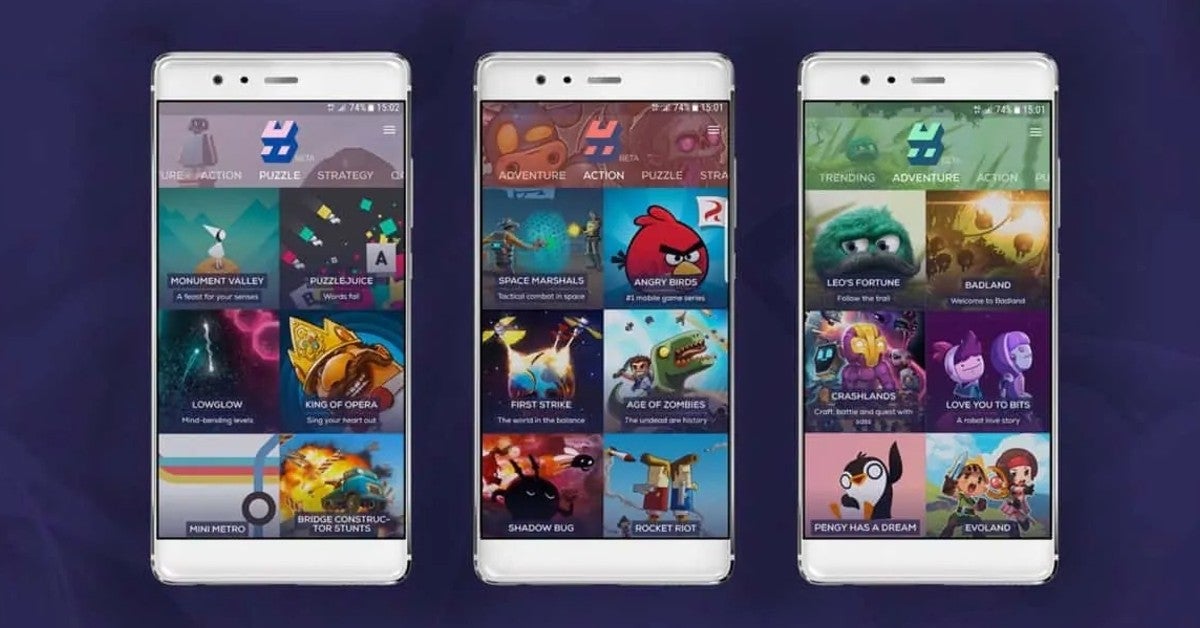 Casual audience and cloud gaming hold the key to subscriptions' future in mobile.
That's according to Omdia's principal games analyst George Jijiashvili, who gave a talk during GDC 2022's Free-to-Play Summit in San Francisco earlier this week on the challenges and opportunities for anyone considering using a subscription business model in their titles.
"The biggest opportunities I'm seeing are in the casual cloud gaming content service and cloud PC services," he told attendees.
"You might remember Hatch, Rovio's cloud gaming service that they tried but shut down last year. I didn't really understand the point of streaming mobile games on your phone when you can just download them. I just didn't really see the proposition there.
"Having a service that lets you try out lots of games instantly through cloud gaming - even though they're mobile games - is actually an interesting proposition"
"But the more I think about it, the more companies I speak to in the space, I'm actually seeing why there's quite a big opportunity in actually streaming free-to-play games and other types of mobile games."
He cited two key reasons, the first being discoverability. Jijiashvili posits that few people regularly delve into app stores to seek new games. Even when they do, they need to wait for the download and installation to complete -- short though this may be compared with console and PC titles -- before they can even try it.
"There's just a lot of friction," Jijiashvili said. "So by just having a service that lets you try out lots of games instantly through cloud gaming -- even though they're mobile games -- is actually an interesting proposition."
He observed that Chinese megacorp (and the world's largest games business) Tencent is running such a service called Game Matrix, which even streams more intense titles like PUBG -- and it has proven to be popular.
The second reason is that developers looking to break into markets such as Brazil, Africa, and India will face additional obstacles with mobile games designed to be downloaded on the latest smartphones.
"Even though the smartphone penetration is very high, the average smartphone has got very low specs and they can't run many of the leading mobile game titles natively. That's why, for example, PUBG Lite exists in India.
"I think there is an opportunity to essentially deliver these games through cloud gaming to people in emerging markets. And because of the speed with which we're seeing the connectivity rise, thanks to the 5G rollout, the rate of connectivity in these markets will far outstrip the availability of high-end smartphones."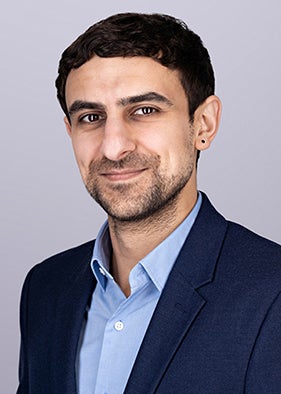 As for cloud PC gaming services, Jijiashvili says Nvidia has previously reported the most popular games on its GeForce Now service are free-to-play.
"We all know there are a lot of incredible free-to-play games out there. It's just not everyone has a powerful enough PC to run them. So there's an opportunity through cloud gaming to reach that audience in those markets."
He added that Omdia expects there to be more than 12 billion devices capable of cloud gaming by 2025, around half of which -- 6.04 billion to be precise -- will be smartphones. Also reaching the casual audience will be 899 million smart TVs and 779 million tablets, and a significant amount of casual gamers will have access to the 2.2 billion PCs on the market.
The number of fast broadband and 5G connections is forecast to rise by 266% between 2021 and 2026, from 1.6 billion to 5.9 billion.
Jijiashvili began his talk by breaking down the different types of subscriptions currently used across the games industry. These are:
Library-style subscriptions that offer a range of games from multiple developers, such as Xbox Game Pass and PlayStation Now
Those that offer a range of games from a single developer, such as EA Play and Ubisoft+
A range of games provided by a telco or service provider, such as Vodafone's GameNow and Telenor Pakistan's Gamebox
A subscription to a single game, such as World of Warcraft or World of Tanks
A subscription to a single game where gameplay is only part of the offering, e.g. Roblox (with its game-making tools and user-generated content) and Fortnite (with its in-game concerts and experiential events)
Games-related subscription services, such as Twitch and YouTube Gaming
He then explored the impact of subscriptions on other forms of entertainment, noting how quickly the business model has dominated music and video. By 2025, Omdia estimates that digital subscriptions will account for 85% of all music revenues worldwide, while in video they will account for 89%.
"Because there's more publishers looking at subscriptions more seriously, there are more games on these services that people actually want to play"
It's worth noting, too, that the rise of subscriptions have not only offset the decline of physical and digital retail, but also grown the markets overall. By Omdia's estimations, music revenues will have grown from $20 billion in 2010 to $36 billion in 2025, while video will have grown from $39 billion to $107 billion.
With subscriptions so rapidly becoming the dominant model in these sectors, why have they been slower to have the same effect on games? Jijiashvili cited many reasons, including low awareness of these service, technical shortcomings, low global penetration of fast internet, the limited availability of AAA blockbusters through subscriptions, and the slower erosion of physical media sales (particularly on console).
"Given everything that's happened in the world over the past few years in terms of technological advancement, all these are now getting addressed on all fronts," he said.
"There is much higher awareness because of all the large tech companies spending money on raising awareness in terms of what subscriptions are. The platforms are more advanced in terms of buying games and accessing them. Global penetration of fast internet is rising quickly, thanks to things like 5G and faster fibre internet rollout worldwide, which has meant that connectivity is becoming less of an issue worldwide.
"And because there's more publishers looking at subscriptions more seriously, there are more games on these services that people actually want to play."
He pointed to the rapid growth of three key AAA subscriptions. Xbox Game Pass rose from 10 million subscribers in April 2020 to 25 million in January 2022, while PlayStation Now rose from 700,000 in April 2019 to 3.2 million in May 2021. Meanwhile, EA Play has risen from 3.5 million in May 2019 to 13 million in December 2020.
Omdia regularly conducts consumer research with over 13,000 consumers. In one recent study, the firm found that 21% of respondents -- one in five -- pay for game subscriptions. That's not too far behind the 34% that pay for music subscriptions, although games have some way to go to catch up to video's 58%.
Nevertheless, games subscriptions are "not a niche proposition any more," says Jijiashvili.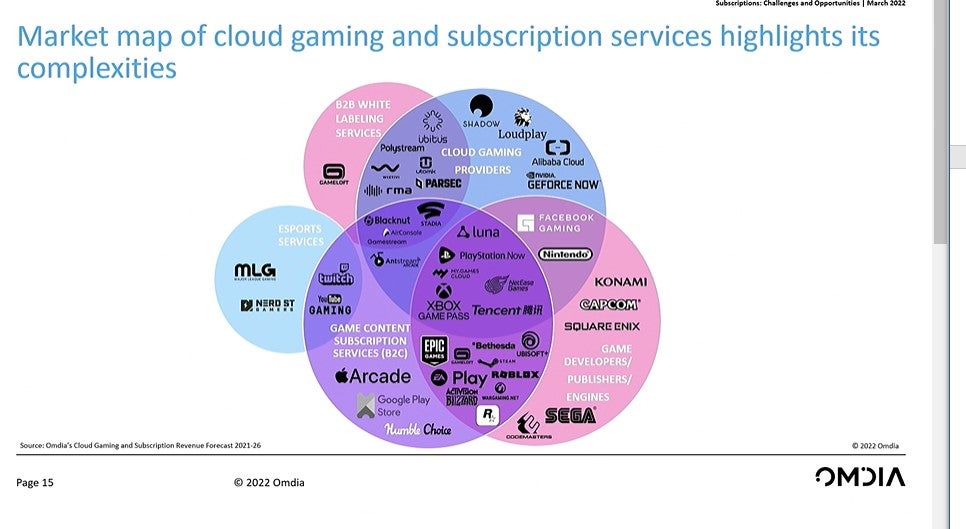 Turning back to mobile and free-to-play specifically, Jijiashvili observed that nine of the top 15 highest grossing mobile games of 2021 -- that's 60% -- have adopted some form of subscription model. This includes four of the top five: PUBG Mobile, Honor of Kings, Genshin Impact and Roblox.
Looking closer at the top 100 highest grossing games with subscriptions, Jijiashvili noted that 67 of these titles are aimed at a mid-core audience, while casual games only account for 19. But he believes subscriptions can still be utilised by more casual titles.
"Developers have a right to be wary of all these subscription services. But that sentiment is shifting"
The analyst presented a list of the top grossing games that use both subscription and ad removal, and most of them were hypercasual.
"Even for casual games, we're already seeing examples of publishers and developers utilising subscription as part of their monetisation strategy. Many of these are using them to remove ads on a three-month or one-month basis."
Jijiashvili also looked at developer sentiment around subscriptions. In GDC's 2020 State of the Industry survey, only 8% of developers used monthly subscriptions, while 6% used subscriptions to an individual game.
Developers who thought subscription services were in danger of devaluing video games accounted for 56% of the 2020 survey's respondents, but this dropped to 47% in the following year's survey.
"Developers have a right to be wary of all these major games publishers and platforms coming up with subscriptions," he said. "But if you compare the results between 2020 and 2021, I think that sentiment is shifting.
"That's largely due to companies like Xbox and Google coming out and giving stats about what benefits there are to joining Game Pass or whatever their service is."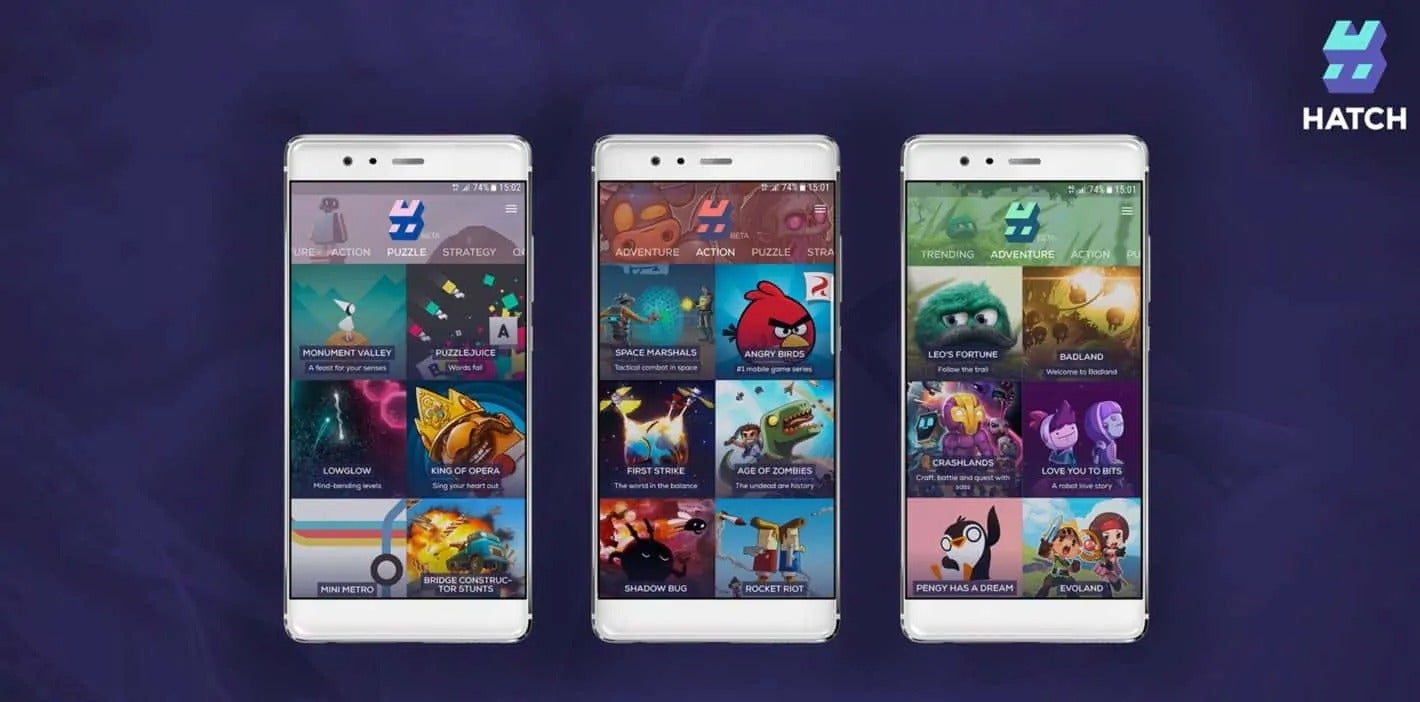 He repeated Microsoft's report that 40% of Game Pass subscribers now play more titles, while 30% play more genres than they used to. Google, meanwhile, have put out multiple case studies about how companies like Scopely use subscriptions to raise engagement.
"I think that's going to continue, but I think developers are right to be skeptical about subscriptions as a whole. It will be the job of leading platforms to really emphasise what the benefits are for subscriptions and how it's not going to harm developers themselves."
Finally, he discussed the player's journey to subscriptions in the free-to-play space. Most begin as what he referred to as 'intrigued' players, who dip into a free title to see if it's something they want to play and opt not to spend any money. Some of these will become 'regular' players, frequently making small in-app purchases.
The rise of the battle pass has seen more 'dedicated' players, those who spend enough time with the game to frequently spent money on additional content and benefits. This has paved the way for subscriptions in that it gets people into the habit of paying every month, to the point where a subscription may be appealing and they become 'loyal' players.
"It's important to remember that all these things stacks," Jijiashvili concluded. "Game developers aren't aiming to convert all players to subscriptions -- that would never happen. It's key to remember there will always be players in all these segments who will always be happy never paying money, willing to pay some money for subscriptions, or wanting the flexibility the battle pass.
"Subscriptions are by no means a silver bullet. Game makers have to ensure that as they stack benefits for each of these 'buckets' that they don't alienate players in the previous 'bucket'... There is no one-size-fits all but we are certainly moving towards subscriptions."