Niko Partners: Chinese mobile gaming revenue up 29% last year despite license freeze
Though PC revenues declined slightly, mobile rose to $15.6 billion last year, led by giants Tencent and NetEase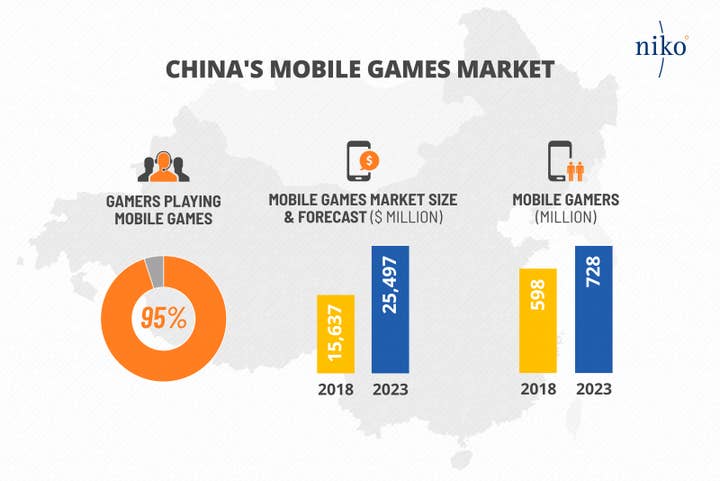 Despite the Chinese game licensing freeze that resulted in slight declines to PC gaming revenue in the country for 2018, mobile gaming saw a 28.9% increase in revenue year-over-year.
According to Niko Partners' China Mobile Games Market report, mobile revenue reached $15.83 billion in 2018, up from $12.13 million in 2017. That brought Niko's projection for mobile revenue by 2023 to $25.49 billion.
Total, China in 2018 had 598 million mobile gamers, rising from 558 million the previous year. 95% of all those who play games in China play mobile games. Niko predicts that number will rise to 728 million by 2023.
Mobile esports revenue is also on the rise, reaching $5.6 billion in 2018 and projected to nearly double to $10.6 billion by 2023.
Mobile's growth continued its rise in China last year despite a freeze on game license approvals that ran from April through December, halting new title releases for the majority of the year. Though that resulted in a slight year-over-year decline in revenue for the PC market in the country, it didn't much phase mobile giants such as Tencent and NetEase. In fact, the loss of PC revenue and continued games in mobile was evident in Tencent's Q3 financials in November of last year, right at the heart of the freeze.
China has since resumed game approvals with a new application and approval process that will see fewer games approved each year as copycats, poker, mah-jong, and titles with obscene content are rejected.