Nexon partner with Zynga designer's SecretNewCo
Acquires minority stake in Brian Reynold's new venture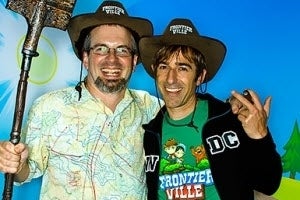 Nexon has acquired a minority stake in SecretNewCo, the development studio founded by Zynga's former chief game designer Brian Reynolds. The deal sees Nexon swap a cash equity investment for the worldwide publishing rights for SecretNewCo's first project.
"Nexon pioneered the free-to-play model over 15 years ago," said Reynolds.
"This partnership lets SecretNewCo tap into Nexon's proven free-to-play expertise and resources as we continue to grow our team and scale the reach of our new game. Nexon shares our focus on developing the best team, most innovative content and - most importantly - connecting people through fun games."
Reynolds left Zynga in January, and in his time there founded Zynga East in Baltimore and worked on titles like Frontierville and CityVille 2. Prior to Zynga he'd worked at both Firaxis and Big Huge Games. Speaking of his intentions for the new studio back in February he said he wanted to work on a project "that would be 'off strategy' for Zynga or otherwise too risky."
SecretNewCo's first game is currently titled SecretNewGame, a social, mobile title based around the Stone Age, and is scheduled for release next year.
"This highly complementary partnership leverages SecretNewCo's deep expertise and long track record in developing successful strategic SNGs for Western tastes and audiences, along with Nexon's extensive know-how in free-to-play games, distribution capability and international platform," added Nexon CFO Owen Mahoney.
"This agreement represents a significant milestone for Nexon as we execute against our strategy to grow our business in key markets in the West. We are excited to partner with such a well-respected industry veteran as Brian and the talented SecretNewCo team to bring SecretNewGame to players around the world."
Nexon's recent financial reports showed a significant growth in revenue for the company.