NBA Live 14: EA's plan to rebound from failure
After years on the bench, EA Sports' hoops sim is returning with a bit of humility and a plan to eventually redefine the genre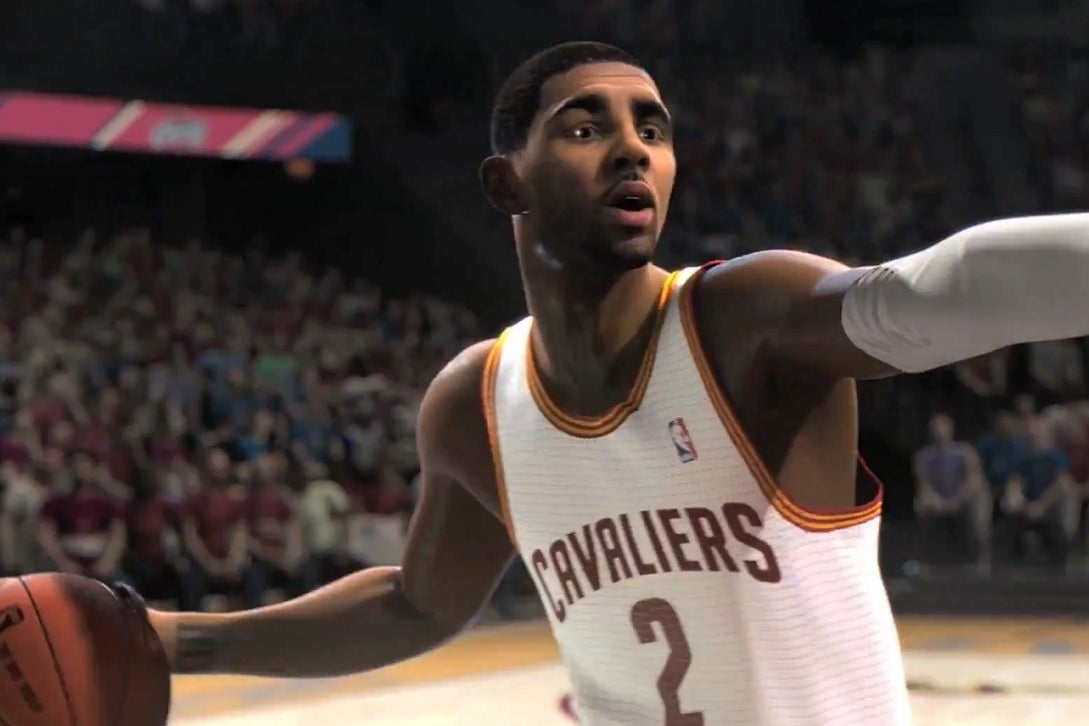 When it comes to basketball and the NBA Live franchise, EA Sports has been humbled. After being run up and down the court by chief competitor NBA 2K for most of the generation, NBA Live was benched for three years running, with two attempts to breathe new life into the franchise (NBA Elite and NBA Live 13) scuttled along the way. EA Sports will finally return to the court with NBA Live 14 for PlayStation 4 and Xbox One, but it is doing so with an understanding of the challenge it faces.
Speaking with GamesIndustry International this week, it was clear that NBA Live vice president and general manager Daryl Holt and executive producer Sean O'Brien understood their situation; while the conversation had some of the expected pre-release hype, it was tempered by a dose of humility. Rather than compare his development team to a dominant favorite like the Miami Heat, O'Brien pointed to the lowly Cleveland Cavaliers.
Ever since LeBron James took his talents to South Beach in the summer of 2010, the Cavaliers have been firmly in the NBA cellar, an object of pity or derision for sports fans everywhere. However, even with a third straight finish among the league's bottom four teams this year, there is good reason for optimism in Cleveland. The team boasts one of the league's most promising young stars in 21-year-old Kyrie Irving, some solid role-players, a GM with a long-term vision in Chris Grant, and the first overall pick in the 2013 NBA draft.
"Even as a developer now, when I say I'm working on NBA Live, people kind of snicker at that"

Sean O'Brien
"You can look down the road in a couple years and say, 'I could see them as a team that's going to be in contention,'" O'Brien said.
O'Brien could be a key piece of the NBA Live puzzle, checking off the box for veteran leadership. His history with the franchise goes back to the mid-'90s, when he helped playtest while playing power forward for Simon Fraser University in Burnaby, British Columbia, near the game's EA Vancouver development studio. It's not surprising O'Brien used to play the sport. Like any true competitor, he seems to take the doubters in stride, turning their slights into motivation.
"Even as a developer now, when I say I'm working on NBA Live, people kind of snicker at that. Because there are some people that say, 'Oh, that's the game that EA can't make.' We're here to change that," O'Brien said.
O'Brien worked on EA's NBA Live and March Madness games for over a decade, culminating in a role as senior producer on NBA Live 10, the last game in the series EA actually shipped. After NBA Live 10, O'Brien left EA, spending the next two years working on mobile games. But after the mishaps with Elite and Live 13, O'Brien was convinced to go back to EA, moving from Vancouver to the Live team's new home in Florida to head up development on Live 14 at Tiburon.
"You have to understand that at the time, there was different leadership. I think there was a bit of a lack of understanding on how to make a basketball game at a senior level within our brand"

Sean O'Brien
"It was very hard to take," O'Brien said of watching the franchise's struggles from afar. "The hardest thing was there are a lot of people that were good people who knew what to do. You have to understand that at the time, there was different leadership. I think there was a bit of a lack of understanding on how to make a basketball game at a senior level within our brand. And that changed when [EA Sports head] Andrew [Wilson] came in. That changed when Daryl came in. When I was asked about coming back, that for me was a big thing. Is there a commitment and is there an understanding of what it takes to make a great basketball game?"
O'Brien visited the Tiburon studio and was convinced. As he saw it, returning to EA was an opportunity to "right the ship," and in the process do right by everyone who had ever worked on the series in its glory days, as well as those who went through the turmoil of the last three years. Now the pressure is on to produce.
"One of the things people ask is, how's it not going to happen again? Well number one, we can't let it happen again," Holt said. "All eyes are on this, from the top of the company through the team. And we've opened up a level of transparency such that at any time, someone can look at and see how this is going, an open communication so that anyone on the production line can pull a lever and say, 'We've got a problem here.' This is one of our most coveted brands that we need to bring back to a level of quality that it deserves."
As Holt explained, the key to coping with that pressure is confidence.
"When Sean and I look at this, going in full eyes wide open, we know we're wearing the failures of the past while trying to pave the way for the success of the future," Holt said. "The good thing is, we know we can do this right and come out the other side. And that's the challenge we all want to see finished."
Finishing the game is only the first challenge. Obviously, NBA Live 14 will also have to compete head-to-head with NBA 2K14, not to mention ever-increasing consumer expectations for top-tier basketball simulations.
"One of the things people ask is, how's it not going to happen again? Well number one, we can't let it happen again"

Daryl Holt
"You've got 10 incredible athletes on the court at all times that range in height from 6 feet to 7 feet," O'Brien explained. "They're doing things in the air, they're doing things on the ground. They're extremely quick; there's a lot of physicality in the game. When you think of recreating that with all the different systems and technologies you need to touch on all those things, it makes it really challenging. How the game is free-flowing, how you're playing on hardwood so your feet can't slide, uniqueness of movement between a 6-10 280 pound guy and a 6-2 180 pound guy. There are a lot of challenges with animation, with physics, with player movement...Our consumer expects all of that. The expectations for how players play, how teams play, what they look like and what they do, I think that's probably the biggest thing that's changed over the course of time."
That feeds into another part of EA's plan for NBA Live 14. The game is coming to Xbox One and PlayStation 4, but skipping the current-generation consoles entirely. By focusing solely on the new consoles using the EA Sports Ignite engine, the hope is that the team will be able to focus on living up to those expectations and setting a foundation for the new generation rather than using resources to produce a technically inferior option on over-the-hill hardware. And as EA has experienced in the past, the gap between generations is a potential stumbling point for the competitors, and a chance to swing the momentum in a rivalry.
"If you look at Gen 3, that was the first large hiccup that NBA [Live] made," O'Brien said. "With NBA Live 06, there was a decision to rewrite a lot of technology and that put us in a position where we didn't have a full feature set and weren't able to provide our consumer with what they expected. 2K did a different approach and I think were able to gain significant momentum and overall product parity on us at that time. And they continued with a very strong direction, and EA has been trying to play catch-up ever since that moment. Whether that was reflected in revenue or consumer reaction, it was understood internally how strong of a game they've had for so long."
Even if NBA Live 14 makes it to market without the high-profile setbacks of its predecessors, O'Brien knows it's not so much a conclusion as it is the beginning of a hotly contested playoff series.
"If I look at our path, we had a lot of disruption," O'Brien said. "The game moved from Vancouver to Orlando after limited success and some failure. We retooled our management team and our roster. And we're going to see some success this year. But in a couple years? Look out. We're going to be in a position where I think we'll be redefining this category."