Did Microsoft do enough to convince Europe to let them buy Activision Blizzard? | Opinion
Updated: Microsoft made a strong case in Europe. But the real challenge is with the UK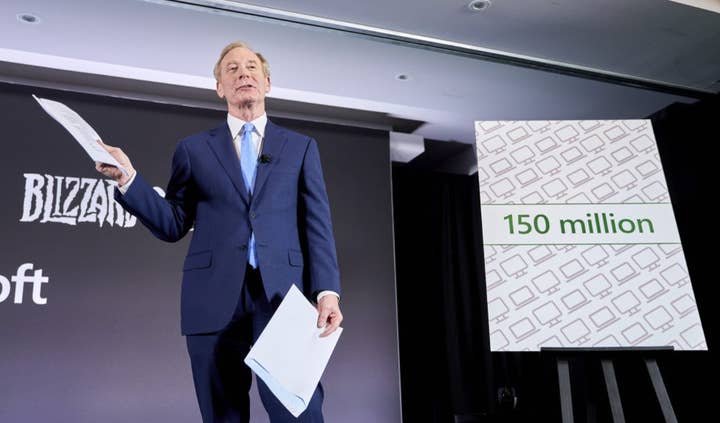 This article has been updated and edited for clarity, plus a correction over the timing of a tweet from an Activision Blizzard executive.
During Microsoft's press briefing this week, the firm's Brad Smith pulled out an envelope with a contract in it.
"I walk around with an envelope that contains the definitive agreement that we sent to Sony two days before Christmas, I am ready to sign it at any time."
It was a theatrical flourish which he also did within the closed European Commission hearing earlier. And it was one of many carefully planned PR moves that Microsoft made that day.
There was the statement from the US trade union, Communication Workers of America. There was the news that Nintendo has signed its contract that would bring Call of Duty to its consoles for ten years. There was the similar news about Nvidia. And there were other public statements that went out during the same time.
Some of it was irrelevant to what was going on that day. But it was all collectively designed to complete Microsoft's argument as it went into the European Commission to present its case as to why it should be allowed to buy Activision Blizzard.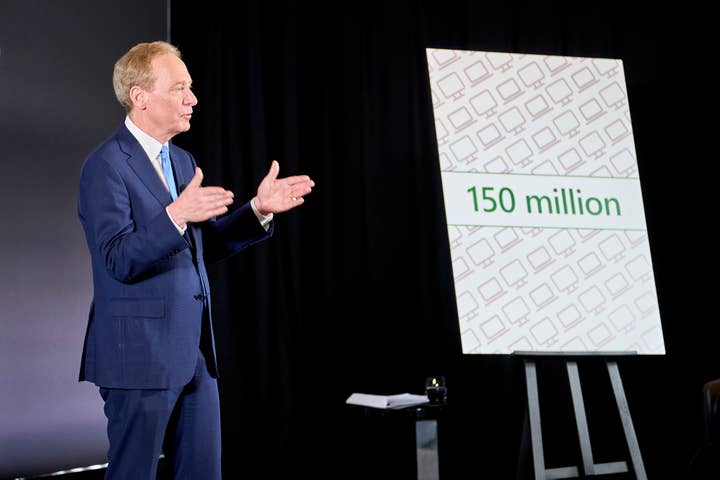 Beneath the noise and the PR messages, there were two key announcements that were important to Microsoft's argument. The first is this Nintendo contract, and that unsigned contract sitting in Brad Smith's pocket. These are moves that Microsoft hopes will counter the regulators' concerns that it might make Call of Duty, in some way, exclusive to Xbox, which would mean PlayStation is unable to compete.
Of course, it's going to be difficult to create a contract that can take into account all the directions the games industry might head in over the next ten years. But regardless, Microsoft will hope it is enough to head off that particular concern.
The other announcement, and the one that I felt was more significant, is the news that Microsoft will be putting all its Xbox games (that are on PC), plus Call of Duty (if the deal goes through), on Nvidia GeForce Now.
This counters the other concern that regulators have, over whether buying Activision Blizzard might mean Microsoft is set-up to dominate games in the future, particularly if that future involves people streaming titles and paying for them via subscription. With its PC operating system, its Azure cloud platform, plus all its Xbox games and services, Microsoft is already in a potentially strong position in this space even before the Activision Blizzard deal.
By bringing its games to Nvidia GeForce Now, which is a streaming service (but not a subscription service), Xbox will hope it can counter those concerns, too. You could argue that this ten-year deal might not be enough. Game streaming is a nascent distribution model after all, and it might take most of those ten years before it becomes a substantial business (if it does at all). But regardless, it was an answer to a concern that Microsoft had previously not countered.
If this deal goes through, Call of Duty will be available in more places to more people
All of this led to the show-stopping number that 150 million more devices will be able to access Call of Duty. Of course, those aren't 150 million more people. Because that would assume that all of those people want Call of Duty and have no other console or means to play it. But the sentiment behind it is true. If this deal goes through, Call of Duty will be available in more places to more people.
One area that Microsoft is keen to push, and it's probably the hardest argument to make, is how it is the small player in this conversation. The company talked about PlayStation's 80% market share in Europe. It talked about Google and Apple. Activision Blizzard brought up the Chinese games giant Tencent. There's truth, of course, to some of these arguments. Xbox isn't the biggest player in the sector. But trying to paint the mega corporation Microsoft as some minnow is going to be a hard sell.
There was a lot of hyperbole being thrown around, and it can be a little disorientating, but I am reliably told by my political journalist friends that this is all quite normal. It's part of the game.
Microsoft came across as coherent and measured in its presentation. Brad Smith could clearly have been a politician if he didn't decide to take this more lucrative career path. Where I feel things weren't so coherent and measured, however, comes in the form of Activision Blizzard.
Whereas Smith was respectful of Sony and praiseworthy of the European Commission, Activision Blizzard's statement was not. And just hours after the hearing, EVP Corporate Affairs and CCO Lulu Cheng Meservey tweeted this meme.
Now this kind of rhetoric clearly goes down well with gamers. And it's the sort of language that won Trump a lot of support in the US. But this isn't the US, nor is it the court of public opinion. I wonder what Microsoft made of it all.
Also, PlayStation is one of Activision Blizzard's most important partners. It's clearly a difficult situation to manage, but I'm not convinced this is the way to do it. Hot on the heels of Activision's very public fallout with Netease, I'll be interested to see how these two companies interact once a decision is reached.
Another mistake I felt Activision Blizzard made is in Bobby Kotick's comments about the UK becoming 'Death Valley', rather than Silicon Valley, if the UK regulator blocks the deal. Kotick's experience in the UK has come largely from buying studios, failing to make them work and closing them. He doesn't have any real UK influence. And if he thinks a big American CEO making comments like that is going to convince the UK regulator to approve the deal, then he clearly has no notion of UK culture and its opinions on big aggressive American leaders.
So another moment in this very long and very public acquisition saga has been and gone. It's not over yet. Not even nearly. There are more claims, counter-claims, hyperbole, spun numbers and redeployed arguments to come, from all sides.
Will the deal go through? Microsoft may have won over the European Commission. The regulators in Brussels sound more willing to accept Xbox's proposed remedies. It will require policing, of course. But Brad Smith and his Microsoft team have been working the halls of the European Commission for years and have made previous arrangements like this work.
Where the true challenge lies, however, remains the UK and the CMA. The CMA requested Microsoft make 'structural remedies' (selling off parts of the business, such as Call of Duty) to satisfy their concerns. Microsoft has rejected that option this week. Now they have just two weeks to convince the UK -- or 'Death Valley' if you prefer -- that there is another way forward. The CMA was always viewed as the biggest obstacle in the path of this deal getting completed. And that remains the situation today.