Microsoft acquires Gears of War IP from Epic
Rod Fergusson leaves 2K to lead up franchise development at Vancouver-based Black Tusk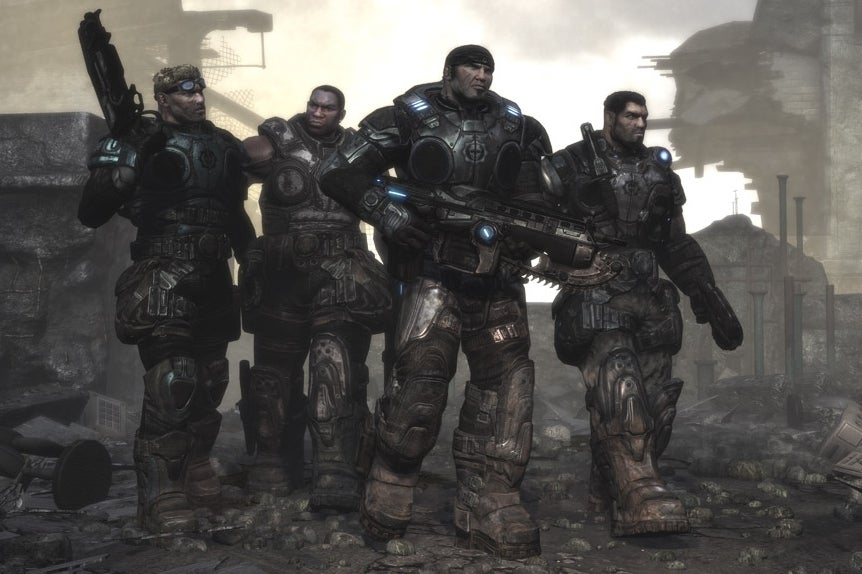 Gears of War will continue to turn, as Microsoft has acquired the sci-fi shooter franchise from Epic Games. Microsoft Studios head Phil Spencer confirmed the news to GamesIndustry International, saying the deal covers the intellectual property, all existing games and assets, and the rights to continue the franchise in the future.
As for who will make the Gears of War games with Epic out of the picture, that task has been entrusted to Microsoft's Vancouver-based Black Tusk Studios, under the leadership of the studio's general manager Hanno Lemke. Spencer called it "a big vote of confidence" for not just the studio but the Vancouver development scene. (Microsoft closed its nearby Victoria development studio last month.)
Future development on the franchise will be led by Rod Fergusson, who was a producer on the first three Gears of War titles. While Fergusson has a long history with Gears of War, his appointment at Black Tusk has to be considered surprising. Just four months ago, Take-Two announced that Fergusson was launching a new Bay Area studio to work on a new project for the publisher.
"It's kind of nice he can tie the franchise, the culture, bring it all together, and really help with the talent we already have up at Black Tusk to get the franchise going with a new organization," Spencer said.
Fergusson released a statement on his new appointment, saying, "I'm extremely excited to be joining Black Tusk Studios to oversee development on the Gears of War franchise. I've been privileged to work on a lot of great games with a lot of great teams, but Gears has had the most impact on me professionally and personally, so this really feels like a homecoming. I can't wait to share more with you all soon."
"[I]f you look at what we did with 343 and getting them up to speed for Halo 4, you can maybe anticipate some things that are similar to that."

Phil Spencer
This isn't the first time Microsoft has had to find a new studio to take over a blockbuster sci-fi shooter IP. In 2007, Bungie struck a deal to split off from the Xbox maker, leaving the Halo franchise in need of a new developer. Spencer said there were lessons to be learned from the successful transition of the Halo series to 343 Industries, and mentioned Lemke would be speaking with 343's Bonnie Ross about her experiences.
"We're not announcing anything right now, but I think if you look at what we did with 343 and getting them up to speed for Halo 4, you can maybe anticipate some things that are similar to that," Spencer said. "But it does give me confidence knowing that we've done this once with 343."
343 cut its teeth on the Halo franchise with Halo: Combat Evolved Anniversary, an Xbox 360 remake of the original Xbox launch title Halo: Combat Evolved.
Whatever else changes with Gears of War, one thing that will likely stay the same is the technology powering the franchise. Spencer declined to say whether the deal requires Microsoft to use the Unreal Engine for future Gears games, but he did say the company was a big fan of the technology.
"We've used the Unreal Engine in our development of the Gears franchise and other franchises," Spencer said. "Unreal is important for us. So I don't see us moving away from Unreal. I have confidence in the Unreal Engine going forward, and it's important to the franchise."
Spencer also noted that a Black Tusk teaser trailer shown at E3 was built using Unreal. And even though that clip--a man rappelling down the side of a present-day skyscraper before swinging in an open window to clobber a gun-toting guard--looked decidedly unlike Gears of War, Spencer called it a concept piece, and not a project that is being shelved as a result of the IP acquisition.
"This obviously isn't something that started yesterday in terms of our discussions with Epic," Spencer said. "Hanno's been involved for quite a while, so he's known that this is something we could land. And the leadership team there obviously knew as they started to build their road map for what they would be focused on. I wouldn't say things have been shelved. Obviously, this will become a big focus of the studio and something that will be critical to them driving forward. There's not really something that was on the road map that all of a sudden goes away."
When Microsoft opened Black Tusk in 2012, studio representatives said it was not working on an existing franchise, but instead was "looking to build the next Halo" from the ground up.
Financial details of the acquisition were not disclosed.