IO Interactive focusing on serving players, not games-as-a-service
Hitman 2 studio hopes departure from episodic format will be a new starting point to build its universe
IO Interactive's Sven Liebold knows the Hitman studio took a bit of a rocky road to become independent.
But while its former owner Square Enix seemed to have trouble finding buyers to take ownership, once the studio was on its own, Liebold said it had its pick of publishing partners.
"To be honest, a lot of people wanted to publish our game," he tells us.
Chatting with GamesIndustry.biz at PAX West at the Hitman 2 booth, which had a place of prominence in WB Games' domain, Liebold said that working as an independent studio published by Warner Bros left IO with complete freedom to take the series where they wanted it to go. Plus, it has been bolstered by WB's reputation as, in Liebold's words, "essentially the entertainment guys."
That freedom includes a dramatic departure from Hitman 2016. Agent 47's most recent adventure experimented with an episodic release format, but Hitman 2 will be released with its six primary story locations all available at launch.
"It's also important for us to serve our players instead of following this trendy bubble of games-as-a-service"
Liebold said that this decision was one IO Interactive made independent of all the ownership and publishing changes the studio has undergone in the last year.
"We wanted to break up the sequel chain a little, and it's also important for us to serve our players instead of following this trendy bubble of games-as-a-service," he said. "The community means a lot to us, and I think it's a very big step for the studio as well, because this essentially means that maybe there's a Hitman 3, and a Hitman 4 as well. And this will all appear on the same timeline. Meaning that in a couple of years you may be able to play a game that goes to over 20 locations. And that's super exciting for us."
Liebold is referring not just to the idea of producing bigger and better sequels, but to the fact that those who already own Hitman 2016 and purchase Hitman 2 will receive a remastered version of Hitman 2016's locations to play in its sequel as well, complete with mechanics introduced in the new game.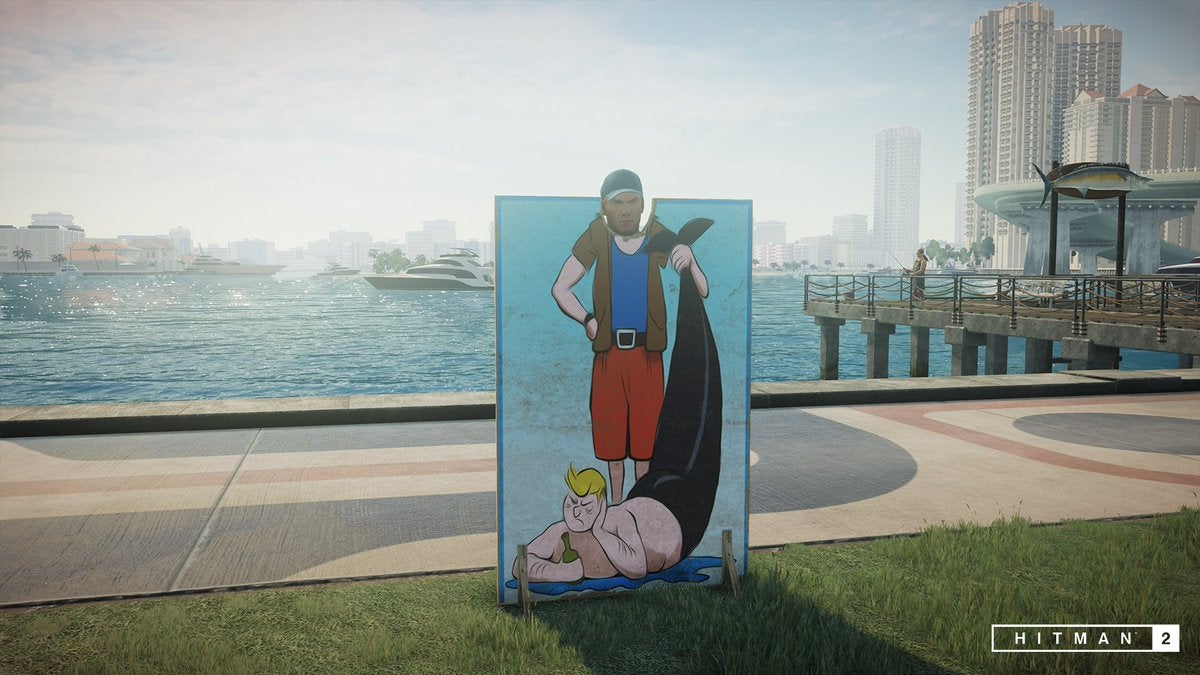 Despite the ultimate decision to return to a more standard content model, Liebold acknowledged that the team learned a lot from Hitman 2016's gradual release.
"A lot of people were very happy with the episodic format, and it worked for us in the regard that when you play in one location for around one month, and then the next one drops, we sort of re-educated the player that we are all about replayability," he said. "And we want to make the game fun, so it's not a chore. We want you to feel like 'Yeah, I want to play this game.' So it's not about rushing through a level. You can go in and do different things, try different things, and people stared to realize, 'Huh, this is what Hitman's all about.'
"But then we had people who were not so happy with that format. So for Hitman 2 we wanted to bring everyone together so everyone's happy."
"We started out three years ago when we launched 2016, we already had a grand wish of where we wanted to take Hitman"
Satisfying those who preferred the episodic approach means post-launch content. Specifically, Liebold said IO is interested in what they can do with the game's co-op mode that's debuting in Hitman 2. At launch, the game's announced Sniper Assassin mode offers one take on multiplayer, but IO Interactive wants to ensure they are creative in the way they proceed from there.
"Co-op is one of the first baby steps into multiplayer territory, and people have been asking for this for a long time," Liebold said. "We really want to make it count and make it good. It's not really fun throwing 12 [Agent] 47s into a level and having everyone kill each other."
Liebold said IO wants to see its long-term plans for the franchise come to fruition, something it can do with WB Games as its publisher - as things stand now, he said, for the long haul - and without a bunch of other cooks in the kitchen. The series has existed for 20 years, he said, meaning multiple generations are playing, and it sounds like the studio is hoping it can continue that legacy for a generation or more to come.
"We started out three years ago when we launched 2016, we already had a grand wish of where we wanted to take Hitman," Liebold said. "And Hitman 2016 was the first step, and Hitman 2 is the next step, but we have several plans already thought out. We have a clear vision of where we want to take this franchise, and we have ways to keep it relevant.
"I think that's super exciting for us because this is like a living, breathing entity, and we just want to keep expanding and expanding and expanding."
PAX organizer ReedPOP is the parent company of GamesIndustry.biz.