Game devs speak up for abortion rights
Studios and organizations across the industry condemn US Supreme Court decision allowing criminalization of abortion, commit to support employees, share fundraising links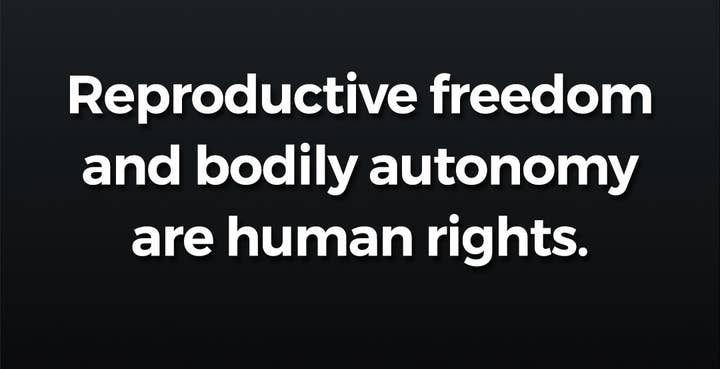 The US Supreme Court today overturned Roe v. Wade, the landmark 1973 ruling protecting a woman's right to an abortion, prompting a number of US game developers to issue statements on the subject.
Bungie updated the post it made last month when a draft of the Supreme Court's decision first leaked.
"Last month, we stated without reservation that all of us deserve to choose our own path and access the healthcare we need. The decision by the U.S. Supreme Court to overturn Roe v. Wade cuts off millions of Americans from that access and leaves open the possibility of even further restrictions on life-saving healthcare for all of us.
"Bungie is committed to ensuring that every one of our employees and their families have safe and affordable access to essential healthcare needs. As we continue to expand our digital-first workplace to more states, we will now be implementing a travel reimbursement program for any employee to use when they or a dependent cannot get access to the healthcare they need where they live.
"We remain undeterred in our commitment to stand up for reproductive choice and liberty."
The studio then included links to organizations supporting people who have been losing healthcare rights in the US, including URGE (Unite for Reproductive & Gender Equity), Religious Coalition for Reproductive Choice, NARAL Pro-Choice America Foundation, In Our Own Voice, and Trans Lifeline.
Among Us developer Innersloth released its own statement and linked to the latter two organizations above, as well as The Brigid Alliance, Plan C, and a coalition of 80 abortion funds.
"Innersloth supports reproductive choice and liberty," the studio said. "The ending of the constitutional right to abortion is a gender, racial, economic, and human rights disaster for both present and future generations.
"There are so many people and local organizations to support. If you can, lend them your voice, time, action, money, or privilege. We stand with everyone affected."
Insomniac Games published a statement on its Twitter account, saying, "We are human beings who make games. Reproductive freedom and bodily autonomy are human rights," the latter part of which was echoed by fellow Sony-owned developers Media Molecule, Sucker Punch, and Bend Studio.
Sony's Santa Monica Studio followed a statement of values with a pledge of action, saying, "We believe that bodily autonomy and reproductive freedom are fundamental human rights. Santa Monica Studio will continue to uphold these values and support our team members in receiving access to the care they need."
Sony reportedly pledged last month to provide financial assistance to employees who needed to travel for reproductive care, even as PlayStation CEO Jim Ryan told staff the company would not be making a statement on abortion rights because it was important to "respect differences of opinion."
Skullgirls developer and co-op studio Future Club likewise used the "Reproductive freedom and bodily autonomy are human rights" phrasing in its own statement.
The International Game Developers Association also released a statement, saying, "We believe bodily autonomy and choice over one's own reproductive and healthcare matters are pertinent to achieving this mission. One must be in control of their own health matters in order to successfully manage their career and life."
It added, "We are deeply concerned by increased government interventions undermining and limiting reproductive choice and access to care. We applaud and show solidarity with games industry and community leaders who are taking action to support all who are negatively impacted by these attempts."
Certain Affinity reposted the commitment it made last month to full-time employees that it would cover the costs of relocation to another part of the US or Canada where access to reproductive or transgender healthcare was more available.
Update: A Microsoft spokesperson passed along comment from the company, saying, "Microsoft will continue to do everything we can under the law to support our employees and their enrolled dependents in accessing critical healthcare -- which already includes services like abortion and gender-affirming care -- regardless of where they live across the US. This support has been extended to include travel expense assistance for these and other lawful medical services where access to care is limited in availability in an employee's home geographic region."
An Activision Blizzard representative said the company had already expanded its employee coverage, saying, "Maintaining a safe and inclusive environment for all is a top priority for Activision Blizzard and includes supporting the physical and mental well-being of everyone who works here, including their dependents. Earlier in June, we announced our expanded medical travel benefits to include coverage for US employees and their dependents who participate in our medical plans and live in areas where access to medical care, including reproductive health, gender-affirming treatment, transplant care, and any other medical care covered by our plans that is not available in a covered person's state, or within 100 miles of where they live."
Sony San Diego Studio and Guerrilla have posted much the same line as other Sony studios above, while Naughty Dog's statement was more in line with that of Sony Santa Monica.
"Naughty Dog believes reproductive freedom and bodily autonomy are basic human rights and essential to the health and well-being of everyone," the studio said. "We will continue to uphold those values and active support all the employees in receiving the care they need and want."
Publisher Devolver Digital also tweeted its stance, saying, "Reproductive rights are human rights."
Ubisoftadded its voice, saying, "Today and every day, we believe that reproductive rights are human rights, women's rights are human rights, trans rights are human rights, and equal rights for all are essential to a world where everyone can be their authentic selves and thrive."
Nianticsaid it "stands for reproductive rights and we will support out employees in accessing safe medical care," adding that it has also signed the Don't Ban Equality letter with scores of other companies saying the decision to overturn Roe v. Wade goes against their values and is bad for business.
ArenaNet followed up its previous statement around the leaked draft decision of the Supreme Court ruling with a new post today, saying, "At ArenaNet, we believe that women's rights are human rights, LGBTQ+ rights are human rights, and we unequivocally support equal rights for all."
Electronic Arts posted a letter sent to employees today, and while it did not express disagreement with the decision it said it would support employees.
"We know this issue matters, generating a range of emotions for you and your loved ones, whether you're based in the US or abroad," the company told employees.
"Your health and well-being are our top priority. We are working closely with our US healthcare provider, Cigna, and will soon offer expanded travel health benefits, for eligible US employees and their eligible dependents. Our aim is to provide the support and services that empower you and your eligible dependents to get the care needed to be the best, most authentic version of yourself at work and in other areas of your life."
EA reportedly told staff last month it would not make a statement regarding abortion rights and that it would only speak out on an issue when there's a "consistent perspective" among its employees and taking a side would "actually have a positive impact."