Hi-Rez Studios expands in the UK with Red Beard Games
New Brighton-based studio is first of three the Smite developer is planning to open, says European GM Veronique Lallier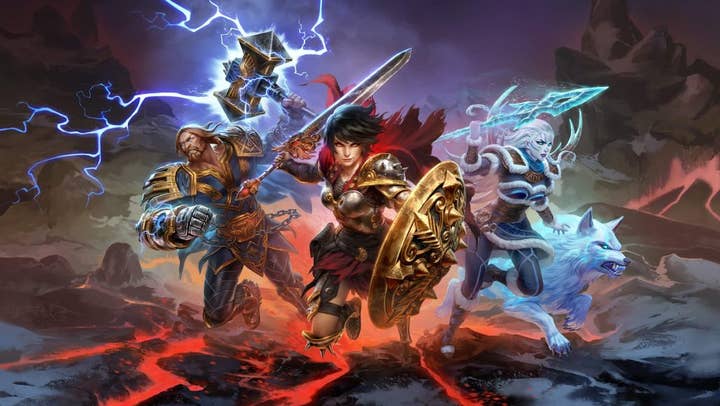 Hi-Rez Studios will expand its presence in the UK by establishing Red Beard Games, the first of three new development studios the company plans to open.
Red Beard Games will be based in Brighton, the base for Hi-Rez Studios' European publishing operations and global marketing since early 2016. Brighton is one of the UK's key hubs for game development and, according to European general manager Veronique Lallier, it was an obvious choice when it came to expansion -- despite the prevailing anxiety over the potential impact of Brexit on recruitment.
"It's a cosmopolitan town that inspires creativity and encourages new ways of thinking, two values that we at Hi-Rez hold dear," Lallier said, speaking to GamesIndustry.biz.
"As an international company we, like many others in the industry, are concerned about the impact of Brexit, but will continue to closely monitor the situation, work with industry bodies to mitigate any possible negative effects, and are committed to ensuring the most positive outcome within whatever constraints we may face."
Hi-Rez is based in Atlanta, Georgia, but the success of games like Smite and Paladins has allowed it to both expand and diversify. The growth of the business led to a major structural change last year; in May, the company spun out an esports production company, Skillshot Media, and in August it established three distinct studio brands to focus on Smite, Paladins and Realm Royale.
"As an international company we, like many others in the industry, are concerned about the impact of Brexit"
"This enables each of them to fulfil their maximum potential and stay hyper focused on serving their individual player communities," Lallier said. "By giving each major game its own dedicated studio and identity, we empower them to control their own destiny... while still having access to our publishing services. Red Beard Games will form following this philosophy."
Red Beard will start out with a small team, and expand based on the requirements of its project. The question, then, is exactly what that project will be; Lallier claimed that all of Hi-Rez's teams have "the freedom to explore many different creative approaches," and Red Beard will be no different.
However, the company has built its business on very specific products: live, multiplayer games in genres that open the door to esports. Lallier confirmed that Red Beard's first title will be another online game, with "cross-play" and "cross-progression," but it isn't clear how closely it will follow the established Hi-Rez model.
What is clear is that this is just the first step in a wave of expansion. Lallier said that the company has "plans for two other unannounced studios" that -- if they adhere to the new structure laid out last year -- will mean another two new Hi-Rez games.
"We are a developer led publisher," Lallier said. "We acknowledge that great games businesses are built on great games. That means ensuring that creative talent is given the space and resources it needs.
"Our intent with Red Beard Games is to ensure it can function independently, creatively and with all the agility of a small studio, but with the backing and experience of a much bigger business."
Skillshot Media, which is owned by Hi-Rez, is organising an esports track at the UK conference Develop:Brighton, which starts today. Look out for coverage of Develop on the site this week.