GTA V dev costs over $137 million, says analyst
Sterne Agee's Arvind Bhatia expects Take-Two blockbuster to sell 18 million, make over $230 million in operating profit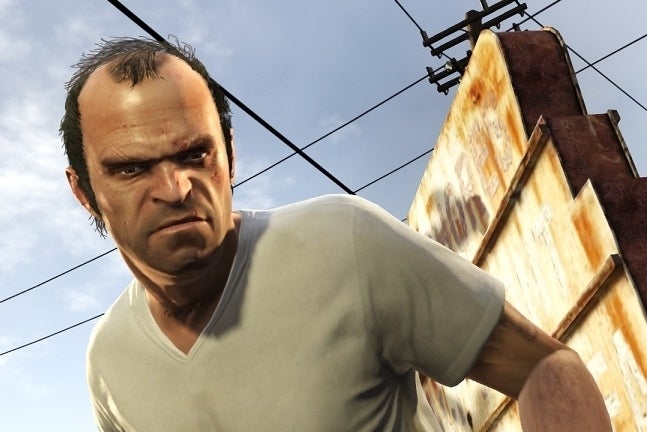 It's been said that you have to spend money to make money, and one analyst believes Take-Two is poised to do both in abundance with the upcoming Grand Theft Auto V. In a note to investors today, Sterne Agee's Arvind Bhatia said the game's recent delay will add to its development costs, but does nothing to blunt its potential success.
Bhatia detailed a "hypothetical profitability model" for GTA V based on an estimated development cost of $137.5 million (representing a team of 250 people working on the project for five years). Even adding projected marketing costs between $69 million and $109.3 million, Bhatia saw GTA V providing huge returns for Take-Two. In the event that GTA V sells "only" 15 million copies, Bhatia estimated Take-Two would still see more than $193.6 million in operating profit from the game for its fiscal year, or an earnings per share contribution of $2.11. Should the game outperform expectations with 25 million copies sold (a figure that assumes a much higher marketing spend), Bhatia put Take-Two's operating profit from the game at $390.8 million, with an EPS contribution of $4.26.
At the moment, Bhatia believes GTA V will sell 18 million units in Take-Two's fiscal year, saying it's likely to be the best-selling game of the year. Bhatia suggested it could be second only to the next Call of Duty, which he identified as Call of Duty: Modern Warfare 4. As for the delay, the analyst said it will make for a more crowded holiday market, especially combined with the potential of new consoles. Regardless, Bhatia said, "[T]his is a long-awaited title that consumers are unlikely to pass up and we remain bullish on our outlook for this title and for the company."
Yesterday, Take-Two delayed Grand Theft Auto V from its previous spring release window to September 17. The news drove Take-Two stock down sharply, although it had regained most of its value by mid-day trading today.