GameStop full-year sales down 21%
Profitable fourth quarter can't offset the rest of the retailer's pandemic-impacted year; chief customer officer departs with millions in severance and stock grants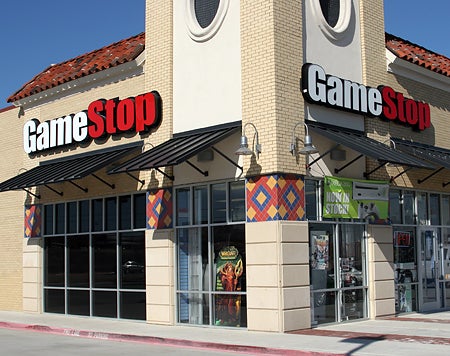 GameStop today reported its fourth quarter and full-year earnings, and while the retailer turned in solid numbers for the key holiday quarter, it wasn't enough to offset the losses from the rest of the year.
For the three months ended January 30, GameStop posted net sales down 3% to $2.12 billion, but net income nearly quadrupled to $80.5 million over the same span.
However, the retailer dealt with numerous temporary regional closures due to the pandemic for 11 of the 12 months, and that obviously impacted the full year results.
For the fiscal year ended January 30, GameStop reported net sales down 21% to $5.09 billion, with a net loss of $215.3 million. The loss was actually a considerable improvement over the previous fiscal year, when GameStop reported a loss of $470.9 million.
"I am proud of how our entire organization came together in 2020 to adapt to the challenging pandemic environment, effectively serve our customers' demand for gaming and entertainment products, and navigate through the year with strong liquidity and a strengthened balance sheet," said GameStop CEO George Sherman in announcing the results.
He added, "The past year also saw us take steps to accelerate our de-densification efforts and streamline our store footprint, leverage our retail locations to provide same-day delivery and curbside pickups, and continue to enhance our suite of E-Commerce platforms."
GameStop gave no guidance for the year ahead, and said it would not be reporting comparable store sales numbers in the new fiscal year because of how they would be impacted by pandemic-related store closures.
While the retailer made no mention of this in its annual report, GameStop this week made an SEC filing in which it confirmed that chief customer officer Frank Hamlin was resigning from the company at the end of this month "with good reason," and as a result is entitled to a severance package including a lump sum payment of $2.06 million, and the vesting of equity awards of GameStop stock. Hamlin will receive more than 221,000 shares that had been time-vested, and could receive almost 145,000 more that were tied to performance targets.
GameStop stock has still not returned to its historic range after the January short-squeeze surge, and closed today's trading at $181.75, putting Hamlin's equity awards somewhere between $40 million and $67 million.
Prior to the pandemic, Hamlin had been leading a strategy to overhaul the GameStop in-store experience with a dozen new concept stores in Oklahoma leaning into the locations as social hubs designed around esports, retro games, or pop culture.
In today's report, the company said its strategy for the coming year includes "Investing in technology capabilities, including by in-sourcing talent and revamping systems, and evaluating next-generation assets."
It also wants to improve the GameStop customer experience, offer a broader range of products, and do more with its media outlet Game Informer and its PowerUp Rewards loyalty scheme.
"We are off to a strong start in 2021 as February comparable store sales increased 23%, led by continued strength in global hardware sales," Sherman said.
"As we look ahead, we are excited by the opportunities that are in front of us as we begin prioritizing long-term digital and E-Commerce initiatives while continuing to execute on our core business during this emerging console cycle. Our emphasis in 2021 will be on improving our E-Commerce and customer experience, increasing our speed of delivery, providing superior customer service and expanding our catalogue."