G2A: "There's no place in a business like ours for shadiness or fraud"
Communications boss Maciej Kuc addresses the biggest complaints against the divisive marketplace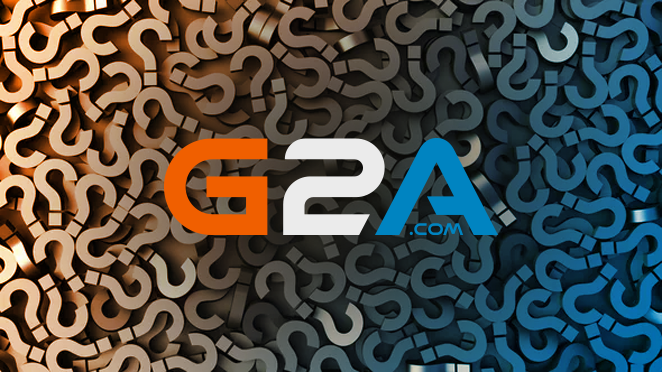 G2A is often the centre of debate in the games industry. On the one hand, a marketplace where players can resell their unwanted games is not inherently controversial -- yet controversy dogs the company's every step.
Animosity towards G2A has been building among publishers and developers for years, most recently resulting in a petition to stop the site from selling any indie games.
Each time the company responded -- whether offering to repay ten times the amount developers lost on chargebacks or proposing to build a keyblocking tool -- has been met with everything from apathy to derision and angry tweets of, "You're missing the point."
Allegations that G2A allows the sale of stolen game keys, or keys that have been purchased with a stolen credit card, or Steam Gift links that don't actually work, have seen the site widely dubbed a "grey marketplace." The company has previously insisted detractors simply don't understand its business model, and continues to assure how seriously it takes these accusations -- yet confusion around it remains.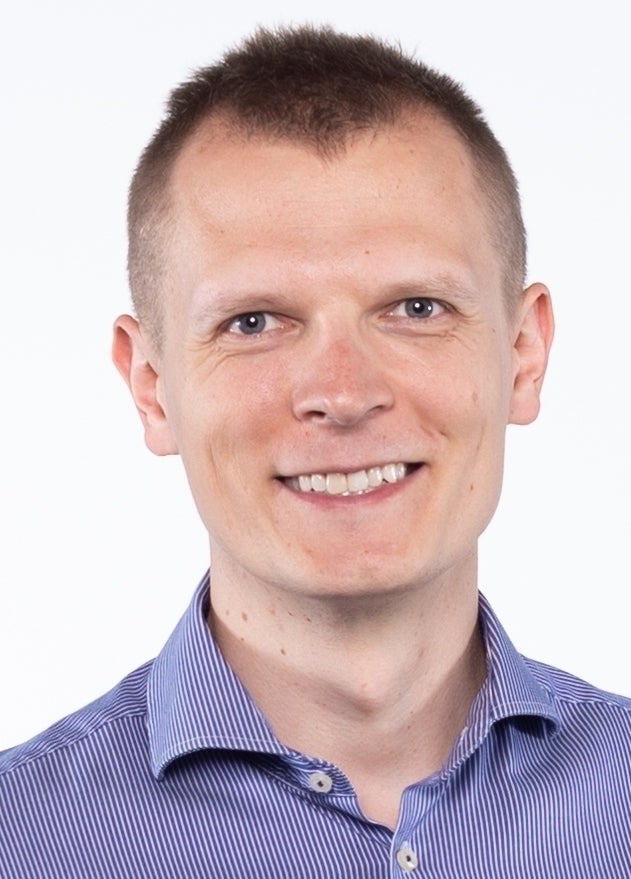 "We really want to talk," says head of communications Maciej Kuc. "We're willing to explain everything because we know we've made a tremendous number of mistakes in the past and of course we admit that. But we've changed in a big way. Right now, we have some of the best practices in the industry -- we can easily compare to eBay.
"Lots of people say we don't verify sellers. Where do they get this information from? Come to our website, become a seller, try to sell something. A few years ago, it was possible to sell something without providing personal data before cashing out. But right now on our marketplace, if you want to become a seller, the procedure is so strict we can assure you we're perfectly aware of who our sellers are."
This at least is true. GamesIndustry.biz went through the process and were asked for a business registration number, tax number, date of incorporation, plus verification for the identity of each person who would be selling through G2A via their driving licence, passport or ID card. We also had to upload images of a certificate of incorporation or business registration, a document confirming our identity, another confirming our address, and (optionally) a certificate of VAT -- plus a bank statement and SWIFT or BIC code. Even if registering as a sole trader.
Herein lies one of Kuc's key points: this is far too much effort for your average user. Over 90% of sales on G2A are made by large businesses, with one having sold 4.7 million products since the site started. Total sales for the past five years are now at 37 million, with the number of sellers at around 400,000.
"There's no place in a business like that for any kind of shadiness or fraud because this wouldn't work," he adds.
Even if someone successfully makes it through this process, Kuc emphasises that G2A cannot prove where a product sold on its platform comes from, but is confident the vast majority are codes won in giveaways or bulk sales to distributors and resellers (more on that in a moment).
"We know we've made a tremendous number of mistakes in the past and of course we admit that. But we've changed in a big way"
Despite the anger from the indie community, Kuc reminds us that G2A's top-selling games for the past five years have been Counter-Strike: Global Offensive, Rocket League and Grand Theft Auto V respectively, with an abundance of other AAA games often dominating the site. Keys for these titles are sold by the thousands, which raises the question most commonly leveled at G2A: where are those keys coming from?
G2A's own screenshot of sellers offering keys for the No More Robots-published indie racer Descenders -- intended to show how little impact these sales had on the game's performance -- revealed that some users were selling more than 100 keys at a time. The publisher's founder Mike Rose questioned why this wasn't an immediate red flag, but Kuc tells us sellers shifting large numbers of keys is actually commonplace on G2A. On the site's page for GTA V, he shows us sellers who have sold between 7,000 to 73,000 keys in the last twelve months (not all for Rockstar's title, mind you).
"Putting hundreds or thousands of keys on sale for one game is something most sellers are doing every day," Kuc explains. "So there's no flag there -- a bigger flag would be if someone sold only one key."
Fine, selling keys in large quantities is -- in G2A's eyes -- not enough to raise suspicion, but it's still not clear where those keys are coming from.
"I don't know," says Kuc. "You can go onto the site, you can ask them straight away."
So we did. GamesIndustry.biz reached out to three sellers: Gamingimperium (who has sold 64,532 keys in the past year), World_of_Games (43,015) and Keysell2431 (24,466). All three replied, although the oddities of G2A's messaging system means we're unable to know who each response belongs to (messages are accessed with a verification code issued via email, and the user you are speaking to becomes anonymous).
One said it can vary from seller to seller but assures that its own keys "originate from wholesalers / distributors / resellers worldwide." Another refused to provide any information. The third simply said "Steam." All three closed the conversations, preventing us from following up.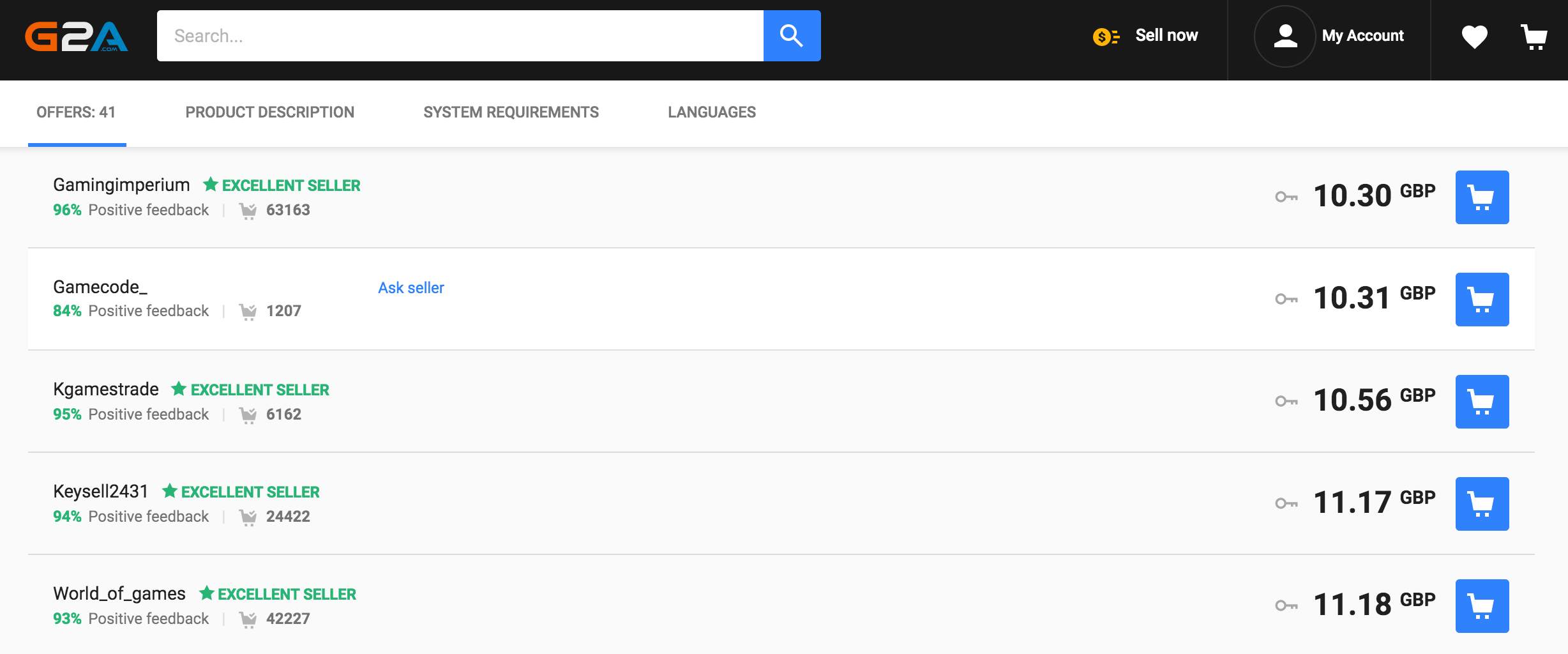 Kuc insists key theft is "purely impossible", adding: "Just out of plain common sense, do you really think you could illegally obtain 100,000 keys? How? In what way?"
He continues: "Who can generate keys? Only publishers and developers. In the vast majority of cases, the keys come either directly from them or from distributors. Some people wonder why developers would sell keys to distributors when they could sell on Steam. But if you're a company and you need to meet your KPIs, having the possibility to sell 100,000 keys straightaway to one distributor for a discounted price... absolutely [makes sense]. Yes, if you sell on Steam, you can sell for €30 but if you sell in bulk at €10, you have €1 million instantly. It's far better to invest that in making new games -- especially if it's a long time after release."
Since it's more common for people to sell keys in bulk through G2A, why was the opposite not flagged, i.e. the number of people selling just one or two copies of Descenders? Kuc says that while it's less common, it's still possible for users to sell a single key but emphasises they still have to go through that rigorous checking procedure.
"Games can be cheaper. That's exactly what we do. But we're not saying that games are not worth your money"
"It can happen - people buying bundles and selling single games, people winning keys in competitions or giveaways," he says. "We are totally fine with that... However, we treat them in the same way as we treat businesses that are going to sell large quantities.
"What's also worth remembering is that the vast majority of games sold on G2A are AAA titles, and these are almost always acquired in wholesale. With the smaller titles the number of keys available isn't big. If a developer doesn't sell keys in wholesale, there are only few available on our marketplace, and they usually come from bundles and giveaways."
During the Descenders dispute, Mike Rose also claimed that many of the games sold on aren't actually Steam keys -- they're "dodgy Steam links" further muddying the process. When asked about this possibility, Kuc said he didn't believe this was the problem as it's "probably more complicated for people to use them."
"There are only a few sellers who use Steam Gifts on our marketplace, and they are rated Excellent sellers -- if they are Excellent Sellers, the number of negative comments needs to be really, really low."
Kuc also reiterates that customer satisfaction on G2A is at 99%. In other words, if no one has complained, it's not an issue. We followed up with Kuc for further clarification on the sale of Steam Gift links, but again were told to ask the sellers.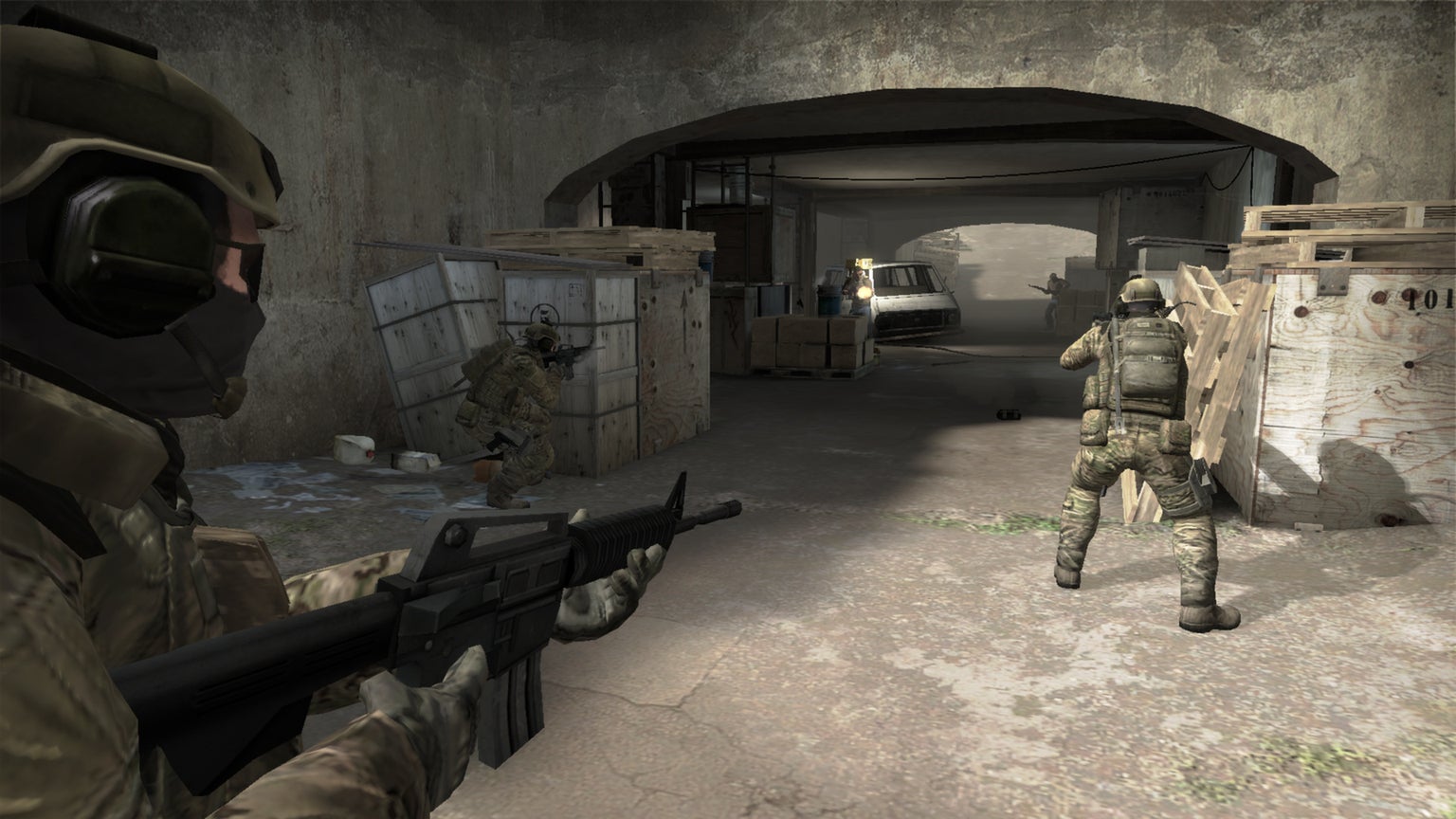 Finally, a major point of contention around G2A is the fact that games are sold well below the retail price. The company openly says it thinks games can be cheaper -- a sentiment Kuc believes developers and publishers might misunderstand.
"If you're 30-something and you have a stable job, you can afford to pay standard retail price and not care about discounts, sales and so on -- G2A is not built for that person. G2A is for someone who is actually struggling with money, who has a choice of whether they buy the game on the marketplace or they pirate the game instead.
"For some people, it's either G2A or piracy. So over the last five years, we have done a lot of good for the industry"
"This is something we really try to encourage -- please buy legitimate products. [Ours are] legitimate products you can have, but far cheaper than the usual price. We know that for some people it's either G2A or piracy. So over the last five years, I think we have done a lot of good for the industry because we actually introduced the idea that games can be cheaper."
Rose, however, argued during the Descenders incident that the site is actually damaging the perception of value. Why would consumers buy from Steam if they can get everything for less at G2A? Kuc counters this by pointing out that most indie publishers offer a discount around launch -- while No More Robots limits this to 10%, some offer bigger price cuts.
"And yet it's G2A's fault that the perception of value is...? Come on. You have full control [over the price], you can generate as many keys as you want, you can sell the game on Steam for a price you set. But it's G2A's fault the perception of value is worse?
"Our goal -- and we're not hiding it -- is we want to raise awareness among people that games can be cheaper. That's exactly what we do. But we're not saying that games are not worth your money. If you're discounting your game the first day... People who missed that, what do they do? Do they pay more, or do they wait for discount?"
Kuc reiterates that G2A wants to address any issues developers or publishers have with its business, but it's hard to do that when responses to its solutions are limited. Only one company has so far taken up the offer of ten times chargebacks, and only 19 studios registered interest in the key-blocking tool.
He concludes: "Everything bad in the industry [seems to be] G2A's fault. Everything someone doesn't like is our fault. What is G2A going to do to solve this issue? We're getting questions all the time -- imagine eBay being asked about how to stop crime in certain areas because we know there are bikes being stolen there and these bikes are ending up on your platform. What could eBay do? It's a platform with security of its own. It's down to the police and the people who own those bikes to prevent that from happening.
"Our position is a bit better, because we can easily help our partners, distributors and developers because the keys are unique and we can check very easily a certain key that has been obtained in a shady way appears on our marketplace. All it takes is to contact us"