Fargo: Succeed or fail, I'll return to Kickstarter
inXile boss argues that benefits of crowd-funding are too valuable, even with money for production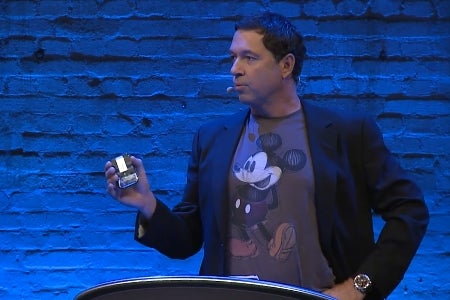 Regardless of whether the eventual launch of Wasteland 2 is a resounding success or a complete flop, inXile Entertainment's Brian Fargo has pledged to return to crowd-funding for the studio's future projects.
Speaking to GamesIndustry International at this year's Unite conference in Amsterdam, Fargo explained that the benefits that a platform like Kickstarter offers are too powerful to disregard, even if you have money in the bank.
"Yeah, I still would [return to crowd-funding]," Fargo said. "It allows us to give things to people that they can't get from just buying a product. Some people want to be an NPC, or they want a shrine in their honour in the game, or they want a boxed copy, or a novella. These things aren't just gimmicks; they add real value."
"It's also a great way of vetting the product in general. I like having that communication, because when people put their money down they're more invested emotionally. And when you have this army of people who are a part of it, when you do launch you don't need a big marketing campaign."
"It goes beyond just getting money to do it. Even if Wasteland 2 sells a bunch and it could finance another game, I'd like to keep that same relationship"
Wasteland 2 was one of the success stories that generated the ongoing wave of interest in crowd-funding. After several years of pitching to publishers without a result, Kickstarter gave Fargo access to the resources that the industry would not provide.
However, as more and more projects are successfully funded by, often, thousands of different backers, the discussion about crowd-funding's potential problems and its proper use has intensified. Indeed, Kickstarter recently implemented new measures to safeguard against scams and ensure that creators are able to deliver the finished product.
Should Wasteland 2 be a great success, though, it will raise a very different question. Crowd-funding has proved to be a convincing platform for getting ostensibly non-commercial ideas into production and into the public eye, but once that has been confirmed and rewarded with commercial success, is it appropriate to go back to the crowd for more?
"Yeah, because it goes beyond just getting money to do it," says Fargo. "Even if [Wasteland 2] sells a bunch and it could finance [another game], I'd like to keep that same relationship."
"Let's assume that I'm gonna deliver the game, so my backers are going to get whatever they were gonna buy anyway. If I pitch a new idea to my Kickstarter fans and nobody wants to fund it, I'm glad I didn't make it. It builds on itself... Ultimately, it helps me that I'm spending time and effort on something that people actually want. I can't see any harm in that because I'm giving people what they want at the end of the day."
The lure of crowd-funding for any developer is surely the lack of caveats against the money: with a publisher, investment is often a matter of handing over valuable IP rights and submitting to their demands; with the crowd, the developer is obliged only to deliver the product for which people have already paid, and the tiered rewards offered as an incentive for larger pledges. For the latter, particularly, the developer can make a substantial sum of money for relatively light work, like creating an NPC modelled on the backer.
"If I pitch a new idea to my Kickstarter fans and nobody wants to fund it, I'm glad I didn't make it. It builds on itself"
In Fargo's view, this is the entire appeal of crowd-funding from the perspective of the crowd. It affords them an active role in fostering creativity, while presenting options to make their relationship to the product more personal. Rewards of this kind directly serve an audience need - something Fargo understands from personal experience.
"I've invested in a bunch of projects," Fargo says. "Frankly, I've invested in games that I probably would never have bought anyway: for their own cleverness, I was excited, I was helping a guy with a vision, whatever.
"Some of them I really do want to play, but it's a mix. If 25 to 30 per cent of those went sideways it wouldn't sour me - honestly. If every single one went sideways that would be a problem, but that's not going to happen."
Fargo concedes that Kickstarter should not be used as a place for developers to "cut their teeth," but with enough experience to make confident promises about a product, developers should feel able to return to the crowd as often as they wish. Doing so will lead to stronger relationships between developers and their fans, allowing them to identify and serve niche audiences better than ever before.
"Just take a snapshot of today versus three years ago, or five years ago," Fargo says. "It's an unbelievable arc of developers that are carving out relationships with their audiences. We tend to concentrate on the big ones, but there are plenty of smaller ones that develop niche products: they do a flight simulator, they do a train simulator, and they've got their audience. My RPG niche might be bigger than theirs, but they're doing it and they're going to keep that going maybe for the rest of their professional lives.
"And the fans are going to get the best train simulator they ever wanted. To me, that's a dynamic that never existed before."
To read GamesIndustry International's investigation into crowd-funding, follow the link.