Eight ways the UK games industry can work better with education
BGI's Games Education Summit delivers tips, advice and recommendations over two-days
The UK games industry's relationship with higher education isn't always rosy. In fact, at times, it can be adversarial.
Yet with increasing challenges around the talent pipeline, the need to improve diversity and the threat of Brexit looming, the importance of these two sides uniting has never been more apparent.
Earlier this week, the British Games Institute held a conference designed to do just that -- bring the two worlds together, develop best practices to improve the quality of students coming through the system, and to manage the transition from education into full-time employment.
Here are eight suggestions, made during the Education Summit, on how UK games studios can work better with educators.
1. Open up more work placements
The overwhelming response from all educators in the room was that the games industry needs to open up more placement opportunities for undergraduates between the second and third years of their courses.
Dr Peter Howell of Portsmouth University told attendees that students who go on placements, "tend to achieve a higher grade than what they were working up to until that point." He also observed that students that spent a year in the industry improved their soft skills and general awareness of how the world works. It was a view immediately shared by Federico Fasce of Goldsmiths.
"Games, which have overtaken music and film combined, have an ethical responsibility to start training [students] in-house"

Dr Carlo Harvey, Birmingham City University
Dr Carlo Harvey, from Birmingham City University, added: "Games, which have overtaken music and film combined, have an ethical responsibility to start training [students] in-house. It's hard to do because of return-on-investment and investor pressure, because you want people that can hit the ground running."
This does speak to the problem -- at least in part. Studios don't necessarily have the capacity to take on that many placements, but educators had a few possible solutions.
"We have a lot of underused resource," Harvey said. "We have summer windows with game labs that can be available to use, so maybe developers could send a few people to run a micro-studio out of our game labs."
Howell added: "Maybe broadening the range of internships available. Because it's a placement year, you need to take a student on from September to June/July. But we have a number of students who can have shorter internships: a three month internship, a one month, even a couple of weeks shadowing... It all helps the students understand how things work in reality."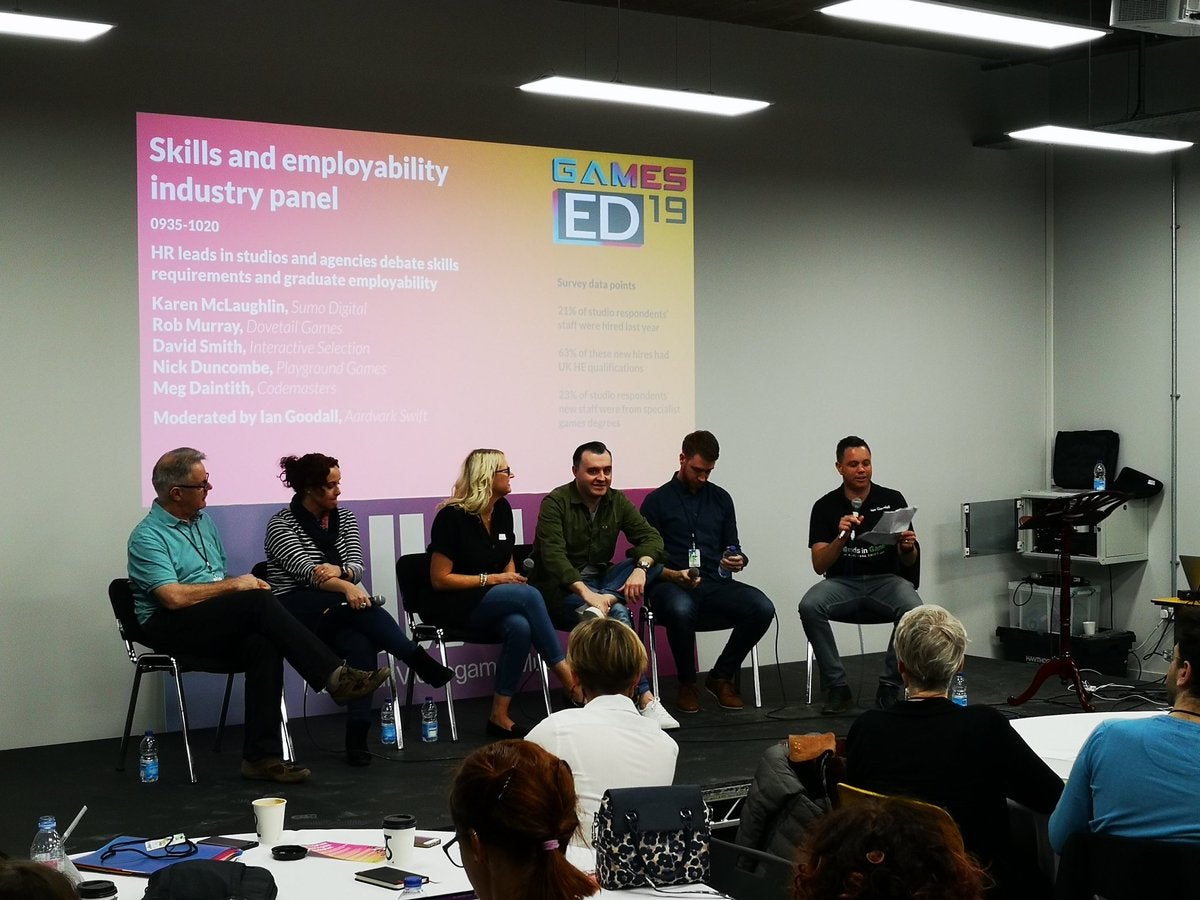 2. Support more game jams and career fairs
Goldsmiths' Federico Fasce praised Media Molecule for its support of game jams. He said it builds community and encouraged students to work as a team. Educators also called for developers to have a presence at career fairs; to give talks and doing one-to-one discussions.
From the industry side, participation in game jams is something recruiters like to see on CVs when hiring new graduates.
3. Speak at universities and colleges -- and maybe even join them
Speaking at universities is something a lot of industry employees do already. Educators told the summit that people at all levels are welcome to visit, from studio heads down to graduates who have only been doing the job for six months. All of it is useful for differing reasons.
"If you could give 15, 20 minutes of your time a year to a local college, it will make a difference"

Ant Cain, Sunderland College
Ant Cain, a lecturer in game development at Sunderland College, asked the audience not to forget colleges and further education institutes when it comes to educational talks: "If you could give 15, 20 minutes of your time a year to a local college, it will make a difference. Give people some guidance. Even the top 10% need some directing."
Professor Ruth Falconer from Abertay University went a bit further, and said the best way to build a relationship between academia and the games industry is to employ industry professionals in certain educational roles and capacities.
4. Find ways to be more accessible
An issue that was identified throughout the Summit was the accessibility of the games industry.
Recruiters repeated the importance of building and creating a strong portfolio, even more so than obtaining good grades. However, universities responded that although this is fine for the graduates who can rely on the "bank of mum and dad," it is a huge demand for students who need to juggle family and work on top of their studies.
There was a direct call from universities for recruiters to be more considerate of these challenges. Recruiters responded by suggesting that if students need to choose between working hard to achieve a higher grade or pulling together a strong portfolio, the latter was preferable.
5. Consider apprenticeships
Apprenticeships are relatively new to the industry, but they offer so much potential, Marcia Deakin of the NextGen Skills Academy argued. She added that the process of putting together apprenticeships is faster, and can be done in as little as 18 months.
Framestore's Amy Smith says that apprenticeships are not really a competitor to degrees, but offer a viable alternative to work alongside them as part of the recruitment process. She said that although there is some housekeeping work that might put studios off, ultimately -- with a good mentor -- apprentices can simply get on with the job at hand.
6. Get involved with academic research
"We must aspire to build meaningful collaborations to ensure the future success of the UK games sector"

DrChris Lowthorpe, London College of Communication
Dr Charlie Hargood of Bournemouth University made a strong call for the games industry to be more involved in academic research that goes on at universities.
"That is part of the education process as well," he said. "Those post-doctoral students are the specialists of the games industry of the future."
He called on industry professionals to help steer research to discuss the general problems that the industry faces, so that the research goes beyond, "the ivory tower and into the industry."
This continued into the conversation around diversity, too, with speakers on the diversity panel explaining how university research can help them work through the challenges around hiring in games studios.
Finally, Dr Chris Lowthorpe from the London College of Communication said: "We must aspire to build meaningful collaborations to ensure the future success of the UK games sector. We need an education chain that delivers value to everyone. We must work together and learn from each other. Working together not only exposes mental models, industry practices to students, it also exposes research and talent to industry."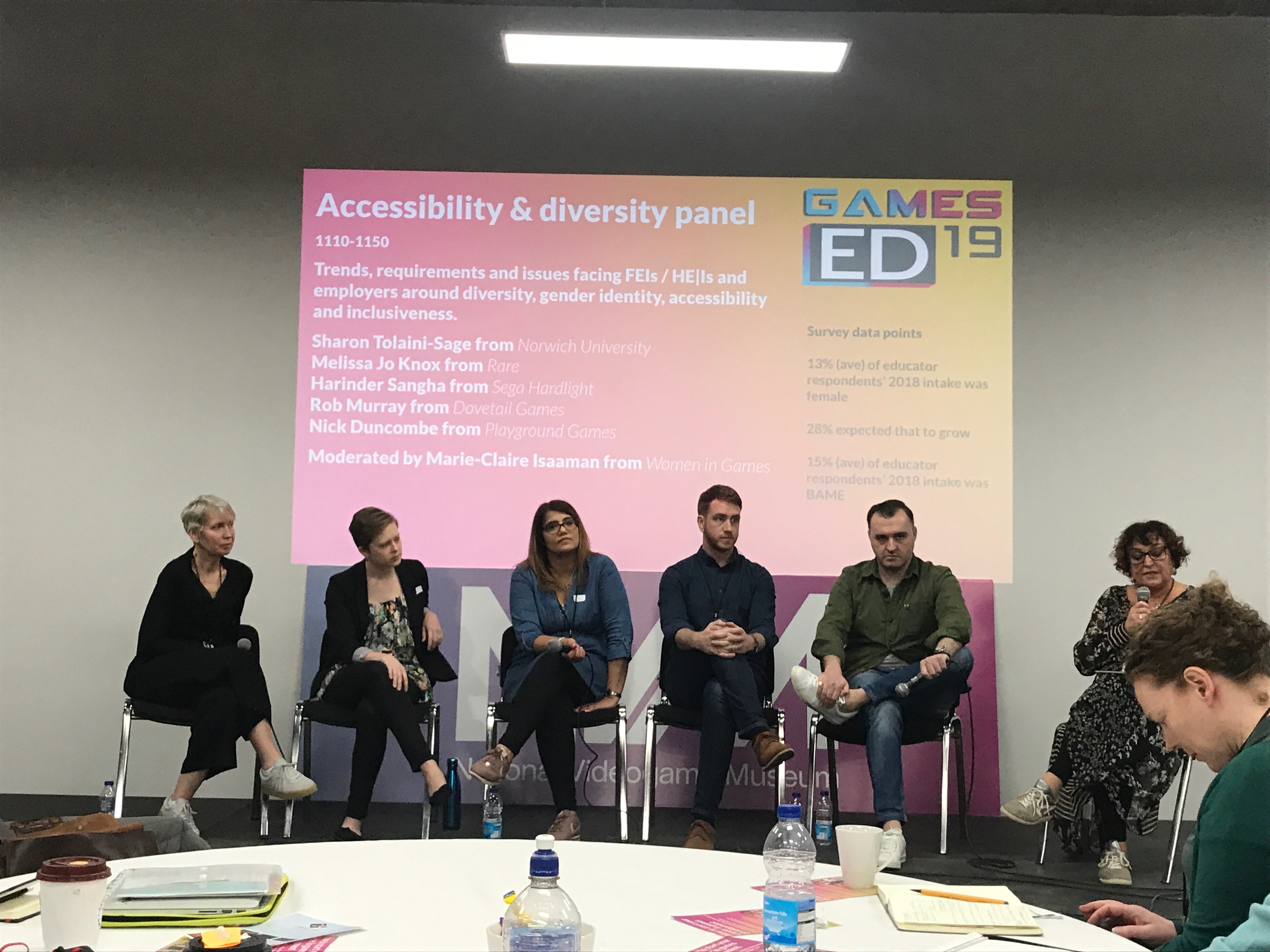 7. Help educators prepare for future jobs
Nia Wearn, senior games design lecturer at Staffordshire University, observed that some of the jobs that exist in games today -- especially around emerging trends like VR and esports -- didn't exist five or ten years ago. The industry is increasingly varied and always changing, she said, admitting that there's a real challenge in preparing students for jobs that simply might not exist yet. This is why collaboration with the industry is going to be crucial.
8. Speak to graduates early, because your competitors are
Dr Peter Howell noted that other sectors are far more proactive than the games industry in trying to reach his students. Indeed, several of the panellists noted that companies -- from finance to defence -- identify promising students early on, and then nurture them through sponsorships and bursaries.
"There's no reason the games industry can't do the same thing," Howell said. " The high costs might be off-putting, but that is countered by the high quality of graduate you get out the other end."
Next, we reveal the five things ways universities can better support the games industry.
Games Education Summit 2019 took place in Sheffield between April 15th - April 16th. GamesIndustry.biz was a media partner for the event.