EA Sports College Football will compensate players that appear in-game
Schools and players can opt in to have their names and likenesses featured in upcoming sports game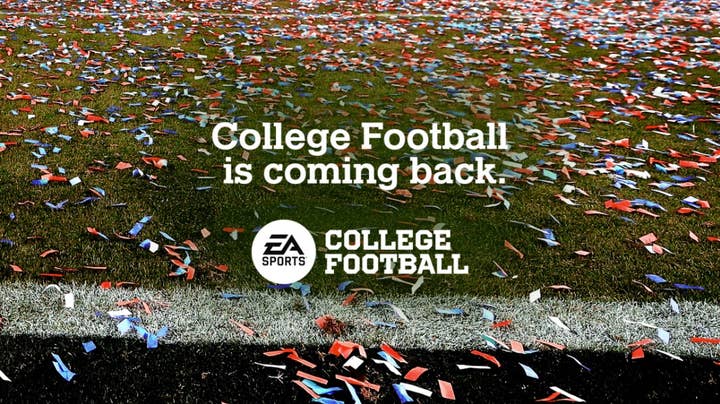 Sign up for the GI Daily here to get the biggest news straight to your inbox
Electronic Arts has confirmed that it will be compensating any college football players that feature in its future college football games.
An EA Sports representative told ESPN that all Football Bowl Subdivision (FBS) players can opt in to have their names and likenesses in the upcoming EA Sports College Football, and will receive payment.
It is unclear who much athletes will be paid as the details are still being finalised. The EA Sports representative said the publisher aims to be "as inclusive and equitable as possible."
Historically, college athletes have not been allowed to take payment for the use of their name, image or likeness rights, meaning all players who starred in EA's previous college football series – last released in 2013 – were unpaid.
However, a new law passed in California in 2019 that addresses this, and the NCAA reversed its long-standing opposition to college players being compensated.
EA told ESPN that it is working with athlete marketing and sponsorship firm OneTeam Partners to "facilitate collegiate athletes' names and likenesses" into the game.
Some players will have their face scanned into the game, although this will not be available to all as there are thousands of FBS players across the US and EA Sports hopes to have every FPS school in the game.
The publisher said that more than 120 FBS schools as well as all 10 FBS conferences and the College Football Playoff have committed to being in the game.
Notre Dame, which previously said it would not be involved in the game until athletes benefit directly from it, told ESPN it has been working with EA Sports on how names, images and likenesses are integrated in the game. However, it is unclear whether it has made a decision about appearing in the game.
EA Sports College Football is expected to be published in summer 2024, three years after the company announced it was reviving the series.