EA Sports returning to college football
New title underway thanks to exclusive partnership with CLC, will feature colleges but not real players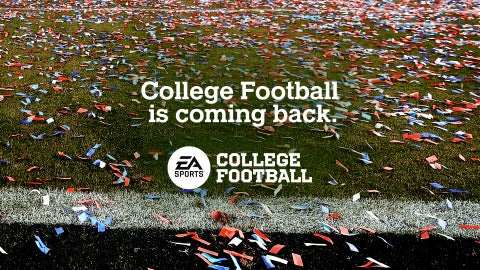 Electronic Arts revealed it has signed a partnership with collegiate trademark licensing firm CLC to bring college football back to the EA Sports portfolio.
The FIFA maker will now be the exclusive developer for simulation college football games, with development of the first EA Sports College Football already underway.
However, there's no word on a release date, with EA promising to give more details on launch timing "as the project progresses in the years ahead."
There will also be no real student athlete names, images and likenesses, even though the National Collegiate Athletic Association (NCAA), is in the process of changing its rules to allow student athletes to be paid for such rights.
That process was begun in 2019 after California passed a law allowing student athletes to be paid. The NCAA last month indefinitely delayed a vote to change those rules.
On the use of real players, EA said it is "continuing to watch those developments closely."
Instead, the partnership with CLC -- which is the licensing representative of the NCAA -- gives the publisher rights to more than 100 colleges and academic institutions, including their logos, stadiums, uniforms and gameday traditions.
Electronic Arts published best-selling college football games for 20 years, until a class action lawsuit successfully argued the publisher's exclusivity over the licence was an illegal monopoly.
At first, EA was given a five-year ban on signing another exclusive deal with the NCAA, but the college football association later said it would not renew its contract with EA Sports after it ended in June 2014.
At the time EA Sports boss Andrew Wilson said the company would continue to develop and college football games without NCAA names and trademarks, but never did.
The publisher also used to produce NCAA basketball games prior to the end of this agreement.
Earlier today, Electronic Arts announced it had extended its exclusive partnership with UEFA, was bringing the series to Stadia for the first time, is expanding the reach of free-to-play offering FIFA Online 4, and has six mobile FIFA titles in development.
MarketWatch notes that EA's stock rose to an all-time high following the announcement of EA Sports College Football. The publisher's share price reached just shy of $150.