EA CEO: Recent departures purely "coincidental"
Andrew Wilson says that there was no connection at all between the different departures at Criterion, PopCap and Chillingo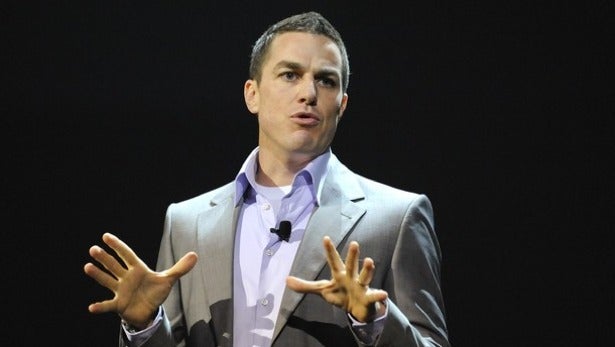 On the publisher's earnings call following its third-quarter results, EA CEO Andrew Wilson addressed a question from an analyst about the string of studio founders that all left the company within the span of a week at the beginning of January. Dave Roberts and Jason Kapalka decided to leave PopCap, Alex Ward and Fiona Sperry left Criterion to form a new company, and Chillingo founders Chris Byatte and Joe Wee also moved on from EA. Wilson said that the timing was simply coincidental, and he reiterated EA's passion for creative talent.
"As a company we're a creative organization. I came up through the creative side of the organization and I still have a deep passion for bringing in new creative talent and keeping our talent, but also as part of a creative industry people come and go for all kinds of different reasons. You've seen some recently have left and these changes happened to be announced in a short window, which was more coincidental than anything and there definitely was no connection between their departures," Wilson stressed.
"EA as an organization, we've got over 8,000 amazingly talented and creative people and we'd love to see these people have the opportunity to step up and lead our studios - guys like John Vechey at PopCap, Matt Webster at Criterion and Ed Rumley at Chillingo have all been at their respective studios for a long time and bring a lot of energy and enthusiasm and new creative thinking to their roles. These studios all have exciting work underway..."
Earlier in the call, there was lots of discussion about the new consoles, and EA banged its chest heavily, noting that its software sales on Xbox One and PS4 have been exceeding expectations. Peter Moore also said that we shouldn't forget about the large installed bases of the previous Xbox 360 and PS3, and he noted his belief that Microsoft and Sony will continue to support these aging systems.
"Having been around that Xbox business, I think Microsoft is committed to the 360 for a number of years and I anticipate both Sony and Microsoft getting behind their platforms at least for the next two years and bringing them to a 10-year cycle as we saw with the previous cycle," he said.
Moore's also been impressed with the replenishment of inventory for the new consoles and he reiterated his belief that the combined shipments for Xbox One and PS4 should eclipse 10 million worldwide by the end of the fiscal year in March.
As well as things have been going for the new consoles, however, there's still a bit of caution on the lips of execs at the publisher. CFO Blake Jorgensen noted, "I do think we're still in a bit of an air pocket between the new consoles coming out and the old consoles, where many of the consumers are still waiting on the sidelines and that's why you haven't seen one-for-one replacement in software. Our assumption is that'll start to go away over time and it'll settle into a normal Gen3 business.
"We still ship some Gen2 software so we think Gen3 will be around for some period of time and we think it'll be a viable part of our catalog going forward and it could grow if for some reason the prices came down on the Gen3 consoles and brought new consumers into the market in places around the world that have not yet had access to the boxes."