Double Fine prototypes become Humble Bundle
The developer teams with Humble Bundle for unique event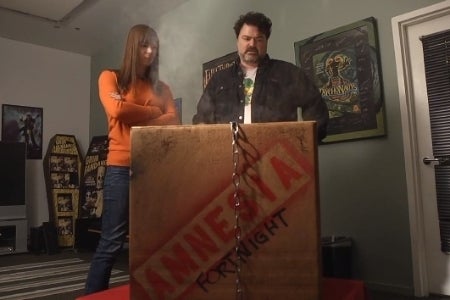 This year, Double Fine has decided to change up its Amnesia Fortnight event by allowing fans to choose which ideas get made into games, livestreaming the entire development process, and then releasing those titles as a Humble Bundle. Amnesia Fortnight is a two-week prototyping period where Double Fine employees split into small teams to brainstorm and develop inventive new titles. Previous Amnesia Fortnight titles have included Costume Quest, Stacking, Middle Manager of Justice, and Iron Brigade.
The first step is for players to head to the Double Fine forums to discuss their favorite game ideas. Players then head to the Double Fine Humble Bundle page to vote for their favorite games, with a minimum contribution of $1 to vote. After the first week, the four most popular ideas will be developed into prototypes. The teams have two weeks to make their games, with 2 Player Productions filming the entire development process and posting videos each day. Once the prototypes are finished, they will be released alongside prototypes of previous Amnesia Fortnight winners Costume Quest and Happy Song.
"We do it to test out new ideas, and to test out new project leaders who feel ready to have a project of their own. Many of the games we've released in the last few years have come from the Amnesia Fortnight process. It's really a great morale boost for the team, and a highly effective way to develop new game ideas," said Double Fine founder Tim Schafer in the developer's announcement post.
Descriptions and videos for all the game ideas are live, so get to reading, discussion, and voting!