China and Asia show their influence over the top grossing mobile games
Sensor Tower's data for January 2020 underlines the commanding role Asian markets play in the global games industry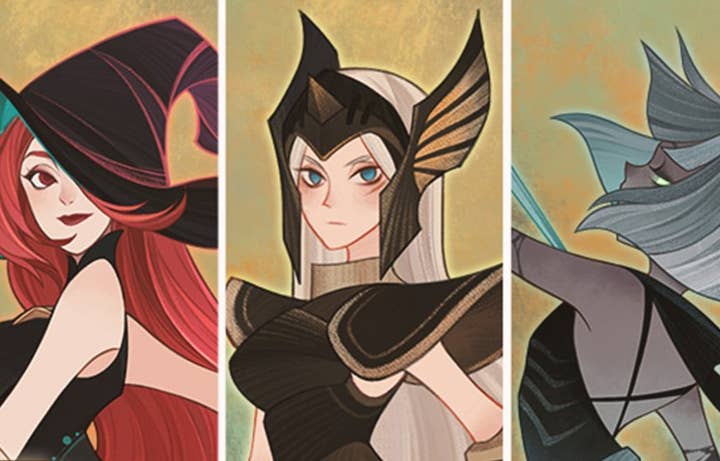 With more people in China and greater Asia choosing or needing to stay inside during the coronavirus outbreak, there has been an increased interest in home activities. Demand for Nintendo's fitness game Ring Fit Adventure is said to have soared. User spending in certain categories of mobile apps -- including games -- has also surged, as people have kept themselves busy while exercising safety precautions.
Revenue and download growth
Sensor Tower Store Intelligence estimates show that games revenue on the Chinese App Store during January 2020 increased by 36% compared to January 2019. The number of downloads also grew, rising by 38% year-on-year.
In January 2020, the Chinese App Store -- not including third-party Android stores -- generated more than 31% of global games revenue for the month, the largest share of any country. It also accounted for close to 24% of all App Store game downloads worldwide, just behind the US with 26%.
In fact, downloads for games in China during both January and February 2020 were at the highest level since July 2018.
Even with significant local restrictions, China remains serious business for games
It should be noted, however, that January 2019 revenue and downloads were relatively low -- down from January 2018, in fact -- in large part due to the long games licensing freeze in China, which dragged on until December 2018. The resumption of new licences was not particularly fast due to the large backlog of titles looking for approval.
Despite this, even in January 2019, China represented 28% of global games revenue on the App Store, just behind Japan with 28.4%. It goes to show that, even with significant local restrictions, and without a national health crisis leading to a change in habits, China remains serious business for games.
The key games
China's influence on global game revenue can be seen in the top grossing charts for January 2020, where Tencent's PUBG Mobile and Honor of Kings both sat atop the overall revenue rankings.
PUBG Mobile generated an estimated $176.3 million in user spending for the month, nearly four-times the amount it brought in in January 2019. While 53% of the game's significant revenue came from China, the rest came internationally, with 14% of revenue from the US.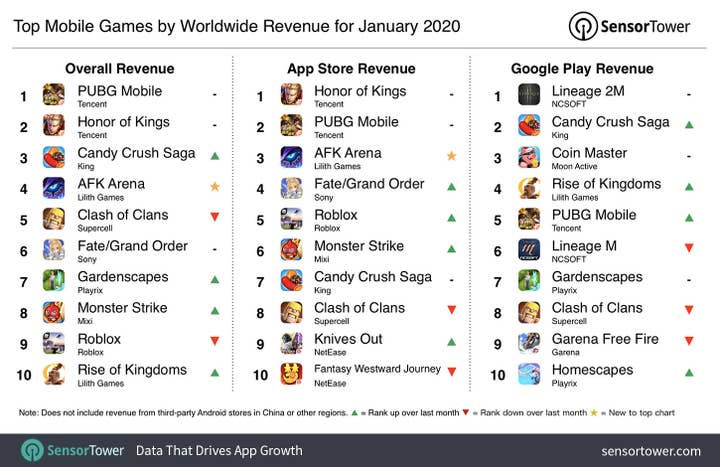 Honor of Kings earned $151.3 million in gross revenue, an increase of 25%, but this time with 95% of user spending coming from China. Both are great, differing examples of how China's influence on the market doesn't just come from high local spend, but games created by developers in the country can pull in the big bucks abroad.
Chinese studio Lilith Games is a prime example of the latter. AFK Arena has historically generated significant revenue from outside of China, as has Rise of Kingdoms. However, AFK Arena had its best month ever in January 2020, generating $88.3 million, nearly three times the revenue of its previous best month in August 2019. The boost in spending followed its launch in China last month, with the game now making more money in the country than any other market.
At least 17 games from the top 30 in January 2020 were published by companies that have Chinese influence
Rise of Kingdoms also had its best month ever in January, accumulating about $62 million, and looks likely to beat that figure in February, too. Unlike AFK Arena, user spending wasn't supported by a launch in China, where it is still unavailable.
Market influence
Of the top 30 grossing games worldwide in January 2020, eight of those were published by Chinese companies, with four titles in the top ten: PUBG Mobile, Honor of Kings, AFK Arena, and Rise of Kingdoms. Aside from Honor of Kings, three of those titles have so far generated more from user spending outside of China than within the market -- though it should be noted that PUBG Mobile only began monetising in the country in May 2019, when it more than doubled user spending from April 2019.
At least 17 games from the top 30 in January 2020 were published by companies that have Chinese influence -- the company is based in China, or has a Chinese investor, or a Chinese parent company.
It's not just China, however, that is a significant player on the international games market -- other Asian countries also play a key role. Out of the top 30 grossing from January, 17 games were published by Asian companies, and at least 25 games of the top 30 were published by companies either based in the region, or that have a backer located there.
Asia -- and particularly China -- has only increased its influence on the global market in recent years, a situation that looks unlikely to change. This article does not include factors like Tencent's Timi studio developing Call of Duty: Mobile, or the string of partnerships Western companies have formed with Chinese publishers to release their games in the market.
Countries such as the US obviously remain important to the international market -- and there are major studios all over the world -- but Asian companies are never far away from that success.
Craig Chapple is Mobile Insights Strategist, EMEA, at mobile intelligence firm Sensor Tower, provider of data and insights needed to master the mobile app ecosystem. He has previously served as senior editor at PocketGamer.biz and has worked in the games industry for over eight years.