CEO says Embracer "will not change in any way" after Saudi Arabia $1bn investment
Lars Wingefors explains the rationale for accepting investment from Savvy Gaming Group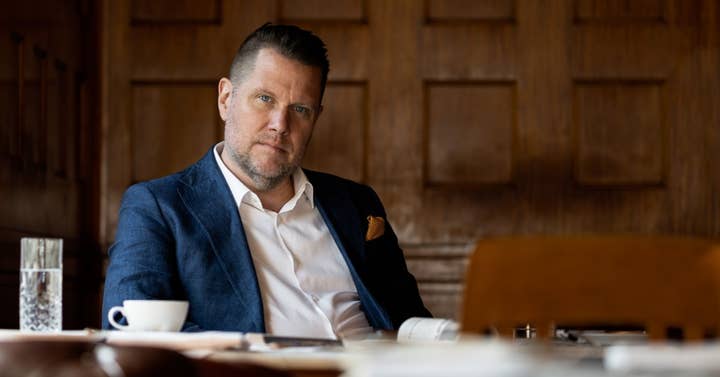 Embracer Group CEO Lars Wingefors has addressed the controversy around the sale of an 8% stake in his company for $1 billion to Savvy Gaming Group.
In a statement shared with GamesIndustry.biz and posted on the company's website, Wingefors said he "understand[s] and respect[s] that there are different views on this topic," adding: "I don't claim to have the right answers, but I want it to be clear that this decision was not taken lightly."
Embracer announced the sale of its shares to Savvy Gaming Group last week, giving the latter 5% of voting power and 8.1% of the group's capital. The news followed Savvy Gaming Group acquiring a 5% stake in Nintendo and investing $1 billion into minor stakes of Capcom and Nexon.
Savvy Gaming Group is owned by Saudi Arabia's Public Investment Fund. The country is known to have a poor human rights record; for example, homosexuality is declared to be a crime that is punishable by anything from flogging to execution.
Saudi Arabia is also mired by other controversies, including allegations that authorities have forcibly removed and reportedly killed members of the Huwati tribe to make way for the construction of its Neom megacity project. Riot Games was previously in partnership with this project, but withdrew after the backlash it received.
In his statement, Wingefors emphasised that Savvy Gaming Group's investment will not affect the way Embracer Group is run.
"Embracer is built on the principles of freedom, inclusion, humanity and openness," he wrote. "The transaction with SGG will not change this in any way."
He added: "They have invested in Embracer because they support our current vision, strategy, and leadership, not to change it."
Wingefors discussed how the growth of Embracer has necessitated seeking international investors, and that it has already secured finance and support from various shareholders across the Middle East and Africa region, as well as Asia.
It was during the process of seeking investors that it learned about the Public Investment Fund and its previous activity with games companies. Embracer also spent six months learning more about Savvy Gaming Group, including discussions with the SGG about "difficult topics involving non-gaming issues relating to Saudi Arabia."
"We genuinely believe [Savvy Gaming Group] has ambitions within gaming that are genuine [and] consistent with... the values and culture of our industry"
"We genuinely believe that SGG, a fully commercial entity, has ambitions within gaming that are genuine in supporting the global ecosystem for our industry that are consistent with and important to the values and culture of our industry," he wrote.
"SGG is providing a sizeable, truly long-term capital investment to support our strategy and our management so that we may continue the successful growth of our commercial businesses. My values as a Swedish entrepreneur are unwavering. We are a value-based company, and our commitment to a decentralised operating model that empowers great people to make their own decisions will always remain."
Wingefors also talked about the prominence of gaming in Saudi Arabia and the wider MENA region, reporting there are more players in this area than in Europe or the US.
"I truly believe in inclusion and the change that can be affected by opening our content to new markets," Wingefors said. "By bringing more of our products to the MENA region, we have the opportunity to build local connections, support entrepreneurs, employ a diverse group [of] people in our whole ecosystem, promote growth and bring the world closer together through gaming."
The Embracer CEO added: "To be clear, all subsidiaries within the Embracer Group act independently but share common, high ethical standards and transparency. The Group has zero-tolerance against all forms of harassment and discrimination with a strong belief in diversity and inclusivity. I know Brian [Ward, CEO] and the SGG team hold the same views and intend to operate SGG accordingly.
"The same rules will apply to any company we would establish in Saudi Arabia or the MENA region at large."
Wingefors also addressed speculation about whether Savvy Gaming Group will be given a seat on Embracer's board of directors. This, he said, is a matter for the shareholders at an annual general meeting in future, but shared his personal view that Ward would make a good fit.
Ward has decades of experience in the games industry, having previously held senior management positions at Activision Blizzard, Electronic Arts and Microsoft Games Studios.
"Brian has a deep industry knowledge that is valuable to Embracer, and I would be supportive if he personally would like to contribute to the board at a later date as long as he is committed to the time needed."
Embracer Group recently made headlines when it purchased Crystal Dynamics, Eidos Montreal, Square Enix and a slew of major IP -- including Tomb Raider -- for $300 million.
GamesIndustry.biz will have a full interview with Wingefors next week.