CD Projekt's market cap rivals Ubisoft -- but not for much longer | Opinion
The Polish publisher is riding high on The Witcher and Cyberpunk hype, but Ubisoft is about to emerge from a year of uncertainty with five AAA launches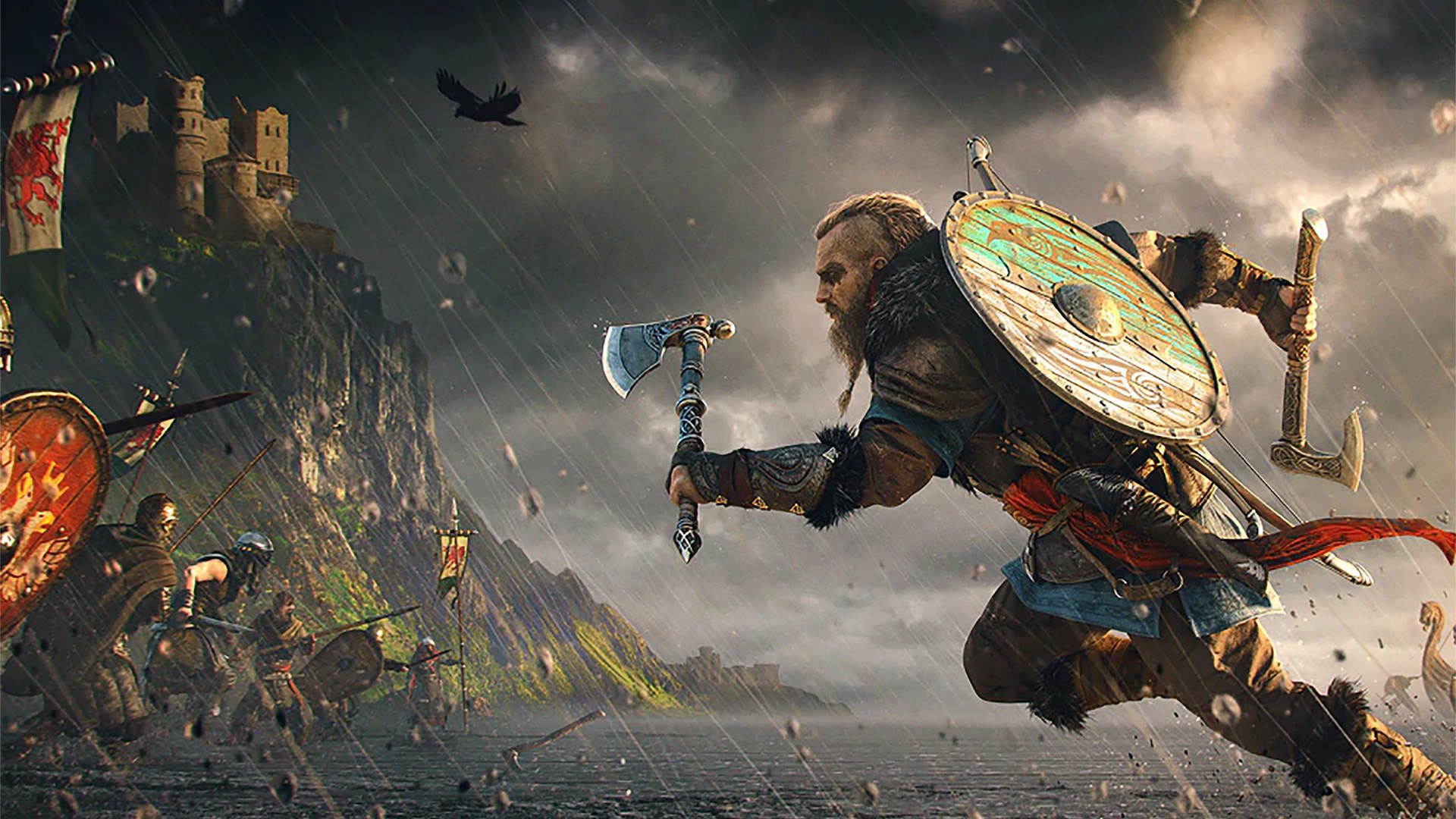 Is CD Projekt Red now worth more than Ubisoft?
That story began to circulate at the start of this week, originating with a report on Gameplay Mechanix on May 19. The Polish company behind The Witcher, the report said, had a market capitalization of PLN 35.6 billion, equivalent to €8.01 billion. Ubisoft, meanwhile, had a market cap of €7.82 billion.
A publisher that had yet to reach ten first-party games in its lifetime had surpassed a company that releases almost that number in any given year. A great achievement, and a bloody good headline.
By May 20, however, those roles had already reversed, with Ubisoft just ahead of CD Projekt Red in terms of market cap. Today, the situation has reversed again, with CDPR climbing back up to PLY 38.1 billion, or around €8.4 billion, a shade ahead of Ubisoft on €8.38 billion. Check back tomorrow and the situation may well be different again.
If there is a lesson to takeaway, it's that any single day on the stock market is a far from reliable source to back up broad statements about definitive value. Stock prices change from hour to hour, and that is further complicated by fluctuating exchange rates -- by the time the report is written, the numbers have already changed.
Any single day on the stock market is a far from reliable source to back up broad statements about definitive value
However, the fact that CDPR can even be compared to Ubisoft in terms of share value is a remarkable feat. The Polish company has a relatively slim portfolio, largely buoyed by a single IP and a minority competitor in the PC distribution market.
In 2019, it earned PLN 521 million (€115 million) in revenue, up 44% over the previous year. The GOG.com distribution platform contributed PLN 162 million (€36 million) of that amount, a new high watermark for the division, but the majority of sales were driven by The Witcher 3, which launched for Nintendo Switch in October, and sold six million units across all platforms -- the game's second best year for unit sales after 2015, but one in which it was frequently available at a steep discount from an already lowered price, and had a very popular Netflix series introducing a new army of fans to the IP.
While these results show improvement over 2018, they are still far short of CDPR's best years: it earned PLN 798 million (€176 million) in 2015 -- the year The Witcher 3 launched -- and PLN 584 million (€129 million) in 2016. The Witcher 3's staying power is remarkable, but with the Switch version now available and the TV show only contributing to the bottom line through indirect game sales, there are no more worlds left to conquer. Geralt had an incredible run, but it will likely be diminishing returns until the next game in the series.
And yet, despite being some way from its very best in terms of revenue, CDPR's stock has been steadily climbing ever since it went public -- as this graph, showing the last five years, indicates: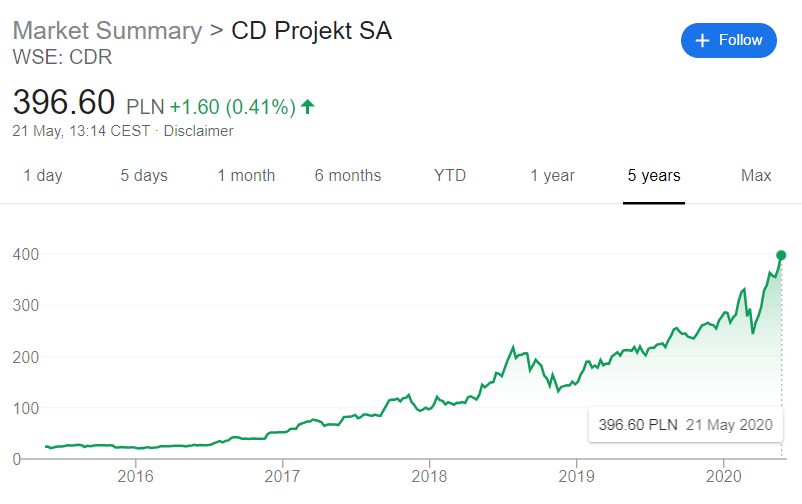 The contrast to Ubisoft is stark. In the last fiscal year, the French publisher earned €1.59 billion in revenue, down 14% in what the company acknowledged was a lacklustre year for releases. Indeed, in October 2019, it delayed three of its biggest upcoming products: Watch Dogs Legion, Gods & Monsters, and Rainbow Six Quarantine, which left the fiscal year without several expected highlights, and prompted a crash in its stock price.
The deep valley in this graph coincides with the announcement of those delays, while the sharp decline that follows lines up with the publication of its inevitably disappointing Q3 fiscal results.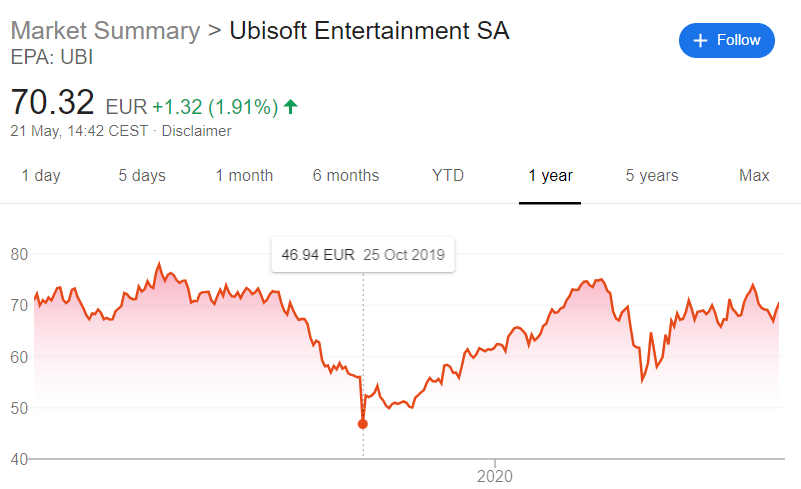 By its own standards, Ubisoft has been on the ropes for the last six months in terms of investor sentiment, in a way that CD Projekt Red in its comparatively short time as a public company never has. Not reaching the highs of the peak of The Witcher 3's popularity simply doesn't change the optics around CDPR in the way that three major titles slipping does for Ubisoft, even though the latter brought in at least ten times more revenue across a 12-month period.
Indeed, one need only look at Ubisoft's performance over the last five years to see how misleading a comparison between CDPR and Ubisoft on any one day can be. In June 2018, Ubisoft had just posted €1.73 billion in fiscal year revenue -- higher than its most recent results, but not dramatically so -- and yet it was trading at around €100 a share, more than 40% above its current level. Far Cry 5 was on the shelves, Assassin's Creed: Odyssey was just around the corner, and investors were very happy with the situation.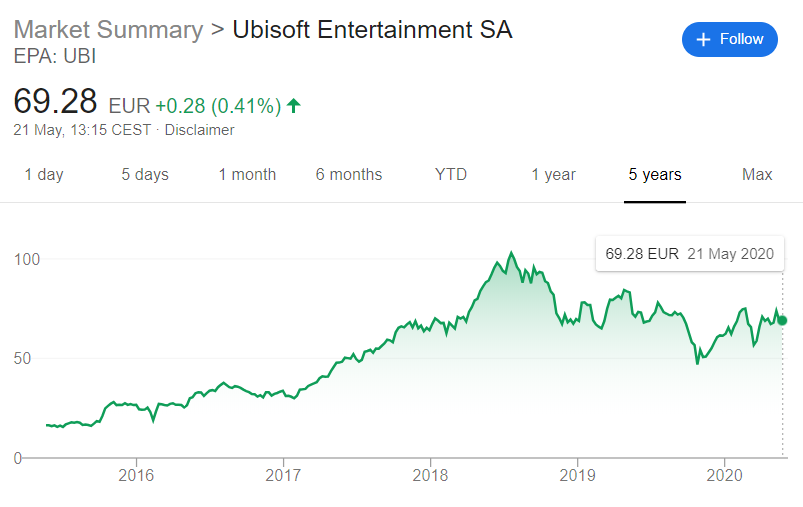 With Assassin's Creed: Valhalla and Rainbow Six Quarantine both scheduled to launch in 2020, Ubisoft's period of uncertainty will soon be over, and its share price returning to 2018 levels is a smart bet. CD Projekt Red, meanwhile, has never traded at a higher price than it does right now, and that is still far short of Ubisoft at its recent peak.
The lingering question, then, is Cyberpunk 2077, and the impact its commercial performance will have on CDPR's stock price.
At this point, Cyberpunk is as close to a guaranteed hit as it's possible to get in the games industry, and many would gamble on it rivalling The Witcher 3's early sales performance. Whether it can surpass it -- as the first game in effectively a new series -- is more open to debate, but you can take it for granted that CDPR will report a significant increase in revenue in its next full-year results.
Will that one game be enough to drive beyond Ubisoft, which has three AAA launches in addition to Assassin's Creed and Rainbow Six planned for this fiscal year? It's unlikely. While Cyberpunk may be a bigger hit than any one of those five games, the hype around it has likely played a significant role in CDPR's stock climbing to its current point. Companies that earn €115 million a year in revenue aren't typically worth €8 billion, and neither are companies with 35% lower revenue now than in 2015. CDPR is both of these things, and the fact that its stock price continues to climb says as much about the optics around Cyberpunk -- and, perhaps, a certain Netflix tv series -- as the copies of The Witcher 3 sold on Switch.
Optics are hugely important in the stock market, but CDPR may have cashed a significant portion of Cyberpunk's cheque already. When it hits -- and it will hit -- it may only be seen as making good on a promise that has already registered in the company's value.