Blizzard employees organise walkout following Hong Kong controversy
Popular caster Brian Kibler also withdrew his participation to the Hearthstone Grandmasters final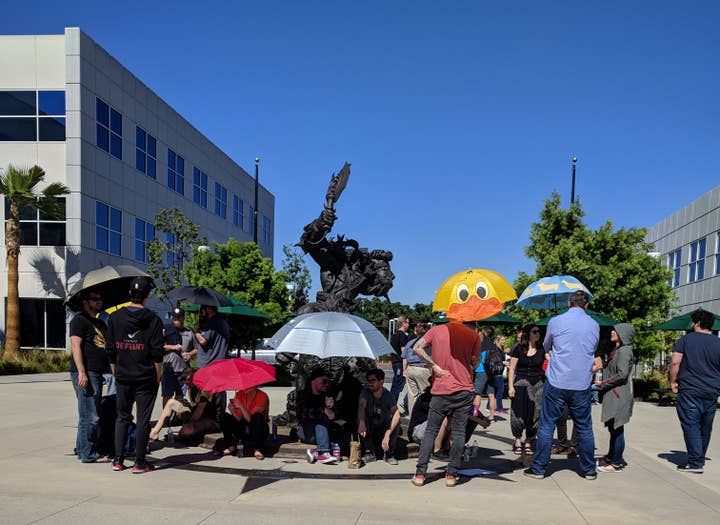 A small number of Blizzard employees have staged a walkout on Tuesday to show support to Hearthstone pro player Chung 'blitzchung' Ng Wai, who was excluded by the publisher for showing support to the Hong Kong protests.
According to The Daily Beast, several Blizzard employees gathered next to the Orc statue in front of Blizzard's HQ in Irvine, California, with some of them carrying umbrellas - a symbol used in the recent Hong Kong protests that is reminiscent of the 2014's pro-democracy protests known as the Umbrella Movement.
Throughout the day, between a dozen and 30 people came and went on the site of the walkout, which would have been visible from the executive offices, participants reported.
Talking to The Daily Beast, an employee who preferred to remain anonymous said: "The action Blizzard took against the player was pretty appalling but not surprising. Blizzard makes a lot of money in China, but now the company is in this awkward position where we can't abide by our values."
Such values include 'Think globally' and 'Every voice matters', which are displayed on plaques next to the Orc statue. These were covered by staff yesterday, one of many other demonstrations of discontent worldwide, including reactions from US senators.
Another anonymous employee added: "We want people all over the world to play our games, but no action like this can be made with political neutrality."
Another consequence of Blizzard's decision to suspend Ng Wai was Brian Kibler's decision to cancel his participation as a caster to the Hearthstone Grandmasters final, which will take place at Blizzcon in very early November.
The popular player and caster issued a long statement explaining that this "is simply not something [he] can in good conscience be associated with."
He added: "I will not be a smiling face on camera that tacitly endorses this decision. Unless something changes, I will have no involvement in Grandmasters moving forward."
Reacting to the controversy yesterday, Epic Games said that it will not ban or punish Fortnite players or content creators for speaking up on political issues.