Behaviour pushing beyond work-for-hire roots
VP of creative David Osborne explains how the studio moved to self-publishing original titles like Dead by Daylight and Deathgarden
Since its inception in 1992, Quebec-based Behaviour Interactive has been predominantly a work-for-hire studio. It has worked on some of the biggest brands in and out of games, including Halo, Lord of the Rings, Iron Man and Transformers.
It has also, about every generation or so, taken a stab at original intellectual property. It developed Jersey Devil on the original PlayStation, Scaler on the PS2, and Wet and Naughty Bear on the PS3. While the studio learned from each of those efforts, they were not the sort of breakthrough hit that would change Behaviour's reputation as primarily a work-for-hire studio.
That wouldn't come until the studio launched the asymmetric multiplayer horror game Dead by Daylight on the PC just two years ago. It debuted atop the Steam sales charts and made its investment back in a matter of days. It has since expanded to consoles, and now sits at about four million copies sold, with an average of one million players per month.
Speaking with GamesIndustry.biz recently, Behaviour VP of creative David Osborne said one key difference with Dead by Daylight is that it came from a different development process.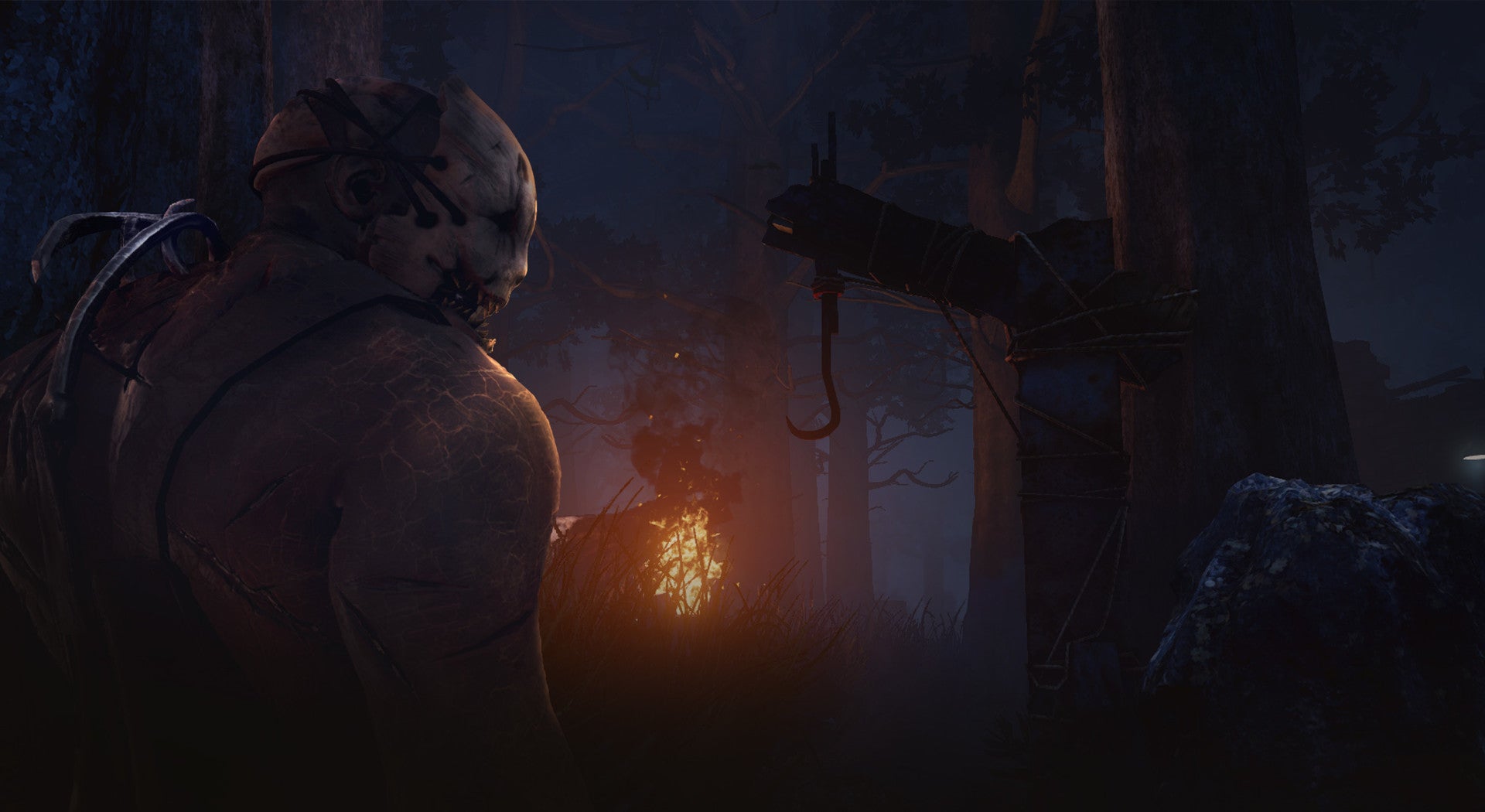 "With work-for-hire, you're often pitching a lot and looking for work, and it can be difficult to concentrate on your own things as well, so we started a new division with the company," he explained. "The idea was to take control of our own destiny by creating our own IP for PC and console directly at the beginning."
"What we do internally is to try and find the fun as quickly as possible. So we don't start any products until we've played the hell out of them"
The studio established an R&D division consisting of Osborne and a handful of other senior staff, with a remit to explore new ideas that could lead to future Behaviour projects and secure the company's future.
"The R&D team is a huge, long-term, full-time commitment for us," Osborne said. "It prospects for the future because it's very important to have a great product and a great success, but we've also got to make sure we're thinking, 'What's going to be happening five years from now, or 10?'"
Ironically enough, the first game to come out of that division had its roots in an idea Behaviour toyed with years earlier. Osborne said one of Naughty Bear's multiplayer modes back in 2010 was an asymmetric 1-on-3 contest that helped inform Dead by Daylight and make it the first prototype to come out of the R&D division. Any such headstart on an idea can be a huge boost given how rough the prototypes are at this stage. In its prototype form, Dead by Daylight wasn't networked; the developers instead simulated multiplayer by propping up a piece of cardboard down the middle of the screen.
"What we do internally is to try and find the fun as quickly as possible," Osborne said. "So we don't start any products until we've played the hell out of them. And even when they're in production, we make sure there's a build playable every single day."
Of course, there's a lot more to producing a hit than just "finding the fun". Once Dead by Daylight development was well on its way, Behaviour signed a publishing partner in Starbreeze. Osborne said the two companies split development costs half and half (Starbreeze reported investing $2 million into Dead by Daylight's initial development) in a deal that saw Behaviour retain the IP and creative control, and gain a partner who brought more than money to the table.
"They helped us ease our way into a publishing arm," Osborne said. "We learned a lot from them and their less traditional way of publishing games. Obviously, they brought with them a huge community from Payday, and a lot of experience in the games-as-a-service space."
Earlier this year, Behaviour re-purchased the publishing rights to Dead by Daylight from Starbreeze for $16 million. It may have cost Behaviour a significant amount to get those rights back, but Dead by Daylight continues to be successful (Osborne said the game is posting its best numbers yet these days), and the studio now has the expertise and means to take its next project from the R&D division to market without a publishing partner.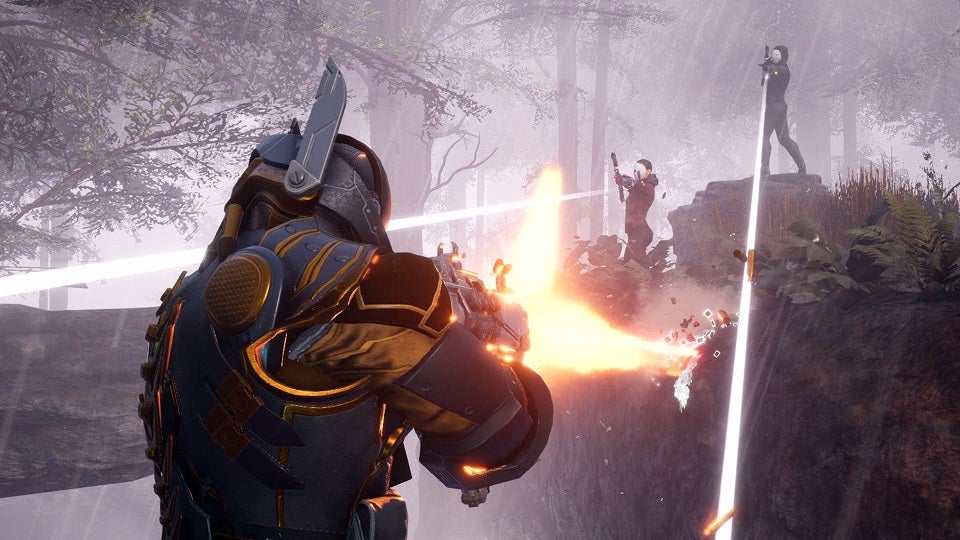 That project, Deathgarden, launched into Steam Early Access last week. It's another asymmetric multiplayer title, but Osborne describes it as a 5-versus-1 brutal blood sport rather than a 4-versus-1 horror game like Dead by Daylight.
"The original prototype idea was, 'Is it fun that you've got a gun and we don't?' And we found out early on with very primitive prototypes that it really was quite exciting," he said. "Dead by Daylight is slower paced, hide-and-seek horrific, whereas this is very fast paced with a first-person shooter chasing third-person action adventure players, and those five people have to work together as a tight, coherent team to activate the exit and escape the arena."
"For all decisions that need to be made, [the decision makers] are all here on a daily basis. So there are no delays of 'when they come', or 'in a few months', or 'if we visit them we'll decide this'"
Asymmetric multiplayer titles don't have an especially rich history of blockbuster successes, but Behaviour isn't terribly concerned about returning to this particular well so soon, even with Dead by Daylight as an ongoing product.
"We think there's room in the industry for us to grow into a second [asymmetric multiplayer] product," Osborne said. "Will we be doing a third one right out of the gate? No, I don't think we will. Our next product after this will be something quite different, I should imagine, and we obviously have many options in that. We are not just an asymmetric multiplayer studio, although certainly that's the expertise we've been building since our early work on Naughty Bear."
As for how the development process on Deathgarden is different without a publishing partner around, Osborne said one of the biggest challenges doubles as one of the biggest advantages.
"When you have a publishing partner, you're obviously sharing the financial risks and rewards, but when it's all on you, the buck stops here," he said. "One of the nice things about this studio is we are all within the same studio walls in a big open-plan office... For all decisions that need to be made, [the decision makers] are all here on a daily basis. So there are no delays of 'when they come', or 'in a few months', or 'if we visit them we'll decide this'. We can decide almost with an indie speed. We have the advantages of being indie and the advantages of being large, too, because we still share central resources with the work-for-hire group, like HR, legal, and things."
The Deathgarden and Dead by Daylight teams are now their own separate groups within Behaviour, leaving the three-person R&D division free to continue searching for the studio's next big thing. Despite the success Behaviour has had with its latest push for original properties, Osborne said the company has no plans to leave its work-for-hire business behind entirely.
"One of the things that does come across from our work-for-hire learnings is the knowledge that this truly is a business," Osborne said. "You have to take the financial side of it seriously, and deadlines are deadlines. We still need to make sure we're releasing a great product that makes sense financially."