BAFTA "Ones To Watch" launch new company
Tick Tock Toys creators found Swallowtail Games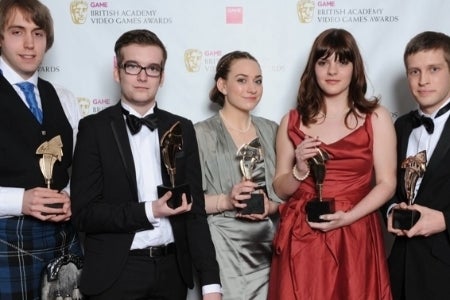 The winners of the 2012 BAFTA Video Games Awards 'Ones to Watch' prize and Dare to be Digital 2011 have launched new development studio Swallowtail Games.

"We're delighted to start our own company, something which wouldn't have been possible at this stage without the investment from the Abertay Prototype Fund. This is something I've dreamed of since I was a little girl," said Swallowtail Games' Sophia George.

"We always planned to release Tick Tock Toys as the feedback we got from Dare to be Digital and winning the BAFTA was so amazing, but now we're able to finish the game much more quickly - and use this development time to create a really rich, enjoyable experience for people of all ages."

Swallowtail Games is made up of Rosie Ball, Kristian Francis and Sophia George from the Norwich University College of the Arts and Mark Bamford and Callum Goold from Abertay University.

The Abertay University Prototype Fund has awarded the team £25,000 towards development, and its game Tick Tock Toys will be released for iOS next year.

"I'd advise anyone who wants to start their own games company or try out a new business idea to apply for the Abertay Prototype Fund. It's massively accelerated our business plans," added co-founder Francis.

"What people need to think about in their Prototype Fund application is how they're going to build a great, commercially viable business, not just a one-off product. Swallowtail Games has a really distinctive child-friendly art style and a passionate focus on deceptively simple, beautifully fun games for all the family. That helped us secure the investment and, we hope, will help launch a sustainable, successful business right here in Dundee."

To find out more about Prototype Fund investment head to the official site.