Applications open for EGX Rezzed 2019's Leftfield Collection
Free exhibition space available to experimental and unorthodox indie games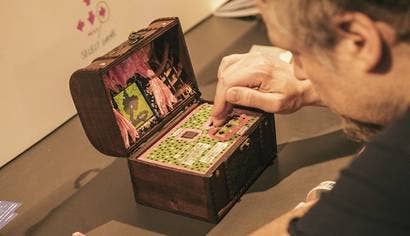 The organisers behind EGX Rezzed are now accepting submissions for next year's Leftfield Collection.
The collection -- once again sponsored by Sega -- has become a landmark park of both Rezzed and the larger EGX, highlighting titles and game-like projects that explore the broader realms of what video games can be.
Entries are often a little weird or unorthodox, sometimes offer alternative or non-traditonal controls, but are always unique and creative.
Previous examples include Sam Barlow's seminal narrative title Her Story, Wobbly Labs' one-dimensional platformer Line Wobbler and Hello Games' popular stunt game Joe Danger.
Exhibition space in the Leftfield Collection is free, but spaces are limited and with hundreds of submissions expected, the Gamer Network events team has to be selective.
You can apply for a slot by filling in the submission form. Games do not need to be a finished or highly polished state, as prototypes and early-stage projects have been exhibited at past events.
The deadline for submissions is January 18, 2019. Submissions must be made via the form, but you can send any queries to the Leftfield Collection's curator David Hayward.
Indies interesting in booking regular exhibition space at Rezzed should contact account manager Matt Clements.
EGX Rezzed 2019 will be once again be held at London's Tobacco Dock and run from April 4 to 6.
GamesIndustry.biz will be present, of course, with the Careers Fair and Meet The Indies, a matchmaking service that pairs developers with publishers.