Apple reports three-fold increase in Chinese revenue
CEO Tim Cook hails "incredible" quarter in the region, iPhone sales up by a factor of five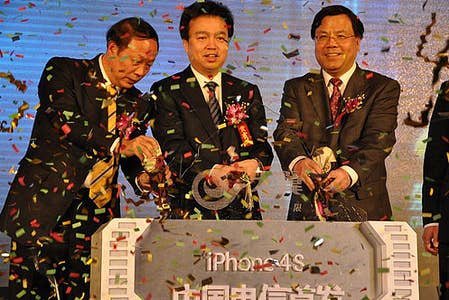 Apple's enormously profitable second fiscal quarter was buoyed by strong performance in China, as the company's supply of iPads and iPhones to the region begins to approach its high levels of demand.
In a call with investors, Apple CEO Tim Cook described its performance in the region as "incredible", with revenues from Greater China hitting $7.9 billion - around 20 per cent of its total revenue, and a three-fold year-on-year increase.
Apple's Greater China revenue for the first half of the fiscal year is now at $12.4 billion, versus the $13.3 billion generated in the entire previous fiscal year.
"A part of this was the pent-up demand for iPhone 4S," he said. "As you know, we launched mainland China in January of this year, and so China was not able to get into the Q1 period. So all of that is in Q2.
"We also have very strong demand for iPad 2. We have not shipped in mainland China yet the new iPad, although we are shipping in Hong Kong. And so it's a combination of these things."
The various iPhone models sold five-times as many units as in the same quarter last year, aided by both the launch of the 4S and the addition of China Telecomm as a carrier.
However, Cook believes that this high rate of growth is not unique to Apple. Rather, it is evidence of the "enormous number" of Chinese people moving into higher income brackets and actively seeking out consumer electronics.
"There's a tremendous opportunity for companies that understand China, and we're doing everything we can to understand it and serve the market as good as we can," he added.
Cook recently visited China to meet with a number of important figures in both government and business that could help Apple's growth in the region.
One of the stops on Apple's packed itinerary was Proview Electronics, which registered the iPad trademark in China back in 2000. This is just one of a series of legal disputes in which Apple is involved; others include patent issues with much larger companies like Samsung and Motorola.
In the investor call, Cook was questioned on Apple's decision to wage war against so many companies, as opposed to settling and continuing to out-perform the competition.
"I've always hated litigation, and I continue to hate it," Cook replied. "We just want people to invent their own stuff. And so if we could get to some kind of arrangement where we could be assured that's the case and a fair settlement on the stuff that's occurred, I would highly prefer to settle versus battle.
"The key thing is that it's very important that Apple not become the developer for the world. We need people to invent their own stuff."