38 Studios struggles to remain solvent
Local government intervenes to protect $75m loan, admits "tight time-frame" to achieve resolution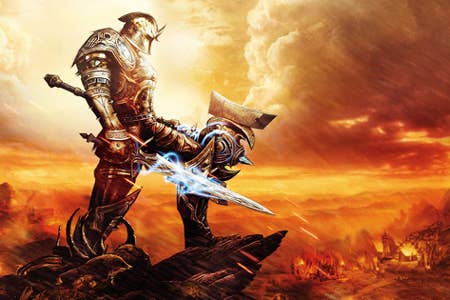 Kingdoms of Amalur developer 38 Studios is struggling to stay afloat, forcing local government in Rhode Island to intervene.
According to a report in the Providence Journal, Lincoln Chaffee, Governor of Rhode Island, has been meeting with representatives from the 38 Studios over the last few days in an effort to "protect" the $75 million incentive the state offered to lure the company away from its Massachusetts headquarters.
Precise details of the meetings are still secret, though Chaffee has admitted that he is working under a "tight time-frame" to "keep 38 Studios solvent."
"We're concerned and just doing everything possible to ensure that 38 Studios stays part of the Rhode Island community," Gov. Chafee told WPRI. "We're working on different issues with them.
"It's always been a volatile industry to be in. That's just the risk you take when you get into the business"

Gov. Lincoln Chaffee
"It's always been a volatile industry to be in. That's just the risk you take when you get into the business."
The $75m loan was awarded by the Rhode Island Economic Development Corporation before Gov. Chaffee took office, and he spoke out against it during his 2010 election campaign. 38 Studios moved to Providence, R.I., in April 2011, pledging to employ 450 people in the area.
According to a disclosure notice obtained by WPRI, 38 Studios had 379 full-time employees spread between its two offices - as well as 34 full-time contractors, 8 interns and 18 listed job openings - as of March 15 this year.
At that point it had received $49.8 million of the loan, all of which is being used to fund the development of its ambitious, and still announced, MMO 'Copernicus'.
However, concerns over the stability of the company are longstanding. Last June, PricewaterhouseCoopers admitted "substantial doubt" over whether 38 Studios would remain solvent. More recently, the company backed out of the E3 Expo.
38 Studios was founded in 2006 by the former baseball player Curt Schilling. It attracted attention with the scale of its ambitions, assembling a crack team - including former Elder Scrolls designer Ken Rolston, comic artist Todd McFarlane and author R. A. Salvatore - to develop a AAA fantasy MMO at a time when the genre appeared to be in decline.
The universe for the MMO was established in 38 Studios first release, Kingdoms of Amalur: Reckoning, which was warmly received by critics and performed respectably at market.