Local uproar as 38 Studios leaves Boston
Political and dev fury as baseball player's studio lured to Rhode Island for $75m
Massachusetts developers and politicians have been critical in the face of 38 Studios' decision to leave the state, following a $75 million loan promise from Rhode Island.
Although Boston-area Republican candidates have blamed the move on a "toxic business climate" they claimed was caused by the incumbent Democratic governor, they are keen that 38 Studios do not leave the state.
38 Studios was founded by controversial Red Sox baseball player Curt Schilling in 2006. Originally known as Green Monster Games, it has yet to release a title, but is currently working on MMORPG Copernicus, with the assistance of comic artist and action figure mogul Todd McFarlane, and recently-unveiled action RPG Kingdoms of Amalur: Reckoning.
While the studio is somewhat unproven, it is not without prestige. It recruited Everquest lead designer Travis McGeathy, and last year acquired Big Huge Games (although founder Brian Reynolds had moved on to Zynga).
Consequently, the city of Boston had high hopes for the developer – but yesterday Schilling announced he would be moving it to Providence, following negotiations and incentives from the neighbouring state.
"I've invested a significant amount of my life's earnings in 38 Studios," Schilling told The Globe, "and I will protect the loan guarantee that's been given by the state with the same passion and interest that I'm protecting my own investment in this company. Our paths are very much aligned."
Massachusetts independent candidate Tim Cahill was highly critical of the move, on the part of both Schilling and Rhode Island. "I think I would not have done what Rhode Island did," he claimed. "I don't think as a matter of policy it's a good idea to give tax credits to individual companies betting on their success."
He also criticised the current Boston-area governor, democrat Deval Patrick.
"In a Cahill administration, I would not practice that. I think the governor has practiced that too much and I think the Legislature goes too far in giving tax credits to keep companies here instead of giving tax breaks across the board or lowering the cost of doing business."
Kofi Jones, a spokeswoman for the current administration, revealed that the state had not simply let Schilling slip away, but while it had"actively engaged with them in trying to gauge what their needs might be we were not willing to get into a bidding war with Rhode Island."
"We as an administration have never offered such a large incentive to lure a company to Massachusetts from any of our neighboring states, and we never would," she said.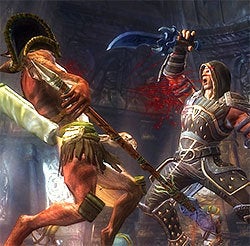 Also speaking out were other Massachusetts developers, keen to raise the state's games industry profile and income.
In an open letter to Schilling, Demiurge Studios boss William D. Reed wrote: "Although I understand that the enticement of loan guarantees are attractive, I ask you, on behalf of the Massachusetts game development community, to please reconsider all that you would leave behind if you go through with divorcing the Commonwealth."
As well as praising the cultural and sporting output of Boston, he drew attention to other state gaming luminaries such as Irrational and Harmonix.
"As 38 Studios' in-development MMO grows, you will soon realize that although the capital you have secured will fund your endeavours, the most vital and necessary component to completing your project is the vast pool of talent and resources you are leaving behind.
"The Commonwealth has a proven, readily available and ever-increasing video game development community. A large number of game-focused graduates and brilliant thinkers come from our local colleges and universities, supplying the talent to meet our industry's growing demand." Reed also took to baseball analogies, offering jobs to 38 Studios staffers who wanted to stay in the state and claiming Massachusetts played "major-league ball."
Rhode Island independent candidate and former senator Lincoln Chafee continued this theme, bringing up Schilling's infamous 'bloody sock' incident – telling radio station WPRO-AM that he didn't know if he trusted the former sportsman.
Though he later retracted these comments, a spokesperson for his campaign said that investing so much in "a single individual who does not have an established record in business… was an unacceptable gamble to ask the taxpayers of Rhode Island to take."
Rhode Island officials have unsurprisingly been more optimistic about the move and associated loan, having voted for it eight to one. Governor Carcieri said "We need to make a statement ... this gives us the ability to be a real player in the digital-media area."
38 Studios' plans to move state appear unaffected by the criticism as yet, and Schilling has pledged that the developer will bring 450 jobs to Rhode Island by 2012.