2021 delays show pandemic's biggest impact on games
Games Sales Data's Aidan Sakiris and Sam Naji dive deeper into the effect of COVID-19 on retail and digital sales across Europe and beyond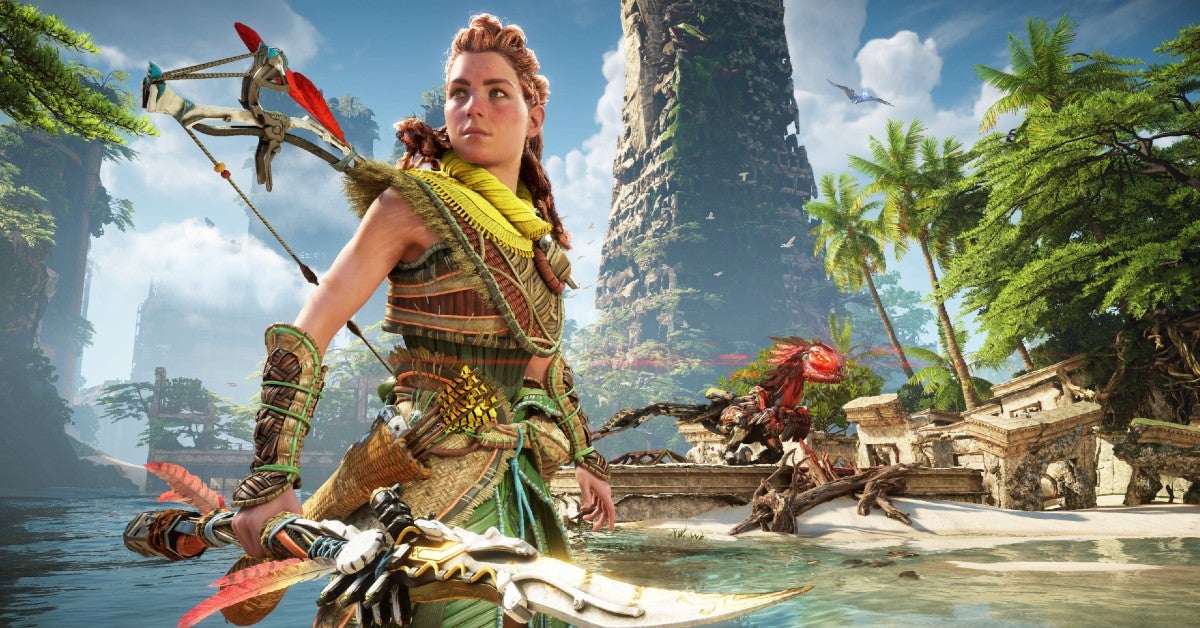 The pandemic may have boosted the games industry to new levels in 2020, but the real impact is being felt in a much quieter 2021, thanks to the many delays caused by the coronavirus.
This was the big takeaway from last month's GI Live: London session by Games Sales Data, the agency that monitors digital and physical game sales across nearly 50 countries around the world.
The company's senior games analyst and Australia/New Zealand territory manager Aidan Sakiris and video games consultant Sam Naji offered attendees a deeper look into the effect COVID-19 has had on full-game sales since 2019, charting the many spikes around lockdowns and hit new releases, as well as offering insight into well games are performing in 2021 so far.
The presentation was based on full-game boxed sales from 23 countries (primarily around Europe) and full-game download sales from 49 countries, encompassing PlayStation Store, Xbox Store, Nintendo Switch eShop and Steam. Sales data was largely taken from the January to August periods, in order to offer a like-for-like comparison between 2019, 2020 and 2021.
Participating publishers include: Sony, Microsoft, Ubisoft, Take-Two, Activision Blizzard, EA, Capcom, Bandai Namco, Warner Bros, Sega, Milestone, Square Enix, Koch Media, Konami, Nacon, Paradox Interactive, Reply Forge, Codemasters, Dontnod Entertainment, Focus Home Interactive (now Focus Entertainment), Quantic Dream, Microids, UsTwo Games, Strelka Games, and Tiny Bull Studios.
Gaming's big year
Some of GSD's opening takeaways have been well documented over the past two years. The introduction of stay-at-home orders, lockdowns and other measures that restricted travel led to significant increases in spend across the whole video games, and this was boosted by key releases in the first half of the year. Doom Eternal, Final Fantasy 7 Remake, The Last of Us Part II and Animal Crossing: New Horizons were cited as particularly big hits.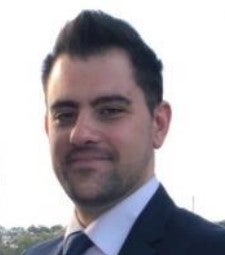 GSD also reported a major increase on spending in digital stores, driven largely by older and back catalogue titles -- especially during the many promotional sales publishers and stores ran during the summer lockdowns.
As a result, Sakiris declared 2020 as "one of the strongest performing years we've seen in video games." But for all the uplift seen in the sales data, he believes the effects of the pandemic are being more keenly felt in 2021.
"COVID-19's largest impact on video games so far is on new software releases," he explains. "What we saw last year was strict stay-at-home orders but also a range of new software releases coming from key and major franchises. This year, consumers have become more accustomed to stay-at-home orders but we've also seen a lack of new releases in the market due to COVID-19. We've seen a number of major titles being pushed out of 2021 into late 2021 or into 2022 and beyond."
This can be seen in the total retail and digital sales for January to August over the past three years. 31 million boxed games were sold during this period in 2019, which rose 6% to 33 million in 2020, thanks to the launch of major titles like Animal Crossing and The Last of Us: Part 2. Network (GSD's term for digital sales) grew by 70% year-on-year from 27 million units to 45 million units, driven largely by back catalogue titles.
However, during January to August 2021, boxed game sales dropped by 15% to 28 million, while downloads dropped 24% to 33 million. The retail decline is attributed in part to software delays and the lack of new releases, while the digital drop is due to less promotional activity compared to 2020.
Games delayed out of 2020 into 2021 would have been delivering sales throughout the first half of this year, with GSD pointing to Halo Infinite, Deathloop, Kena Bridge of Spirits, Outriders, The Medium, and Tales of Arise as key examples. Halo's absence was particularly felt because it's "a special title for the Xbox brand and one of those games that really drives sales for the Xbox ecosystem," according to Sakiris.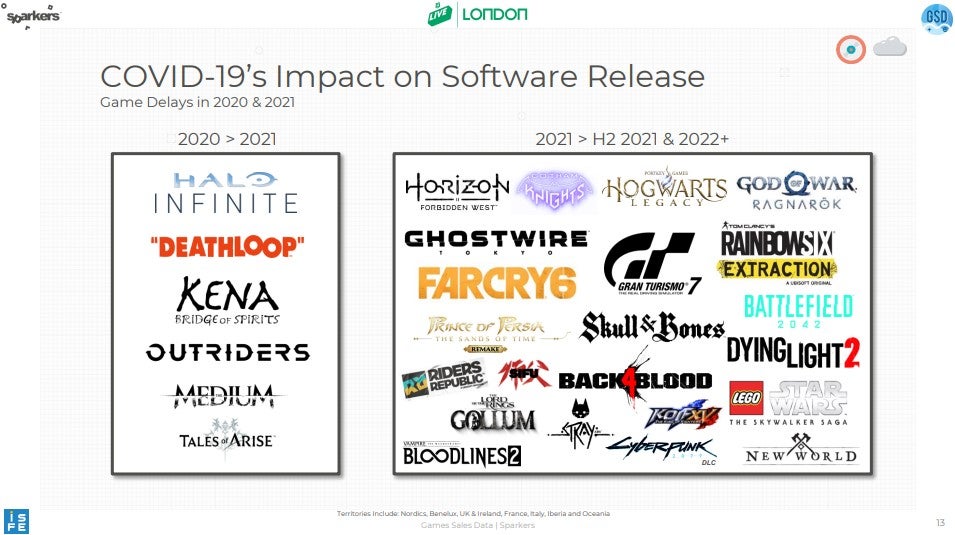 When you look at the number of games that were delayed to the second half of 2021 or into 2022 and beyond, the list grows even longer: Horizon Forbidden West, Gotham Knights, Hogwarts Legacy, God of War: Ragnarok, Ghostwire Tokyo, Far Cry 6, Gran Turismo 7, Rainbow Six Extraction, Battlefield 2042, Dying Light 2, Back 4 Blook, Sifu, Riders Republic, The Lord of the Rings: Gollum, Vampire: The Masquerade - Bloodlines 2, Stray, The King of Fighters 15, New World, Lego Star Wars: The Skywalker Saga, and DLC for Cyberpunk 2077.
Sakiris put particularly emphasis on the delay of Far Cry 6, originally due in February 2021 but not arriving until October. This is generally a franchise that performs well in the first half of the year and GSD expected it to drive growth in H1 2021.
"Most of these [delayed] titles would have provided growth to the industry if they were released in 2021"

Aidan Sakiris, GSD
"[These delays] really emphasise COVID's impact on new software releases," says Sakiris. "We've seen a bit of a drought from major third party releases, and most of these titles would have provided growth to the industry if they were released in 2021."
He later shared early software sales figures for the two newest consoles Following their launch in November 2020, PlayStation 5 saw 1.9 million boxed games sold across January to August 2021, compared to 0.4 million Xbox Series X|S games. While the new generation launches "have provided overall growth to the industry," Sakiris says Sony and Xbox consoles -- both current gen and previous -- have been impacted by the lack of third-party releases in 2021.
Retail software trends
GSD shared a look at the software sales each month from January to August 2020, with clear spikes seen around the releases of Dragon Ball Z: Kakarot, Animal Crossing, Final Fantasy 7 Remake, The Last of Us Part 2 and Ghost of Tsushima. While Dragon Ball Z coincided with the largest spike, with almost four million units sold across all titles in January, this was due to the lack of lockdown restrictions rather than that specific release.
These monthly sales spikes steadily increased from March (up 21% on March 2019) to April (up 33% on April 2019), with a 6% dip in May, before The Last of Us helped push it up 12% in June. Ghost of Tsushima lifted monthly sales by 45% to over three million in July, by which point restrictions were easing and some stores had reopened.
By comparison, January to August 2021 has generally seen lower retail sales every month when compared to 2020. There have been some big new releases -- GSD highlighted Super Mario 3D World + Bowser's Fury in Feburary, New Pokémon Snap in April, Resident Evil Village in May, Ratchet & Clank in June and Zelda: Skyward Sword HD in July -- but few have boosted game sales in the same way.
Only February and May saw year-on-year increases in retail sales, up 26% and 0.4% respectively, with GSD believing this to be directly linked to a lack of major new releases.
April and July were the only months to see an increase in sales compared to the previous month, with Skyward Sword helping to make July by far the biggest month for retail sales in the 2021 period (although it was still 12% down compared to July 2020).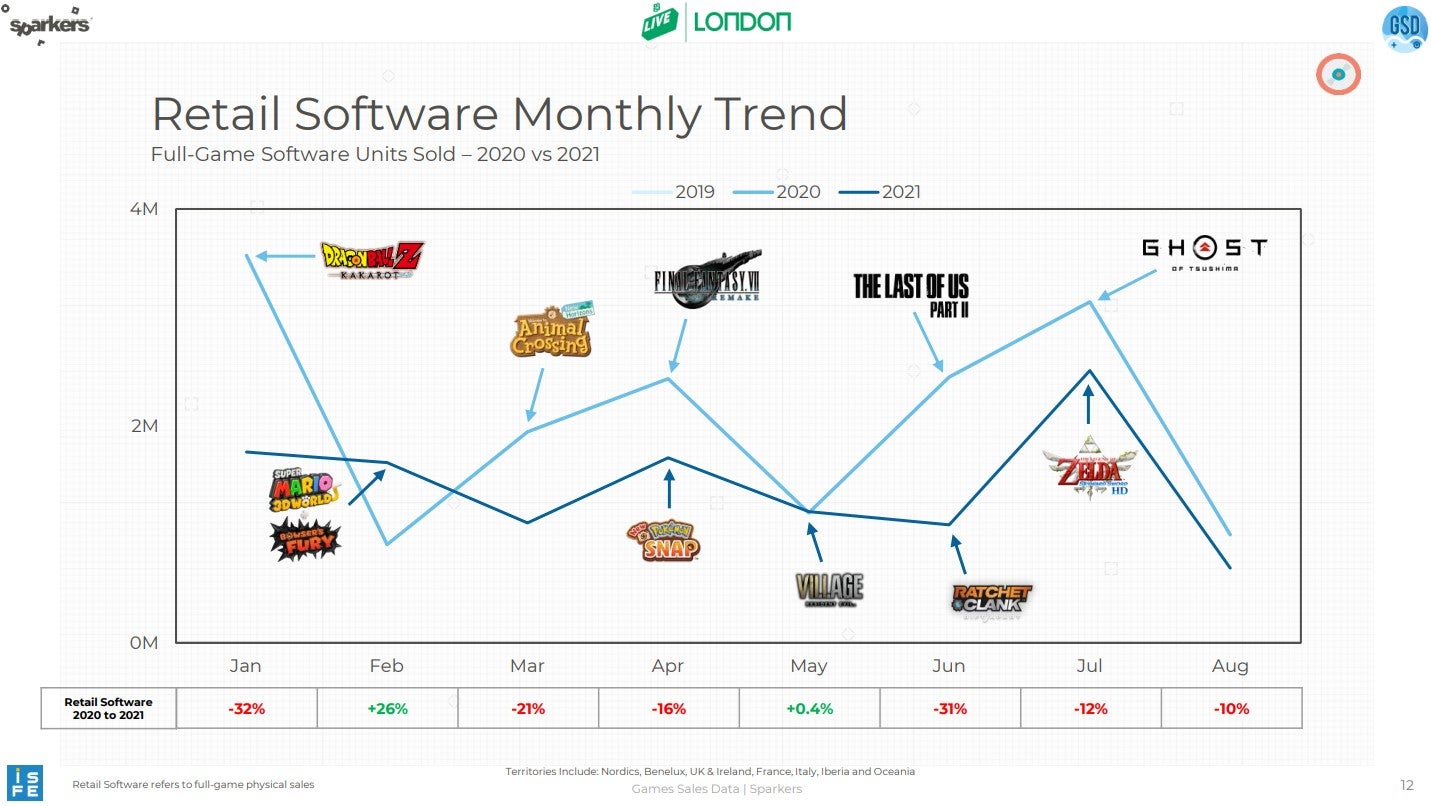 The impact can also be seen in week one sales comparisons. Launch week sales for the five best-selling retail games from January to August 2020 were:
The Last of Us Part 2: 818,000
Animal Crossing New Horizons: 513,000
Ghost of Tsushima: 321,000
Final Fantasy 7 Remake: 269,000
Dragon Ball Z Karakot: 153,000
By comparison, here are the week one sales for the top five retail games of 2021 so far:
Super Mario 3D World + Bowser's Fury: 292,000
The Legend of Zelda: Skyward Sword HD: 249,000
Resident Evil Village: 189,000
Monster Hunter Rise: 138,000
Ratchet & Clank: 122,000
All five sold less than Ghost of Tsushima did in its first week, with only Super Mario 3D World + Bowser's Fury managing to outperform Final Fantasy 7 remake. Monster Hunter Rise and Ratchet & Clank sold fewer week one copies at retail than Dragon Ball Z: Kakarot -- although the later can partly be attributed to the low installed base of PlayStation 5 and the likelihood that players may have bought this digitally.
When combined, the top five week one sales for 2021 amounts to just 990,000 units -- that's down 52% compared to the 2.1m units achieved by 2020's top five and, to Sakiris, emphasises the demand for the types of titles that were delayed out of H1 2021.
Switch storms retail
Sakiris dug a little deeper into Nintendo Switch software sales, observing that is has been the best-performing platform in 2021. For January to August, 13.5 million boxed games have been sold -- that's actually 6% up on the 12.8 million sold during the same period in 2020.
He called this increase particularly impressive given the "exceptional growth" Switch saw in 2020 in the wake of Animal Crossing, plus the ongoing strong sales of back catalogue titles such as Zelda: Breath of the Wild and Mario Kart 8 Deluxe.
By comparison, PS4 sales declined 37% from 14.9 million in the first eight months of 2020 to 9.3 million in 2021. Xbox One also declined 46% from 3.2 million to 1.7 million, with PC dropping 52% from 1.8 million to 0.9 million.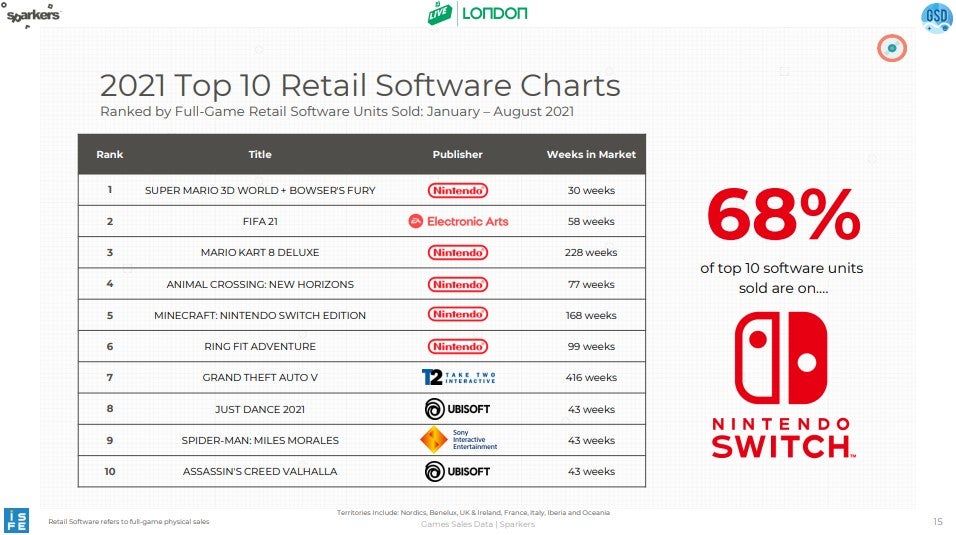 When you look at the top ten best-selling retail games of 2021 so far (again, January to August), five of the top six are Nintendo titles. 68% of the total units sold across the Top 10 were sold on Nintendo Switch.
Super Mario 3D World sits comfortably at No.1 and is the only Top 10 title to actually release in 2021. (Unsurprisingly, FIFA at No.2 breaks up the streak of Nintendo games because EA's sports series historically performs well across Europe)
"We should see a reversal again away from network and back to retail when these strong titles come out in the first half of 2022"

Sam Naji, GSD
The installed base for Nintendo has been growing year-on-year -- including, according to GSD, a lot of people entering the video games space for the first time. Some started with Animal Crossing, for example, and branched out into other titles. While Nintendo's first-party back catalogue games continue to sell well, GSD has also seen strong performances from third-party games, particularly more casual titles like Just Dance 2020 and Minecraft.
An interesting development has been that the share of first-party vs third-party sales on Switch has actually declined in 2021. From January to August 2019, 60% of all boxed titles sold for Switch were from Nintendo. This rose to 64% in 2020, thanks in no small part to Animal Crossing, but dropped to 59% in 2021.
That's a 3% decline year-on-year, compared to a 48% increase seen in 2020. Meanwhile third-party game sales for Switch rose 29% in 2020 and a further 21% this year, which suggests new Switch owners are branching into more non-Nintendo games.
As a result, Nintendo is still growing its market share of all retail titles sold. Switch accounted for 35% of all boxed games sold in January to August 2019, 43% in 2020 and 50% in 2021. However, Sakiris notes that while Xbox and PlayStation's decline can be attributed partly to delayed releases, these consoles are also digitising -- i.e. selling more download games than retail units -- much faster than Nintendo, especially with Xbox Game Pass and PlayStation Now.
Digital sales trends
GSD video game consultant Sam Naji took over to discuss network sales, which also rose in 2020 only to decline this year.
For January to August 2020, 45.3 million full games were sold digitally, up 69% on the 26.7 million sold in 2019. This dropped 24% to 34.5 million units in 2021 -- however, taking 2020 out of the picture as an outlier year, sales are actually 29% up on 2019.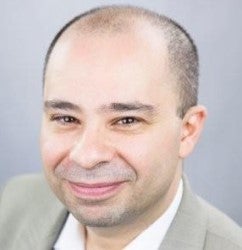 Network monthly sales don't typically follow the same 'heartbeat' trend seen in retail, where figures rise every Q3 and spike in Q4 around Christmas, before declining again every Q1/Q2. However, in Q4 2020 there was a big spike in digital sales due to FIFA and COD selling more digital copies than in previous years -- three times more and 1.5 times more, respectively.
When you compare retail and network unit sales, retail is usually much higher than digital in Q4. In 2019, there was a 67% difference between the two, with retail selling 43% more units than network in December alone.
But in Q4 2020, retail sales were actually 2% lower than digital. Naji attributes this to the FIFA/COD effect, but also the fact that 2020 saw consumers become more comfortable with digital purchases during to the stay-at-home orders. However, he observes that it is too early to tell if this will be repeated in 2021.
The pandemic also increased the gap between digital and retail sales at key moments, with the most obvious being April 2020, during which most countries entered lockdown. A combination of the lack of retail and digital store promotions saw network sales that were 264% higher than retail. Naji observed two similar spikes in 2021; the launch of Outriders in April 2021 put that month's digital sales at 147% higher than boxed, while the July Steam sales lifted them 94% higher.
This has accelerated the shift to digital sales. With the exception of December 2020, download sales have been higher than retail every month since January 2019. But GSD expects this to be disrupted by key 2022 releases such as Horizon: Forbidden West, Rainbow Six Extraction and the launch of GTA 5 for new consoles.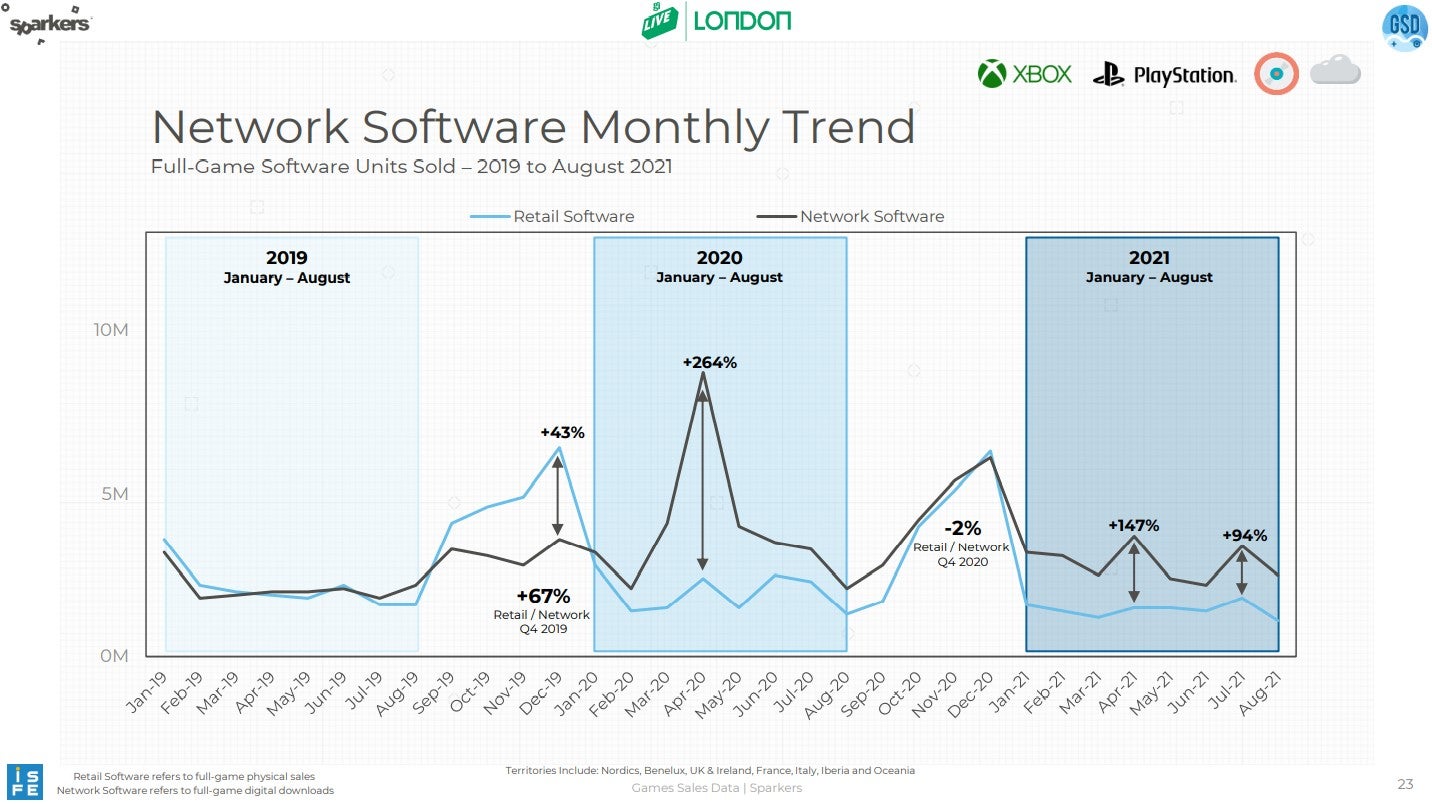 "This trend we see for network will likely change again because new releases actually favour retail spending," says Naji. "So we should see a reversal again away from network and back to retail when these strong titles come out in the first half of 2022.
"It's fascinating to see the industry is very dynamic, it doesn't repeat itself. Consumers are constantly changing how they want to buy these games, and it's changing the dynamics between the formats quite rapidly."
Digital's lead can also be seen in the cumulative sales from January 2019 to August 2021. Across those 32 months, 102 million full games were sold digitally, compared to 81 million boxed games -- a difference of 26%. To emphasise how much this has been accelerated in 2020, the cumulative figures for 2019 alone put retail at 40 million units and digital at 33 million -- a difference of 17% in favour of physical games.
"That shift in Spring 2020 was seismic. It completely changed the way consumers wanted to buy games"

Sam Naji
Following the April 2020 lockdown, network took over as the dominant source of sales -- and that has year to be reversed. In fact, the margin has only grown to that difference of 26%.
"That shift in Spring 2020 was seismic," says Naji. "It completely changed the way consumers wanted to buy games. And the fact there have been many big releases coming out in 2021 [means] that hasn't been reversed to the extent we would expect once the High Streets had re-opened."
Again, week one sales comparisons help tell this story. Factoring in PlayStation and Xbox only, from January to August, week one sales for all new releases tallied up to 66% retail, 34% digital. Retail still held the edge in 2020, despite the lockdowns, accounting for 55% of all week one sales vs 45% digital. This shifted in 2021, however, with more week one units sold via digital stores (51%) than retail (49%).
Yet GSD predicts the strong 2022 line-up should reverse this trend back in retail's favour, especially as consumers start going to high streets again and continue their preference for physical discs.
Back catalogue -- which GSD defines as titles that have been on the market for 13 weeks or more -- has long since been digital's domain, although the pandemic has accelerated the shift here as well. Once again looking at January to August on the PlayStation and Xbox stores, 2019 saw downloads account for 54% of all back catalogue sale. In 2020, this rose to 70% -- driven in part by promotional discounts during lockdown, and yet despite fewer such events in 2021, 69% of sales were digital. That's still a big leap over 2019, with Naji observing that the trend back to retail is "taking longer than expected now consumers are more comfortable buying digital games."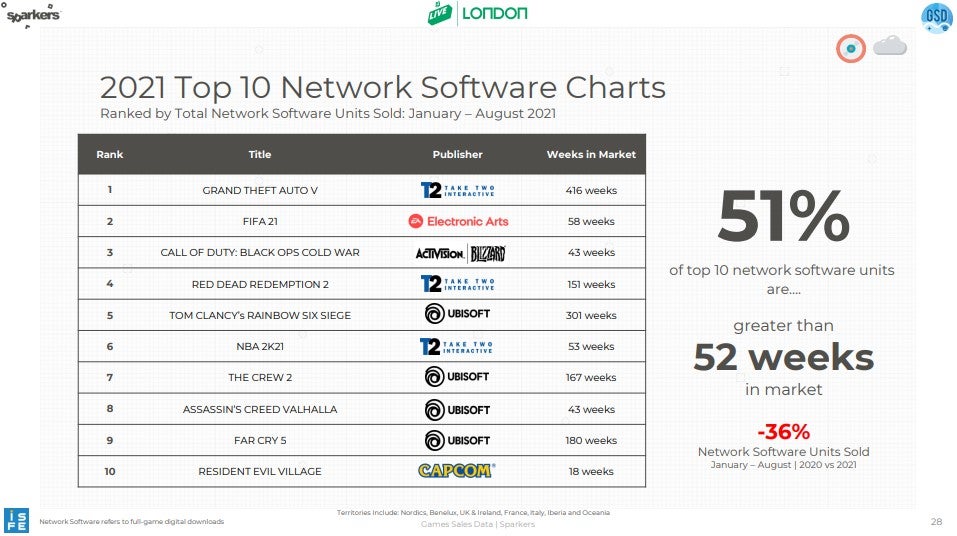 The dominance of back catalogue when it comes to full-game download sales can best be seen by the best-selling titles in the first eight months of 2021; Resident Evil Village is the only 2021 release to break into top ten, and even then it only ranks at No.10.
Just over half of the top ten games sold in terms of units were older than 52 weeks, i.e. launched a year or more ago. GTA 5, which unsurprisingly holds No.1, has been on the market for well over 400 weeks. Concluding the presentation, Sakiris again emphasised that GSD expects retail to perform particularly well as the delayed titles finally come to market over the next few months and years.
He dubbed H2 2021 and 2022 as a "pivotal time for video games."
You can watch the full presentation below: