10 Years Ago This Month - February 2006
Bono, Dietrich, venture capital, and other weirdness saturated the headlines of a decade ago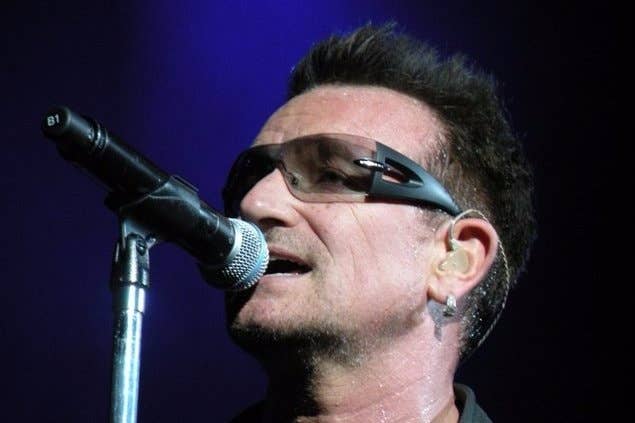 The games industry moves pretty fast, and there's a tendency for all involved to look constantly to what's next without so much worrying about what came before. That said, even an industry so entrenched in the now can learn from its past. So to refresh our collective memory and perhaps offer some perspective on our field's history, GamesIndustry.biz will run a monthly feature highlighting happenings in gaming from exactly a decade ago.
Stranger Than Fiction
February of 2006 was a pretty weird time in the industry. Capcom reported strong quarterly results and attributed an original Mega Man title as one of the key reasons for it. People actually had to argue that console gaming wasn't cannibalizing the mobile market. Sony listened to handheld gamers who wanted larger storage options. Obviously, none of that would happen today, but it's still just the tip of the iceberg for bizarre news that month.
"Jack Thompson writes open letter to Bono."
Yes, we ran a story under that headline. The U2 frontman was a managing director and co-founder in tech-focused private equity firm Elevation Partners, which in the mid-2000s was ankle-deep in video games. The company had acquired and merged BioWare and Pandemic Studios in 2005, and had been rumored to have interest in both Eidos-parent SCi Entertainment Group and Take-Two Interactive, publisher of Grand Theft Auto.
Thompson had made a name for himself as a morality crusader filing lawsuits against purveyors of smut in popular media. The potential of Take-Two--still dealing with fallout from the Hot Coffee scandal--gaining further legitimacy from something even more mainstream than the most popular video game of the day was enough to motivate Thompson to try to reach out to his would-be celebrity pen pal.
"Dear Bono," the letter begins, "I write you as a fellow brother in Jesus Christ, appreciative of your bold witness to the transforming truth of the Gospel, in both your words and your deeds... I write to encourage you, respectfully and in a spirit of brotherly love, not to purchase Take Two Interactive Software, Inc."
Elevation never did make a move for Take-Two, at least not publicly. So in one sense, Thompson got his way. Still, perhaps the letter should have been addressed to another of Elevation's co-founders and managing directors, John Riccitiello. After all, the former Electronic Arts president and COO would probably have been the impetus behind any such investment in a gaming company. That seems doubly likely when you consider that Riccitiello went back to EA in 2007 to serve as CEO and launched an (ultimately unsuccessful) hostile takeover bid for Take-Two the next year.
Finally, Gizmondo officially began the liquidation process. That actually wasn't unusual or surprising to anyone who had been paying attention to the ad-supported handheld system's shaky first year on shelves and botched international launch. What was surprising was the news that former Gizmondo executive Stefan Eriksson--who resigned in the wake of allegations that he had ties to Swedish organized crime, was in a car crash that tore his $1 million Ferrari Enzo in two.
Authorities said the car was destroyed after slamming into a power pole in the middle of an illegal street race. Eriksson sustained only minor injuries, a fact that gave the general public permission to gawk at the spectacle without feeling too bad about it. Making the whole thing that much more gawkable was the fact that Eriksson was legally drunk at the time and blamed the crash on a German named "Dietrich." Eriksson claimed Dietrich had been driving and ran from the scene.
Authorities noticed that Eriksson's face was bloodied in the crash, but only the driver's side airbag had blood on it. A three-hour search of the surrounding area by police also failed to locate Dietrich.
Beware the Next Big Thing
While the traditional console market was just entering its most successful generation to date 10 years ago, there was widespread agreement that massive upheaval was coming, driven largely by the prospect of constantly connected gaming. Since the consensus was certain about disruption but completely uncertain about what form it would take, there was no shortage of people starting up new companies banking on the next big innovation sure to reshape the industry and make everyone involved a ton of money. However, making a ton of money is a lot more complicated than that, and not entirely related to how accurately one is forecasting those next big innovations.
Circa 2006, in-game advertising and eSports were two fields investors were keeping a close eye on, and a pair of frontrunners in those fields were having luck finding Series A financing. IGA Worldwide raised $12 million to further its targeted dynamic ad-serving business, expecting that the skyrocketing costs of high-definition game development would have publishers tripping over themselves to find additional revenue streams. Meanwhile, Major League Gaming scored a $10 million investment that it said would help it make competitive gaming a mass market business.
While advertising has indeed become a core aspect of gaming on mobile and social platforms, the in-game ad model embraced by IGA Worldwide and fellow startup competitors Double Fusion and Massive was a bust. Double Fusion and IGA Worldwide quietly halted operations several years ago. Massive was equally wrong about the future of in-game advertising, but the company made a killing by selling to Microsoft for an estimated $200 million to $400 million when it was still a speculative field in 2006. Massive only stuck around for four years before Microsoft put the brand out to pasture.
To give you a sense of how big that market everyone was chasing a decade ago turned out to be, the Vancouver-based RapidFire (which acquired IGA Worldwide's proprietary technology in 2014 for an undisclosed sum) bills itself as the world's largest in-game advertising company. To date, it has delivered a grand total of 500 advertising campaigns.
If you're thinking, "Surely MLG did well," the answer is "Sort of." At the very least, MLG and eSports are still going concerns and could yet prove to be hugely successful. But at this point, they remain more in the realm of potential than proven results. After years going it alone, MLG was purchased by Activision last month for a reported $46 million. However, Crunchbase figures show MLG raised no less than $69 million in various funding rounds, so the Activision deal probably isn't providing many people the return on investment they had hoped for.
Everything is Dandy, Here's Your Pink Slip
February of 2006 was a rough time to be employed in the game industry. The transition between console transitions was proving difficult, as sales tapered off on legacy systems before their successors had even launched, much less gained traction in the market. With next-gen development exploding budgets at the same time, many companies were struggling to stay afloat. And even those that weren't were still cutting jobs by the hundreds.
Fresh off its $680 million acquisition of Jamdat, EA decided it was a good time to lay off about 350 people. The next day, chairman and CEO Larry Probst took a victory lap in the company's post-earnings conference call, boasting of its US and European market share and the "very strong competitive position" it was in to start the year off.
Shortly afterward, Activision cut 150 people from its Santa Monica, California headquarters later in the month (with more promised overseas). But at least EA's cuts came amidst disappointing earnings results. Activision's layoffs came just a week after it posted the best third quarter sales figures in company history (to that point).
Atari would get in on the action the following week, laying off 80 people worldwide. But unlike Activision and EA, Atari's cuts were an act of necessity rather than prudence. The publisher already warned investors that it might be unable to continue as a going concern, and had shuttered two of its development studios and sold a third in the prior year. Things were so bad that David Perry, founder of Atari subsidiary Shiny Entertainment, left the company in order to find the ideal purchaser to buy the studio off Atari, at which point he planned to resume working there. (Foundation 9 bought the studio later in 2006. Apparently it wasn't the ideal purchaser, as Perry joined free-to-play upstart Acclaim shortly after.)
Quick Hits
The UK's Advertising Standards Authority called out Activision for misleading Call of Duty ads that depicted pre-rendered footage as live gameplay. Thanks to their quick work and harsh sanctions, never again were such underhanded tactics attempted. (If GI.biz style allowed for roll-eyes emojis, rest assured there would be one here.)
Some people in 2006 still thought the success of World of Warcraft was repeatable, so you'd get news like James Cameron announcing plans to make an MMO out of his next movie. At the time the film was just going by the production name Project 880, so the news didn't make quite as big a splash as it would have once people knew the movie as Avatar.
In the least believable PR statement of the month, Sony denied that the PS3 was being delayed from its spring 2006 release window, even though it was February and even retail partners were in the dark about pricing and launch software.
Last but only possibly least, Microsoft's Peter Moore apologized to PC gamers, admitting that the company had given them short shrift as it focused on Xbox. However, he said Microsoft would be increasing its focus on PC gaming. It's good that Microsoft learned its lesson then so it would never make the same mistake again.