Zynga hammering continues, stock struggles to stay above $3
Zynga's shares will be in the "penalty box" for the long-term says one analyst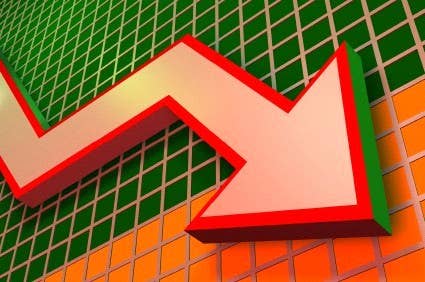 Zynga's disastrous fiscal report yesterday sounded the alarm bells for investors, and the stock immediately tanked in after hours trading. Unfortunately for Zynga, things aren't improving any today, and as of this writing, Zynga's shares are hovering just above $3 on the Nasdaq, down almost 40 percent.
The good news is that Zynga does have some cushion with $1.8 billion in cash and real estate. RW Baird analyst Colin Sebastian commented, "While shares will now be in the 'penalty box,' over the long term Zynga should continue to benefit from the expanding markets for social and mobile games."
As we await results for Facebook's fiscal report today, the folks at Seeking Alpha pointed out that Zynga's woes are having a bit of a domino effect on gaming and internet stocks in general. EA is down 2.5 percent, Majesco's down 4.3 percent, Glu Mobile is down 9.2 percent, Take-Two is down 2.4 percent, Groupon is down 4.9 percent and Yelp is down 3.7 percent. "The scope of the selloff suggests the Street is worried about both monetization in a hotly competitive mobile gaming market, and the broader consumer willingness to spend lavishly on virtual goods," noted Seeking Alpha.
Zynga has a number of problems, one of which is its heavy reliance on Facebook, where about 90 percent of its revenues are generated. The company's Zynga Platform and mobile efforts are just a small slice. On top of that, very few players are actually willing to pay anything.
"What is ZNGA's sustainable competitive advantage?" asks Macquarie Capital analyst Ben Schachter. "On FB, it executed well against its first-mover status, but with changes from FB, this advantage is wearing thin and users seem less willing to pay. On mobile, thus far, ZNGA looks little different to us than a myriad of other casual game companies. It has acquired some hit mobile titles that monetize reasonably well through advertising, but without first-mover advantage and a platform on which to scale, it has not yet been able to leverage mobile hits into significant successes for its other games."
"At its core, ZNGA is a marketing company, and it needs to prove that it can acquire and monetize users more efficiently than others if its casual games business is to grow profitably."
The news that Zynga is pursuing real-money online gambling has been welcomed by some, but skepticism about the impact of this strategy still pervades.
"While real-money gaming remains a potential positive catalyst, it is extremely difficult to quantify at this early stage and we prefer to see management at least begin to execute against the opportunity before giving them any credit," Schachter continued. "The bottom line is that ZNGA over promised and significantly under delivered. While some may use this pullback as an opportunity to put real money to work on the potential for real-money online gaming, it seems to us to be just an even-money proposition."
Zynga ultimately needs to do a better job of creating games that are more likely to attract more paying players. The existing portfolio just isn't working the way the company needs it to.
"It is clear that some of Zynga's pre-existing games are getting long in the tooth, and that they are unlikely to monetize as well in the second half of the year as they did in previous periods. Furthermore, many middle-of-the-pack Zynga games may be poor financial performers in general, rather than slow starters. It is increasingly clear to us that we were wrong, and that monetization is most likely to come from a few select games, with others failing to live up to the hype," said Wedbush Securities' Michael Pachter.
Pachter remains more optimistic on Zynga than some other analysts. He's maintaining an "Outperform" rating but lowering his price target from $17 to $7.