Yves Guillemot: Service-based games will grow the market
Ubisoft CEO isn't worried about enticing players away from Overwatch and Destiny for Skull & Bones
Long-tail console and PC titles designed to keep players engaged for years will grow the overall games market, rather than make it more difficult, according to Ubisoft CEO Yves Guillemot.
The chief exec was speaking to a group of journalists today in the publisher's Singapore studio, the team behind the upcoming pirate multiplayer title Skull & Bones. The game ties in with Singapore's core focus, which is on both "HD content games" such as the Assassin's Creed titles, and service-based titles such as its previous hit Ghost Recon Phantoms.
However, the market has become increasingly crowded with games designed to retain players over a longer period of time - whether it's with the online persistent world of Destiny or the high replayability of Overwatch. Ubisoft itself has plenty of titles that fall into this category, such as Tom Clancy outings Rainbow Six Siege and The Division.
"For sure, we'll have to take people from other games, but after five years on one game they might want to try something else."
GamesIndustry.biz posited to Guillemot that not only will the publisher have to compel consumers to buy and engage with Skull & Bones, it also has to convince them to stop playing other titles and hope that no rival publisher releases a product that will draw people away from the pirate battler. How is the publisher approaching this challenge?
"It's a good question," he said. "There's a good diversity in what people want to play. It's not one game against the other. More and more people are playing games and they want different types of experiences. So, for sure, we'll have to take people from other games, but after five years on one game they might want to try something else.
"Those types of games, we think we'll be able to increase the number of people playing those type of experiences. The market is also going to grow quite a lot: more countries, more people in each country - because the cost to play those games per hour is less than we used to have. If you look at a 15-hour game that costs $60, that's $4 per hour. Now you can play games for 200 hours, a thousand hours and still for $60, plus some investment in the game. It's more like 20 to 40 cents per hour. So you can [justify] playing many of those games if you have time."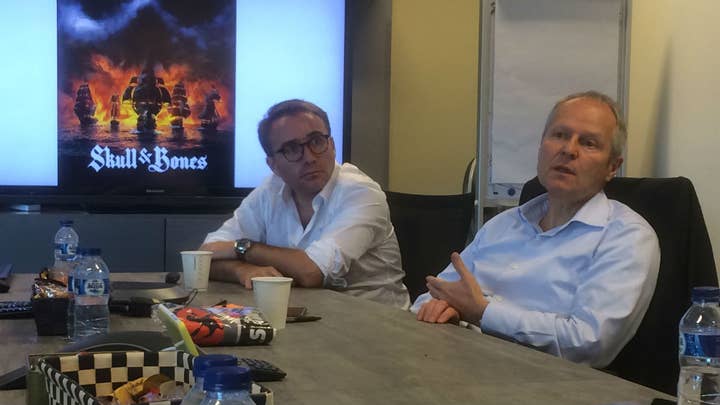 The studio visit is part of a larger push from Ubisoft to highlight the advantages of developing games in South East Asia. Various presentations today cited the strengths specific to Singapore, such as its recognition of English as an official language, it's high-quality internet, and the amount of tech-savvy recruits in the region.
We asked how Ubisoft expects the games landscape in Singapore to change in the next five years and what role the publisher hopes to play in that.
"It's difficult to say [what will happen] in five years, but what we see in the short term is that we are here, Bandai Namco is here, and there is now more and more talent appearing around games companies [in Singapore]," said Guillemot.
"There is also a number of indies here, so we're seeing a pool of talent growing. We think it will continue to grow quite a lot in the next few years, so for us while the talent is here it's one of the best places for us to create high-quality games."
Ubisoft Singapore MD Olivier De Rotalier added: "This year is very important for us with Skull & Bones and Assassin's Creed Origins. We're really showing that you can deliver very strong games and very promising titles from Singapore. That's our role: to show that people can see strong success from here. So this year's key for us."
Guillemot observed that the evolution of Singapore as a games hub will also make it easier for the studio to recruit. But is Ubisoft not concerned that, as the city state becomes more appealing to international firms, it will find itself competing with Singapore branches for rivals like Electronic Arts?
De Rotalier said the studio is "not really worried because they're not here", while Guillemot predicted that "more competition will come from Chinese and Japanese companies."
GamesIndustry.biz will have more from Guillemot in the next few weeks.