World of Tanks leads the way in average revenue per user
SuperData report puts Wargaming's ARPU at $4.51
World of Tanks generated more revenue per user than any other major online game in the last 12 months, according to a new report from SuperData.
The report puts Wargaming's hugely popular title at the very top of a list that includes big-hitters like League of Legends and DOTA 2. SuperData puts World of Tanks ARPU at $4.51, narrowly ahead of Vale's Team Fortress 2 on $4.36.
By contrast, League of Legends and DOTA 2 are at the other end of the top ten, with ARPU of $1.54 and $1.32 respectively. In the case of League of Legends, SuperData argues that the gulf is down to prioritising quantity over quality in its audience.
"There's World of Tanks, which has a monthly active user base of around 9.1 million and makes $4.51 per month per user. And there's League of Legends, with 58.5 million average monthly actives over the past twelve months, and a $1.32 spend per user. Five times the audience, but less than third of the earnings per player."
SuperData posits that this is particularly true of games that are popular in Asian markets, where huge player-bases are a condition of doing business. This is supported by an earlier report that named CrossFire and League of Legends as the two highest earning online games of 2013 - $957 million and $624 million in revenue respectively - while in terms of ARPU they were at the bottom of the top ten.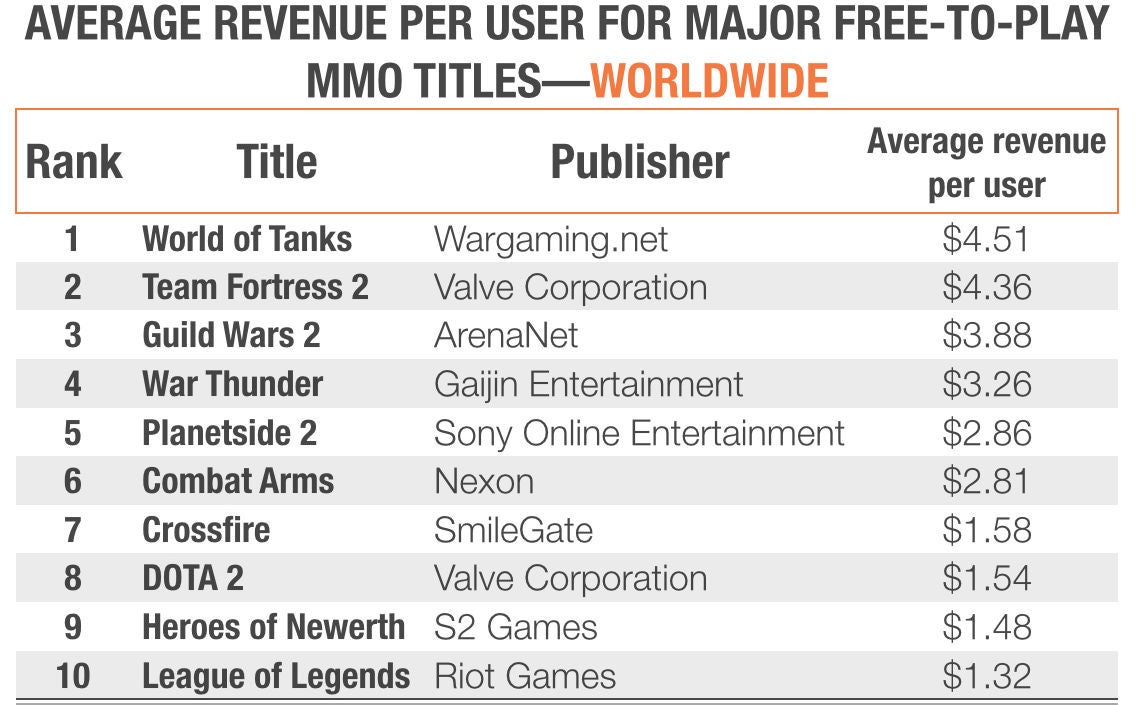 For the full report, follow the link.