Why the creator of Kerbal Space Program is returning to the troposphere
After leaving Squad, Felipe Falanghe has created his own two-person studio to make Balsa Model Flight Simulator
Earlier this year, Star Theory and 2K Games' Private Division label announced they had taken on the galactic task of making a sequel to Kerbal Space Program. The original game was to be maintained by its original creator studio, Squad.
But for the past few years, Kerbal's engines have been running without the man that started it all: Felipe Falanghe. Falanghe actually departed the Mexican studio in 2016 and formed his own one (now two)-person show in Vancouver, called Floating Origin Studios.
"I never actually wanted to leave Kerbal Space Program behind"
"To be perfectly honest, I never actually wanted to leave Kerbal Space Program behind," Falanghe tells GamesIndustry.biz, "but I felt that the state of things back then didn't look like they would lead to anything new. There were no plans for new projects, so I was feeling more and more stagnant as time went on. It eventually became clear to me that I would need to step out on my own if I wanted to move forward as a game designer. It was one of the hardest decisions I've ever had to make."
For awhile, Falanghe tells me, he "had a very frustrating time" working on an unspecified larger project that he says didn't go anywhere. But with time, he switched to a smaller project that he says he felt passionate about, "without big expectations." And from there, his work picked up enough for him to be able to announce that project, Balsa Model Flight Simulator, today.
Balsa Model Flight Simulator is currently being made by two people, Falanghe and 3D artist Drake Kazmierczak who has been on the project with him for a year. Though he's content with the size for now, Falanghe hopes the studio can expand with time. Because while the project may seem thematically smaller than Kerbal going from space to model balsa wood planes, he says it's still quite a bit of work for just two people.
It's also, in some ways, very similar work. Balsa Model Flight Simulator takes plenty of nods from Falanghe's past work in Kerbal in terms of its accurate approach to physics, design, flight, and material.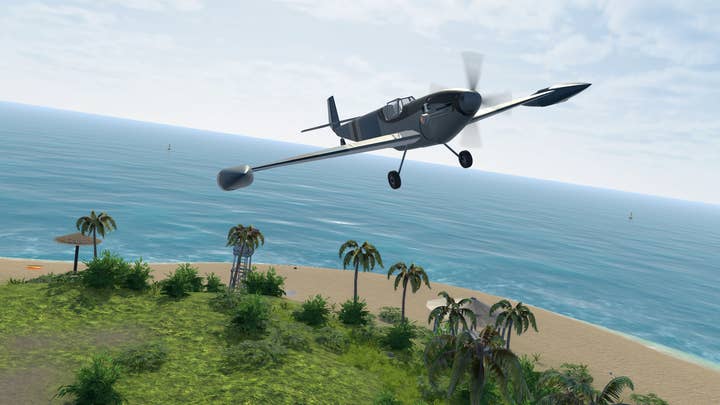 "Sims are what I grew up playing, and it's what I love best," he says. "I wanted to take on something different from Kerbal Space Program with my next project, but I knew I had to have a simulation, and more importantly, I think, to allow players to create their own things in the game. I think those concepts are just hardwired in my brain. They're a fundamental part of pretty much all my game ideas."
There are plenty of similarities that fans of physics sim games will recognize from Kerbal, most particularly in the plans for a deep set of editing tools and the "try, try again" mentality of building something that will fly properly. But Falanghe adds that this is an entirely new game, with features built entirely from scratch, and hopes to improve on many of them using knowledge gained from his experiences on Kerbal.
"With Kerbal Space Program, there were many times when I was working on something with very little idea of how the final result would look like," he says. "On this one, I got to do those things again, but with a much clearer goal in mind. That helped us a lot to create features that really improve those core mechanics, especially around how they are made visible to players."
But Balsa Model Flight Simulator won't just be limited to the kinds of things we've already seen in Kerbal, he adds.
"We also got to work on things that I really had wanted to add back then, like multiplayer, which just couldn't have happened without a complete rebuild. But with Balsa, we are also getting the chance to take on entirely new things as well. One example is the upcoming Mission Editor. It's something that Balsa has that is entirely new to it. It was a really cool and challenging feature to do, and all the more interesting because it wasn't something I was planning on doing for several years already."
Oh, and you can send your plane out into combat with other planes...using paintball guns.
Falanghe describes model planes and Balsa Model Flight Simulator as a "new first step" for what he hopes will be a long-term project that will be supported over time. The game is currently planned for a summer 2020 early access release, but his aim is for it to launch as a "self-supporting project" in the same vein as Kerbal.
"This development approach naturally leads towards long term updates and an ever-growing, living project," he says. "Personally, I'd be really happy to be able to work like that again. It was how Kerbal Space Program grew into what it is today, and my hope is that Balsa will grow to have that same kind of community ecosystem for itself."