Uncharted 4's commitment to making every moment matter
Why I Love: The TrailerFarm's Dan Porter says every aspect of Naughty Dog's blockbuster is evidence of an ambitious dev team fully invested in the project
Why I Love is a series of guest editorials on GamesIndustry.biz intended to showcase the ways in which game developers appreciate each other's work. This entry was contributed by Dan Porter, creative director and co-founder of The TrailerFarm, a production agency that has put together memorable trailers for games like Two Point Hospital, Everybody's Gone to the Rapture, and Prison Architect. Dan's brother and co-founder Tony will be providing a column of his own in two weeks.
Uncharted 4: A Thief's End is about a dude whose brother drags him into a massive pile of dramatic and troublesome shit, which is also the story of how The TrailerFarm was established when I convinced my brother Tony to set up the company with me in the first place. In those early years, with the two of us leaving the world of AAA game development to go solo with our studio, we definitely had moments when we were clinging onto a cliff edge, one slip from disaster, like Nathan Drake himself.
I had known the Uncharted series from Naughty Dog was badass for ages but somehow I had never gotten around to actually playing it. Finally relenting after listening to all my mates, the overwhelming, gushing press coverage, and being blown away by this epic TV spot:
I picked up a copy of the fourth instalment in the series and fired the disc into the PlayStation. It didn't take long for the penny to drop. I had the same feeling that I had when I played the original Tomb Raider. The game felt like a momentous shift in game dev. And I felt, well, why I had I waited so long?
For a self-confessed graphics nerd, it was pushing all of my buttons. Naughty Dog's masterpiece made me smile, simply by looking at it, and that's no simple thing to do
I started off in the industry as a video editor, and I remain obsessed with visuals. So, for a self-confessed graphics nerd, it was pushing all of my buttons. Naughty Dog's masterpiece made me smile, simply by looking at it, and that's no simple thing to do. I worked on Pure at Black Rock Studios for Disney which was set in similar, lush jungle environments and we were always looking to set up epic vistas for the player, so I know the artistic challenges that go into framing your gameworld for your players. The game is not just a technical powerhouse, but an artistic masterpiece too. You can tell the care and attention that ran through not just creating the vistas but presenting them to the players.
The visuals are just one aspect though. The sheer variety of 'things' in the game, and the way all of those elements are tied together, is a real testament to that team. There are moments that stay with me to this day like the tower collapsing, culminating in a fight with Nadine, where the disaster escalates, and escalates again, with increasingly huge WTF moments. Just perfectly paced action. Then there's the chase section which has you leaping from jeep to truck. But contrasting with those action moments, I loved exploring, solving puzzles, and just the feeling of presence, marooned on a tropical island. Nice weather effects too.
The cutscenes were a thing of beauty. They seamlessly transitioned into gameplay and were presented with great camera positioning, great writing, and great polish. I loved the way the gameplay controls expanded in complexity as you progressed, but so intuitively that you never noticed. You were just in the flow. At one point you're plunging a knife into mud to haul yourself up and away from certain death, but there wasn't that moment that breaks the experience where you think 'OK, how do I do this?' Your abilities with the control scheme grow on a learning curve which you barely realise exists.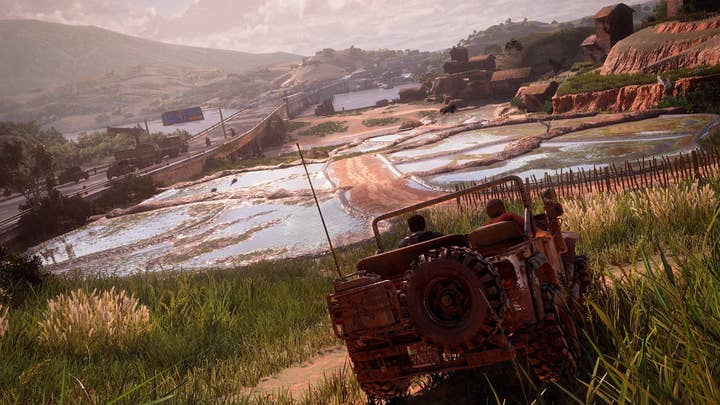 Even though it's fundamentally, and necessarily, a linear game, it made you feel like you could go anywhere. You always felt you had choices about how to explore, and you never felt constrained by the game design in this beautiful world, even though you were being funneled towards specific points. Various moments stay with me. One fight scene set in a prison kitchen made you feel like you were right there, and you got a real sense of the velocity and power of each strike. Again, a beautiful mix of mechanics and camera work.
You felt that the team were invested in making every moment matter, having an impact on the player, whatever they were doing
You felt that the team were invested in making every moment matter, having an impact on the player, whatever they were doing. It showed a commitment to ambition that is difficult to achieve with a production of that scale, involving so many people. You could even sense that the team were having fun with it too, for instance, when you're playing Crash Bandicoot on a PlayStation 1 in the game world in the early stages. A neat touch.
My first playthrough was not my only playthrough. I became obsessed with the game and would get friends over to show them specific areas, moments, or elements I loved. I was a convert and an evangelist, worshipping at the altar of Nathan Drake. The beauty of the game and the vistas could be captured by the excellent screenshot system and I would lose myself in it for hours, capturing different moments and scenes and playing with the filters, exposure, hard zooms, and so on.
With Uncharted 4 in my world, my life felt complete. And then... one afternoon, my three-year-old son had somehow fired up the PlayStation and wiped all my saves. All my screenshots. All my Uncharted data. ALL OF IT.
Weeping salty tears at the loss, I cursed myself as I set up the parental controls on the console and picked up an Xbox for my boy to play in his room, lest he screw up his Dad's saves and screenshot masterpieces again. Lesson learnt.
But on the other hand, well… One more playthrough. One more playthrough…
Upcoming Why I Love columns:
Tuesday, July 31 - The Trailer Farm's Tony Porter on Halo: Combat Evolved
Tuesday, August 14 - 3rd Eye Studios' Gregory Louden on The Darkness
Tuesday, August 28 - YoYo Games' Russell Kay on Portal
Tuesday, September 11 - Snowcastle Games' Thomas French on Homeworld
Developers interested in contributing their own Why I Love column are encouraged to reach out to us at news@gamesindustry.biz.