Why Ghost Ship is sailing into publishing
CEO Søren Lundgaard discusses how the company is helping smaller studios, the Danish games scene, and Deep Rock Galactic's long-term success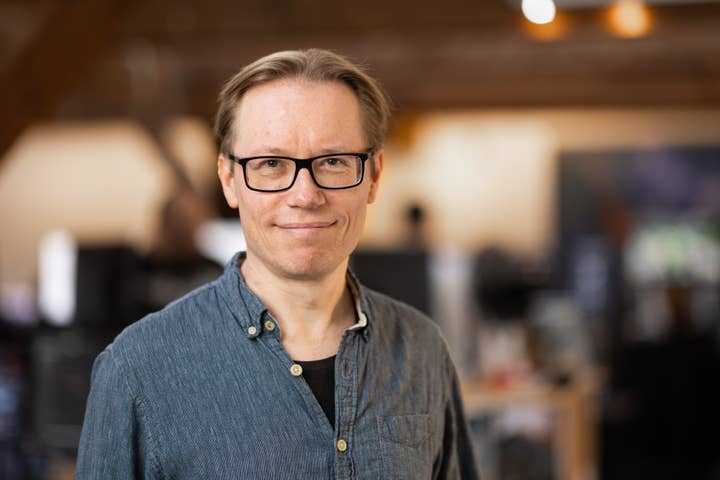 Sign up for the GI Daily here to get the biggest news straight to your inbox
Ghost Ship Games' decision to open a publishing label happened two ways; gradually and then suddenly.
Having had success with co-op shooter Deep Rock Galactic, the company has been playing a supporting role within the Danish industry for some time and investing in developers. Over time, the question was asked whether the firm should start publishing other studios' games.
"Specifically with our experience and success with Steam Early Access and games-as-a-service on that platform, others were asking us how we did that and whether we could help them," Ghost Ship CEO Søren Lundgaard tells GamesIndustry.biz.
"Then we asked ourselves why we shouldn't start publishing games. Maybe that is the right thing to do. As soon as we started this and went into it, it felt really natural to us to do actually. So I think it's been inevitable. It had to happen basically."
Part of the reason for the delay was the fact that Ghost Ship already has a publisher, Coffee Stain, which is owned by the same company, Embracer Group. Initially, the plan was for Funday Games to partner with Coffee Stain for Deep Rock Galactic: Survivor, but the company decided to do it itself.
"We do not have any financial goals. This is about helping developers bring passion projects to life"
"We've announced three titles so far," Lundgaard says. "For the first one, DarkSwarm, we'd already spoken to Bitfire Games a year ago in the sense that we could publish it. But we were also wondering if we could get Coffee Stain to publish something like that. We just wanted that game to be a reality. We'd also invested in that company.
"Then the more we talked with them, we could see that it would be so much easier if we were just the publisher here. On top of that, then came the opportunity to do Deep Rock Galactic: Survivor with Funday Games. I was like: 'Okay if we're doing that, that could happen under Coffee Stain Publishing as well, but maybe it's easier if we do Ghost Ship Publishing.' And then when SpellRogue arrived in December, it was like, okay, let's do it. Now we have a collection of three games we can announce and it would make a lot of sense to establish Ghost Ship Publishing as its own entity. So it happened gradually, but the final decision was taken in December."
The label's first three titles are all from Danish developers, not least due to Ghost Ship's close connection to the local industry. But in the long term, the company is open to working with studios from around the world.
"We do not have a preference as such, it's just been a very natural way for us to do it initially," Lundgaard says. "We can see now with pitches coming in from left and right to us, they are from all over the world.
"We would love to engage with developers outside of Denmark as well, but there has been a drought in Denmark for this. There are very few established publishers in Denmark and none of them has the focus that we have here. Of course, Danish developers have been able to go outside with Denmark and find publishers outside. But it's much easier when you are from the same culture, same language, everything is quite a bit easier."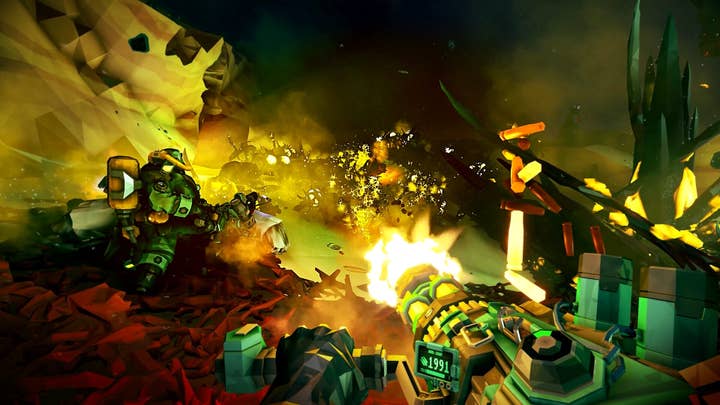 So far, the developers that Ghost Ship is working with are mostly small-scale. Guidelight Games and Bitfire Games – the makers of SpellRogue and DarkSwarm respectively – are both only two people, while Deep Rock Galactic: Survivors studio Funday Games sits in the region of 50 people, though only four or five people are actually working on the title.
All of which is to say that Ghost Ship is focusing on smaller indie titles.
"That's the good thing about being part of Embracer," Lundgaard explains. "If the project is right and the team is right, there isn't really any specific size that we are uncomfortable with. We're not going to go into any kind of AAA games with this. So that itself – and the whole Steam Early Access thing – will keep the budgets down. But that's not because we don't have enough funds from us and Embracer to put into this. That's simply because the nature of the games that we're looking for does not need that much money. Most of these will be between €500,000 to €3 million."
The reason that Ghost Ship has such a war chest to invest in its publishing label is its debut title, Deep Rock Galactic. Launched back in 2018 into Steam Early Access, the co-op romp has since come to PlayStation and Xbox, shifting a total of 5.5 million units as of the end of 2022.
"We need some more support for very early startups. It's really difficult to start a game studio in Denmark and not just die"
Of that figure, 2,340,934 copies, or 42.5% of total units sold, were shifted during 2022, representing a decent acceleration in the last full year.
"I don't think [that's normal], especially on a title that's now five years old," Lundgaard says.
"And it's given us a glimpse into maybe what we have created could turn into some kind of evergreen. It could really stay for a long time and that as long as we're pouring our heart and soul into it, updating it and keeping the game alive then it just grows, which is not really what we expected. We hoped this would happen, but this is beyond our expectations. We're very happy."
By Lundgaard's own admission, the sales acceleration that Ghost Ship has seen with Deep Rock Galactic is partly simply due to the game being given bigger and bigger discounts. But that's not the whole story.
"It's a number of factors," Lundgaard says.
"We've constantly built upon what is there and when you look at our daily active users or concurrent peak players, that curve has just been going slowly upwards which is not your normal curve. Normally you see in a game you see this big spike on launch and then it goes down over time, maybe having the occasional increase, but the general trend is down. We have had almost the exact opposite curve from this. Right from when we launched into Early Access, we started thinking about how players really want to play this but they want to have more progression, more reason to keep playing it.
"And then we just kept adding retention mechanics like from mobile games. But we did it without the whole microtransaction predatory thing, just to keep our players entertained. And it's working really, really well."
Recent examples include the addition of a free battle pass during season nine of the game back in November 2021. The game was also included with PlayStation Plus in January 2022, which Lundgaard says was a major boost.
"You could really see on services like Google Trends that we reached a new [level] of awareness. And all these things together kept growing the game. The thing that has happened on Reddit where our Rock and Stone shout has kind of spread out into a lot of other subreddits that have nothing to do with Deep Rock. It's also adding to this. It's multiple factors that are stacked on top of each other. And then with the sales and so on. And then here we are."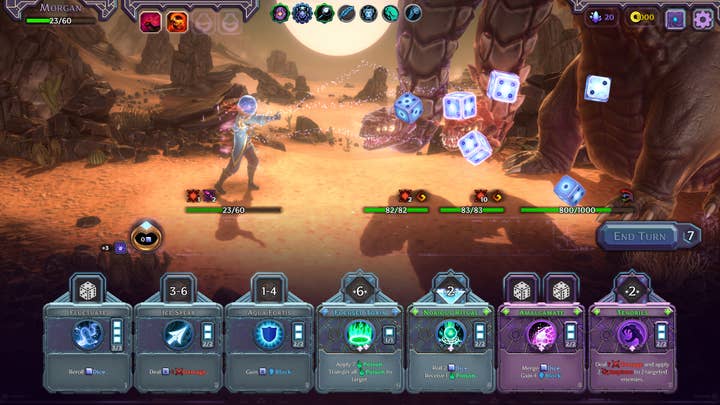 Subscription services are obviously a relatively recent addition to the plethora of business models used by games companies. As a result, their impact – and whether it is worth developers and publishers partnering with them – is yet to be seen fully. Companies like Microsoft have insisted that its Xbox Game Pass subscription service is a net positive for developers, causing an increase in sales for titles on the platform. New documents released as part of the CMA's investigation into Microsoft's acquisition of Activision Blizzard, however, have called this claim into question.
For Ghost Ship, however, being part of these services has been a positive experience.
"It's been really good because we have a game that thrives on people playing it and then drawing more players in," Lundgaard explains.
"The more people play it, the more they talk about and then they draw in new players. That's how it works for us, for this game. Because we're built in a lot of these retention mechanics, it is really well-suited for something like Game Pass and the PlayStation Plus setup, as well as the free weekends on Steam, for example. They also work really well for us. We are quite happy to be in Game Pass, for example, and we've extended it with Microsoft several times now. It's not that we are selling a ton of games in there, but – specifically for Deep Rock Galactic – we haven't seen a drop in sales after we entered Game Pass. The same is true for other platforms.
"But we also entered Game Pass six months after release. That's quite different from those titles that are released day and date, especially if it's a consumable game that you can play for ten hours and then you're done, that's a very different type of game. For Deep Rock Galactic-type games, These subscription services are actually quite good. But for an industry in general, I'm not so sure if they are not... The jury is still out, I think. I would be scared if everything was subscription. That wouldn't be good for developers."
"We kept adding retention mechanics like from mobile games, without the whole microtransaction predatory thing, just to keep players entertained"
The Danish games scene isn't the largest but is one that Ghost Ship is trying to help. Asked what the state of the country's games sector is, Lundgaard explains that it's potentially a time of change.
"There are a lot of games studios that have success and are moving forward," he says. "Our main problem is finding hires and recruiting experience talent. There are a lot of discussions in the industry right now in Denmark around that subject, as well as conversations about how we can better organise ourselves. All of the Danish game studios grouped together for a Danish delegation at GDC this year with 24 companies and around 40 people. There's a lot of banding together in Denmark around this and I'm sure we will keep growing as an industry.
"We need better organisation around this and more political support, which is also something we're working on. We are still very envious of the success of Sweden; it's very easy for us to compare ourselves to them. They're something like ten years ahead of us on this but, on the other hand, we can just look at it as inspiration and say: 'Okay, we can do that. Let's be there in ten years'. That would be awesome. So that's what many of us in the games industry in Denmark are working towards."
Much of the time, developers asking for "political support" for the games industry translates to "tax relief." But Lundgaard and Danish games firms have a more valuable goal in mind.
"First of all, we just want recognition as an industry that matters," he says. "We are not necessarily going around and asking for money because we can do that ourselves. That's what Ghost Ship is trying to do as well. But just getting this recognition and getting better or more education in place.
"We do have some pretty good ones already. That's a good start. We do need some more support for the very early startups. It's really difficult to start a game studio in Denmark and not just die. We need more of that to happen. But otherwise, just getting the attention I think would be a good start."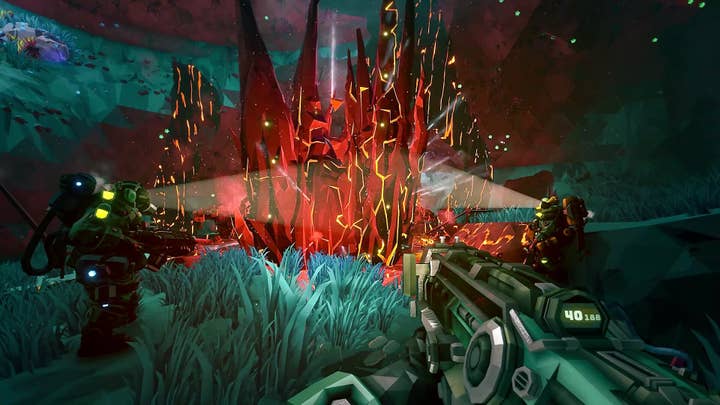 Asked what success looks like for Ghost Ship's new publishing arm, Lundgaard says that he wants to replicate the collaboration the company had with its own publisher, Coffee Stain.
"They have been so good at letting us do whatever we wanted to do and being completely transparent," he says. "They have been a service to us. They have not required us to do stuff. They have not taken decisions on our behalf and we really want to replicate that with these developers. If they end up saying the same as I'm telling you now, that's a success.
"Of course, we also want the games to become successful, but the only need there is for the developers to earn enough money on them for them to be able to do more themselves next time so they can feed this back into whatever they're going to do next."
He concludes: "We do not have any financial goals as the target here. This is about setting up and helping developers bring their passion projects to life. That's the goal."
Sign up for the GI Daily here to get the biggest news straight to your inbox