Why Gears Tactics is an important release for modern Xbox
If Microsoft wants to truly win back over the PC crowd, it'll need to keep creating games targeted squarely at that audience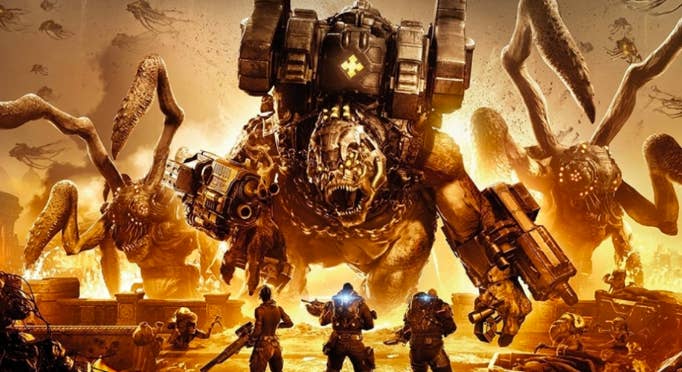 When Microsoft pitched us an interview on Gears Tactics, it was described as "the first Xbox Games Studios title built as a PC-first experience."
The PR exec who made the pitch appreciated that was a bit of a stretch. Microsoft has been making PC-first games for longer than it's been making Xbox games. The Xbox Games Studios brand was formed in February last year, but even since then there have been PC-only releases, namely a new version of Age of Empires II and the free-to-play PC game Forza Street, a rebranding of 2018's Miami Street.
Gears Tactics is really "the first entirely new Microsoft game made for PC in two years," which doesn't sound nearly as impressive.
Phrasing aside, Gears Tactics is an important release in Microsoft's latest efforts to convince gamers that it's serious about PC. This game isn't a remaster of a classic title, or an Xbox One port, or a free-to-play service aimed at a casual audience -- it's a hardcore strategy game aimed squarely at the PC gaming enthusiast.
Microsoft has been here before. I recall hearing of its commitment to PC during the 2011 and 2012 promotional campaign for Age of Empires Online and Microsoft Flight, but that support soon faded away, so there's an understandable level of scepticism around Microsoft's latest PC pledges. At E3 last year, we spoke to Xbox boss Phil Spencer about the PC Game Pass subscription service, and it's a reality he acknowledged. "There's a healthy amount of scepticism on whether we are really true to that [PC] customer," he said. "Or is this just another ploy for us to get them to buy an Xbox? Which it is not."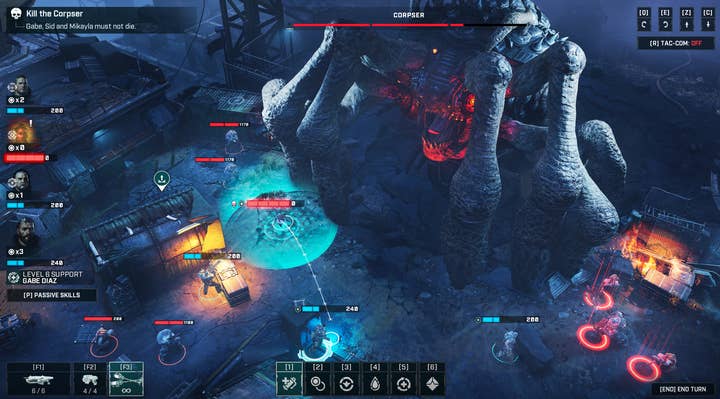 Xbox has some convincing to do, and Gears Tactics is part of that operation. It's a big budget AAA game led by one of its internal studios -- co-developed with the UK team Splash Damage -- and it was built with PC audiences in mind. It is a turn-based strategy title, which is a genre that's suited to the mouse and keyboard setup of PC, and The Coalition has even formed a dedicated team to ensure the game fits with what PC players expect.
"We've always taken PC gaming seriously, starting with our work on Gears of War: Ultimate Edition," says The Coalition operations director Mike Crump. "We know that the PC gaming audience has different expectations for their games, and also that there is a wider range of devices to support like a small laptop without a discrete GPU to a custom-built desktop rig with a special cooling system. We wanted to make sure we addressed the needs and desires of these players, and established a team of dedicated PC gaming fans at The Coalition who helped made sure that Gears of War: Ultimate Edition, Gears of War 4, Gears 5 and Gears Tactics offer the options and scalability that PC players expect."
He continues: "[Gears Tactics] was developed at its core as a PC-first experience, a foundation that was fostered across teams at The Coalition and Splash Damage in the game's design focus on strategic game mechanics, a technical build optimised across PCs, and intricate gameplay controls for mouse and keyboard.
"For this mouse and keyboard experience, the teams did a lot of work to make sure that it feels amazing for the players and that they can fluidly express the way that they want to play. Gears Tactics also features extensive customisation on PC, including options around the controls as well as things like video settings and accessibility controls. The primary thing sought after by PC gamers is that flexibility, and we wanted to give that to them.
"We focus a lot on scalability. There's a huge variety of machines out there, and fans can be playing on a laptop that's mostly used for work or a dedicated gaming setup. Part of making sure it scales is that we give players as much control over the settings as they can -- it's why we have so many toggles and a benchmarking mode to help players fine tune the game exactly how they want to."
"Steam presents a huge audience for us to not only reach new players, but to meet our existing Gears fans"

Mike Crump, The Coalition
Gears Tactics has been compared to the popular XCOM series, so it probably came as a disappointing surprise when 2K Games quickly announced and launched a new XCOM game just days before Gears Tactics arrived on digital shelves. Crump simply states that it's "a great time to be a strategy game fan," before providing a long list of reasons why his game is not some clone of another series.
"We're confident that our unique approach to Gears Tactics, one that stemmed from our board game prototype to introduce a different and compelling take on the turn-based strategy genre, will engage gamers with a focus on open gameplay, cinematic storytelling and in-depth customisation," he says.
Nevertheless, the audience is clearly going to crossover, and it's all the more noticeable by the fact both games are available to buy on Steam. Gears Tactics isn't the first Xbox game on Steam, but it is the first that seems tailor made for the store's huge audience. Microsoft's support for Valve's platform seems somewhat surprising when you consider its mission to increase the number of players using its own platform and services. Yet Steam is the unofficial home for PC gamers, and if Xbox is serious about wanting to win over PC players, then that's where they are.
"Steam presents a huge audience for us to not only reach new players, but to meet our existing Gears fans with another option to play on PC," Crump explains. "This approachability to Gears Tactics is something that is underlined through our beta launch with Xbox Game Pass for PC, as members of Xbox Game Pass Ultimate who may have played Gears 5 on their Xbox One are in turn able to activate their PC account and have access to Gears Tactics as part of the same membership -- it's all about extending players choice."
A lot of what Xbox is trying to do overall comes down to Game Pass, both on console and PC. The big selling point of the subscription service is that players can get access to all of Xbox's AAA releases as soon as they're available, and it's already attracted ten million subscribers.
"It's our goal to create a high-quality, specially curated [Game Pass] service dedicated to PC gamers

Ben Decker, Xbox
It's already proving popular on PC, Microsoft says, but if the company truly wants to maintain a large base of subscribers on the platform, it'll need to make more games with that audience in mind. It's therefore not surprising that Xbox is looking to resurrect brands like Age of Empires and Flight Simulator, expand Minecraft, and acquire studios with established PC expertise such as InXile and Obsidian. Gears Tactics may not be the first game Microsoft has made for PC players, but in terms of its strategy to win back that audience and to encourage them into Game Pass, it is the first sign that the company is serious about this.
"Xbox Game Pass continues to gain momentum and is an integral part of the Xbox ecosystem," says Ben Decker, head of gaming service at Xbox. "We've committed to bringing the service to our future console, Xbox Series X, and confirmed the service will support Project xCloud technology. We're committed to delivering first party titles -- both existing IP and new IP -- into Xbox Game Pass the day they launch, and this includes games built from the ground up to be PC-first from across our entire portfolio.
"Delivering breakthrough gaming experiences and opportunities to discover new games and communities is critically important to the future of Xbox for players on any device. Our philosophy to put the player at the centre of the gaming experience will continue to guide us as we introduce new ways to discover and play games on Windows."
Decker says it's been a "goal to create a high-quality, specially curated service dedicated to PC gamers." For some PC players, Gears Tactics is a reason to give Game Pass a try, at least if the initial reviews are anything to go by. But as we've seen across entertainment, to grow subscribers there needs to be a regular release of compelling new content.
What PC players will want to see is if Gears Tactics is the first in a long, long line of Xbox games built for them, or if once the next generation of consoles come out, that goal of delivering a "specially curated service" for PC falls by the wayside.
Right now, with the creation of PC development teams, investment in "PC-first" games, and with a willingness to embrace rival platforms, the signs are good that Microsoft might be in it for the long haul this time.