Why does Sports Direct want GAME?
The retail giant now owns almost 26% of the UK High Street chain
When GAME issued its profit warning last month there was a sense of inevitability about what would happen next.
We'd lived through it all before, of course. Yet when GAME stumbled into administration back in 2012, the view was this would be a serious problem for the UK games market and that a strong retail chain was necessary. That's why the firm was able to re-emerge from the ashes of its administration, leaner, more focused and still powerful.
This time, although losing GAME would be a blow to the industry (after all, they sell a lot of games, consoles and accessories and some of those sales will just disappear), the feeling is less apocalyptic for the wider business. The growing strength of digital, online (driven by Amazon), and with mainstream retailers like Asda, Tesco and Argos waiting in the wings to capitalise on any opportunity, the feeling among some publishers was that they'd endure the loss of their biggest retail partner.
The reason the market was even thinking like this was because, for some, they simply didn't see a way out for GAME. It's a profitable business, and its investments in events and esports (headlined by its Belong sub-brand of experiential stores) are promising, but its core retail business was fading rapidly. Sales over Christmas had fallen 27%, but a stronger start to 2017 and the initial buzz around Nintendo Switch had given it confidence it could still post strong results for the full year.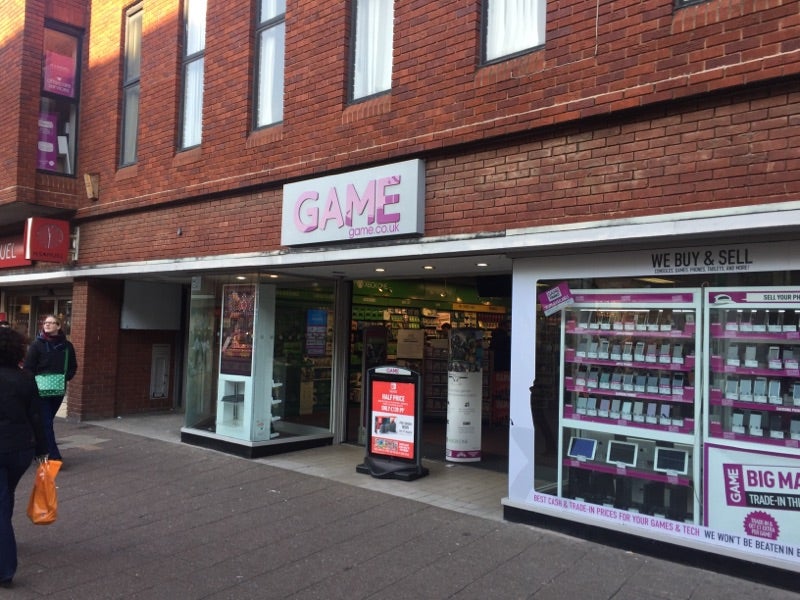 Yet in hindsight it was clearly overly optimistic. Not least because Nintendo had been notably conservative over its own sales estimates for Switch, and so it was unsafe to assume that there would be enough stock to satisfy demand. As a result, GAME issued a profit warning and its share price plunged to under 20p for the first time.
With a long spring and summer lacking in big game launches, and Christmas looking quieter this year, the worry was that GAME's core retail business simply wouldn't give it the time it needs to turn its esports ventures into something profitable.
So the news this morning that Sports Direct, owned by controversial billionaire retail entrepreneur Mike Ashley, had picked up over a quarter of the company came as a shock. Sports Direct had invested in other retailers before, but they've typically been part of the clothing and fashion industries (Debenhams and French Connection), so investment in a tech and software retailer doesn't seem to fit.
So what is the appeal?
Well despite the differing products, GAME's core market of a predominantly young, male audience does fit with Sports Direct's own. There are potential synergies to be explored between those two businesses, both in terms of products and marketing.
"Don't expect a chain of Esports Direct shops to suddenly crop up overnight"
Indeed, GAME's recent investments in esports will have also served as an attraction. The traditional sports industry has been making significant moves into the esports space in recent years, whether that's football clubs buying esports teams, clothing firms creating sportswear for pro-gamers, the sports media investing in esports programming, or associations developing their own esports leagues and competitions.
Sports Direct will be keeping a close eye on this market, and GAME will give the firm access to a host of businesses and opportunities that Mike Ashley will be eager to capitalise on.
But don't expect a chain of Esports Direct shops to suddenly crop up. The UK esports scene remains small, and although it may well have been an extra incentive behind the billionaire's investment decision, it is unlikely to be the main reason behind the share acquisition.
In fact, it's more than likely that Ashley took one look at GAME's rock bottom share price and thought there's an opportunity here. The short-term pain of the coming months may make way for a slightly more promising period for GAME, with more Switch stock coming to market and a strong release slate for the first half of next year (including Red Dead Redemption 2).
Plus, at around 20p a share, Sports Direct will have claimed over a quarter of GAME's share capital for under £10m. Ashley will have taken one look at GAME, which is still a profitable business, and at the retail expertise he has at his disposal, and judged that there is something he can work with here.
And GAME in return may have found a strong, if controversial, partner to help it accelerate and monetise the fledgling esports areas of its business.
Whether Mike Ashley's sports pedigree can translate to this complicated area of the games market, however, remains to be seen.