Which E3 reveals took the internet by storm?
Facebook and Fancensus share social media stats following this week's press conferences
The media showcases have come to a close, E3 proper is in full swing and data is emerging as to which game announcements had the most impact.
Facebook has released insights into how users of its leading social network have been sharing and commenting on the week's happenings, showing that 43m people have made 115m posts, likes and comments regarding E3 2017.
It should be clarified that this is over the past 30 days, not just since the run-up to E3 kicked off with the EA Play event on Saturday. Posts and comments have also been counted for the pre-show coverage.
Interestingly, more than a third of people talking about E3 and its games on Facebook are women, with men making up 65% of the conversation. That still means the latter is dominating the conversation, but nowhere near as much as they did last year when men accounted for 90% of posts and likes around E3 content.
And video games - or at least discussing them openly on social media - is still very much the realm of younger people - with only 22% of posts coming from people aged 35 or over. While Facebook doesn't go into detail, it's safe to assume most of the other 78% are in their teenage years or early twenties.
It will perhaps come as no surprise that the United States, home to E3, is the country responsible for most of the chatter about the show. This is followed by the United Kingdom (also not a surprise) then Brazil, Australia and Mexico. It's a sign of how much the Brazilian and Mexican games markets are growing when compared to the rest of the world.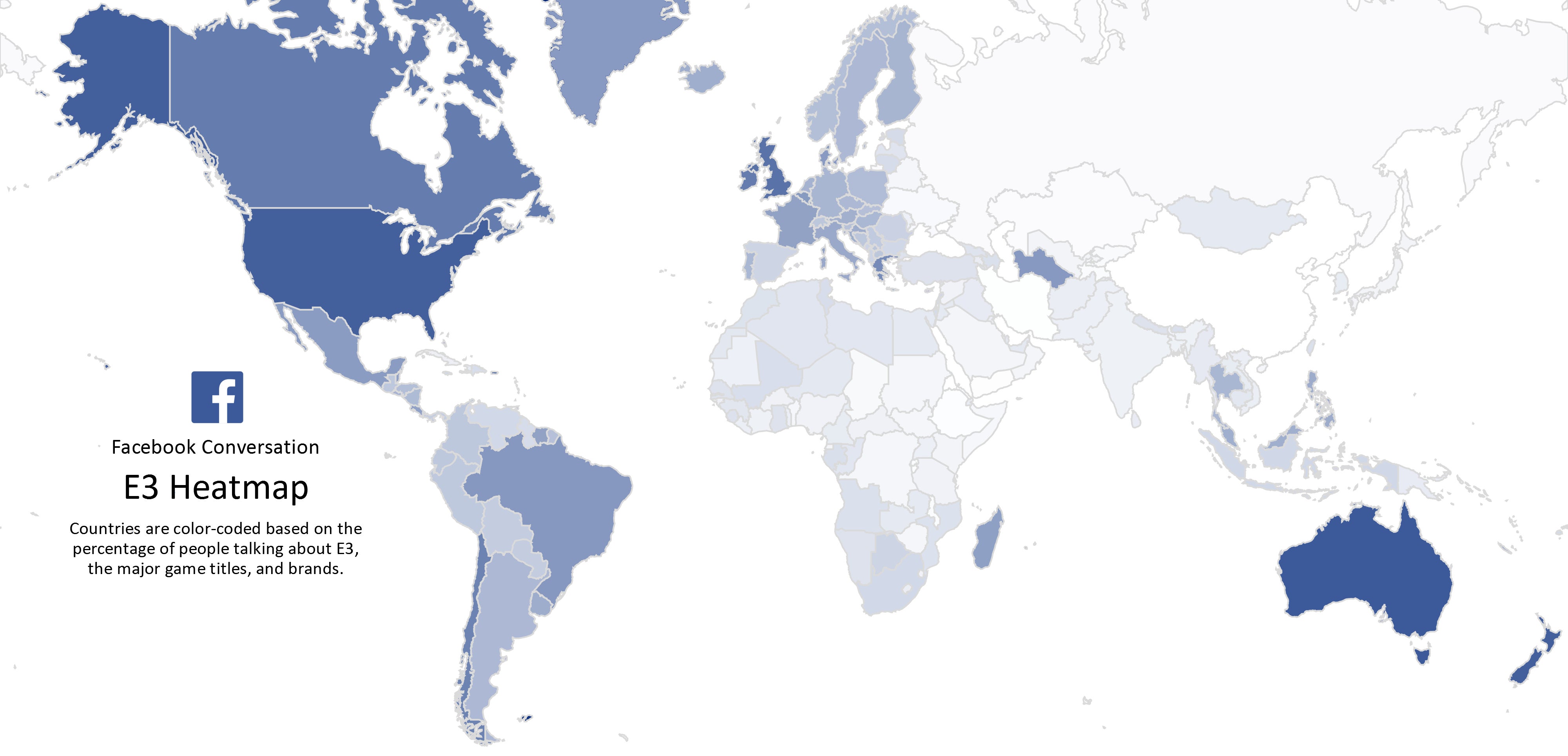 Facebook did, of course, take a closer look at E3 activity around the show itself. Over the past week, it reports massive spikes in discussions about the latest games - for example, 2.9m people have been talking about FIFA 18, which is 490% more than last week. Similarly, conversations about Star Wars: Battlefront 2 rose by 1,153% to 425,000 people.
FIFA 18 has actually been the most discussed game on Facebook since E3 kicked off, followed by Battlefront. Elsewhere in the top five were State of Decay 2, Assassin's Creed: Origins and Sea of Thieves.
Meanwhile, Sony saw the biggest spike in chatter when it came to publishers, although Facebook notes that Microsoft and EA have enjoyed the most "strong, sustained conversation" since their conferences at the weekend.
Oddly, the most viewed games trailer via Facebook has not been one specific to an E3 announcement, but instead the video for GTA Online's new Gunrunner update.
Elsewhere, Fancensus has also been analysing online activity around this week's announcements, offering a daily report on the most talked about games. Combining the activity of Saturday, June 10th and Sunday, June 11th, the site looked at the most discussed titles in terms of four categories: PR activities (i.e. articles written), YouTube views, Twitter retweets and Facebook shares.
Perhaps unsurprisingly, Microsoft was ahead of the competition thanks to the long-awaited reveal of Xbox One X, formerly Project Scorpio. The new console generated 1,415 articles - more than any other product - as well as the most retweets (54,500). However, it only ranked fourth in terms of Facebook shares with 78,000, and sixth on YouTube with 3.9m views.
The most watched game was Star Wars: Battlefront II, with a whopping 15.1m views over the course of the two days. It was also the game that was most written about with 1,000 articles, and ranked second on Twitter (54,100 RTs) and third on Facebook (86,500 shares).
Facebook users spent most of their time talking about Need For Speed Payback over the weekend with 88,100 shares, followed by Assassin's Creed: Origins at 87,400.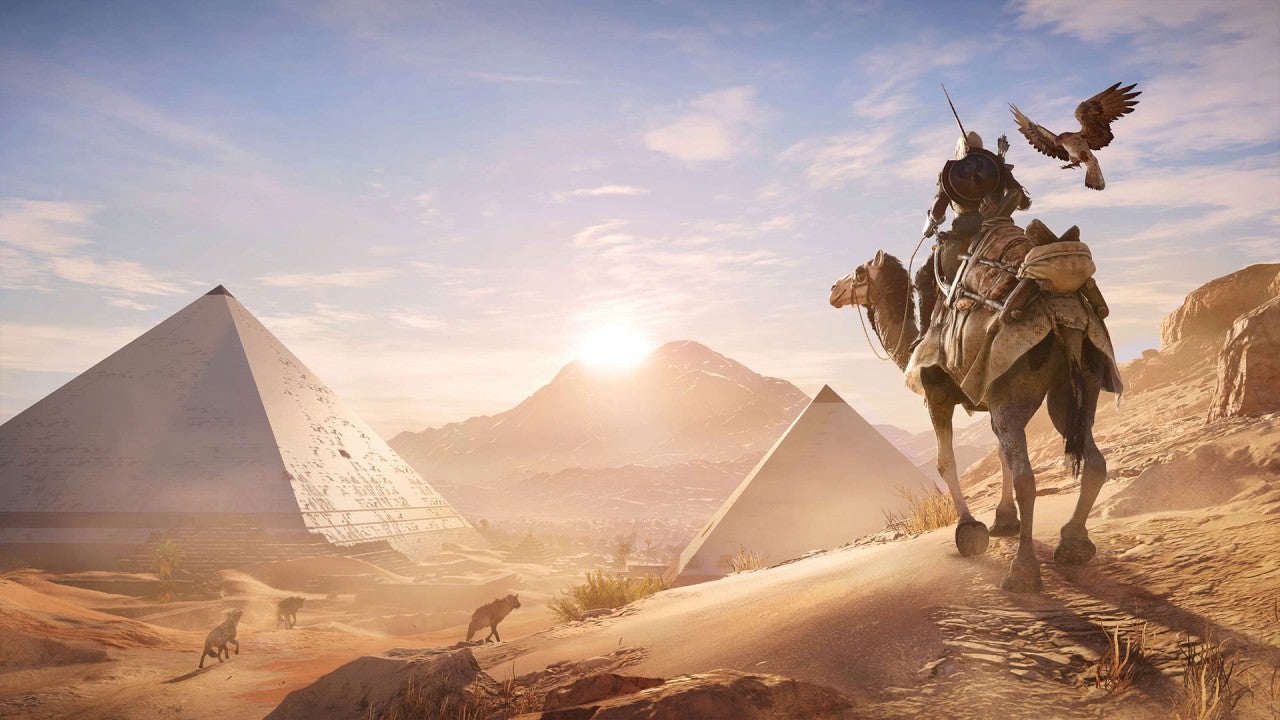 Activity on Monday, June 12th was divided primarily between Ubisoft, Sony and Microsoft. Assassin's Creed: Origins garnered the most coverage at 800 articles, no doubt helped by its presence at both Ubisoft and Microsoft's press conferences. However, the game ranked fourth in terms of YouTube views at 3.2m, and ninth on both Twitter and Facebook with 8,500 RTs and 14,500 shares.
When it came to video coverage, FIFA 18 and Call of Duty: WWII led the way with 3.7m views each. However, COD beat FIFA when it came to activity on Twitter (No.1 with 25,000 RTs vs No.4 with 15,700) and Facebook (No.3 with 35,100 shares vs No.10 with 13,100). Interestingly, neither were among the Top 10 games in terms of articles.
Sony's gameplay reveal for Spider-Man put the superhero outing as the most covered announcement on Facebook with 53,300 shares and second most covered on Twitter with 22,100 RTs. It was also second only to joint leaders FIFA and COD on YouTube with 3.3m views.
For Tuesday, June 13th, much of the conversation was dominated by Nintendo's line-up with Super Mario Odyssey by far the most discussed title. It racked up the most PR activity (890 articles), most YouTube views (7.4m), most retweets (26,000) and most Facebook shares (14,000).
Interestingly, Metroid Prime 4 garnered an incredible amount of attention given that all Nintendo showed was a 40-second logo reveal. It was the second most covered title (640 articles), third most watched video (4m views), third most retweeted (17,000), and second more shared on Facebook (13,000).
The only non-Nintendo blip in Fancensus' charts for Tuesday was Call of Duty: WWII. The multiplayer reveal trailer helped establish the game as the second most watched on YouTube with 6.7m views, fourth most active on Twitter with 12,000 RTs and third most shared on Facebook at 13,000.
You can see more of Fancensus' analysis at their website.