Watch Dogs Legion | Critical Consensus
Ubisoft Toronto's latest draws largely warm reception as the play-as-anyone idea works, but critics split on how far that carries the game
The review embargo for Watch Dogs Legion passed this morning, and the initial wave of reviews for Ubisoft Toronto's open-world action sequel is largely positive, with cheers for its central play-as-anyone feature tempered somewhat by a variety of complaints.
The game's central conceit ties its gameplay together with its narrative. Set in a near-future London overtaken by authoritarian forces, Watch Dogs Legion forgoes the standard AAA protagonist route and instead allows players to recruit a team of revolutionaries from any of the multitude of procedurally generated NPCs that wander the streets. Everyone has a different set of abilities that can contribute to the resistance, and the series' hacker collective known as DedSec will need to use the combined power of the people to upend their oppressors.
IGN's Dan Stapleton said the system gives the game a more sandboxy feel than its predecessors, while TheGamer's Kirk McKeand said it was one of the most mechanically interesting AAA games in memory, even if the characters wind up feeling replaceable in large part because they have to be.
Numerous reviewers mentioned the way that system pushes players to try new approaches and explore the game's mechanics, particularly if the player opts to have permadeath turned on and their favored agents fall prey to mishaps and misadventures.
"Losing one [character] delivered the kind of angst I'd only felt when a trusty operative was killed in XCOM"

Owen S. Good
"Watch Dogs: Legion got me to play with this medic, and as a lot of people I never would have created in an ordinary character builder or avatar customizer," Owen S. Good said in Polygon's review. "And thanks to permadeath, they were worth careful play, because losing one delivered the kind of angst I'd only felt when a trusty operative was killed in XCOM."
That angst was by no means universally felt. Game Informer's Marcus Stewart also played with permadeath on, but described a very different experience once he bumped into the game's limit on team sizes.
"Because I wasn't allowed to ditch recruits, I had to start throwing any dead weight off skyscrapers or into speeding buses," Stewart confessed. "While this murderous take on spring cleaning is hilarious, being able to simply fire someone would be even better - especially since optimizing your team is such a central part of Watch Dogs: Legion's appeal."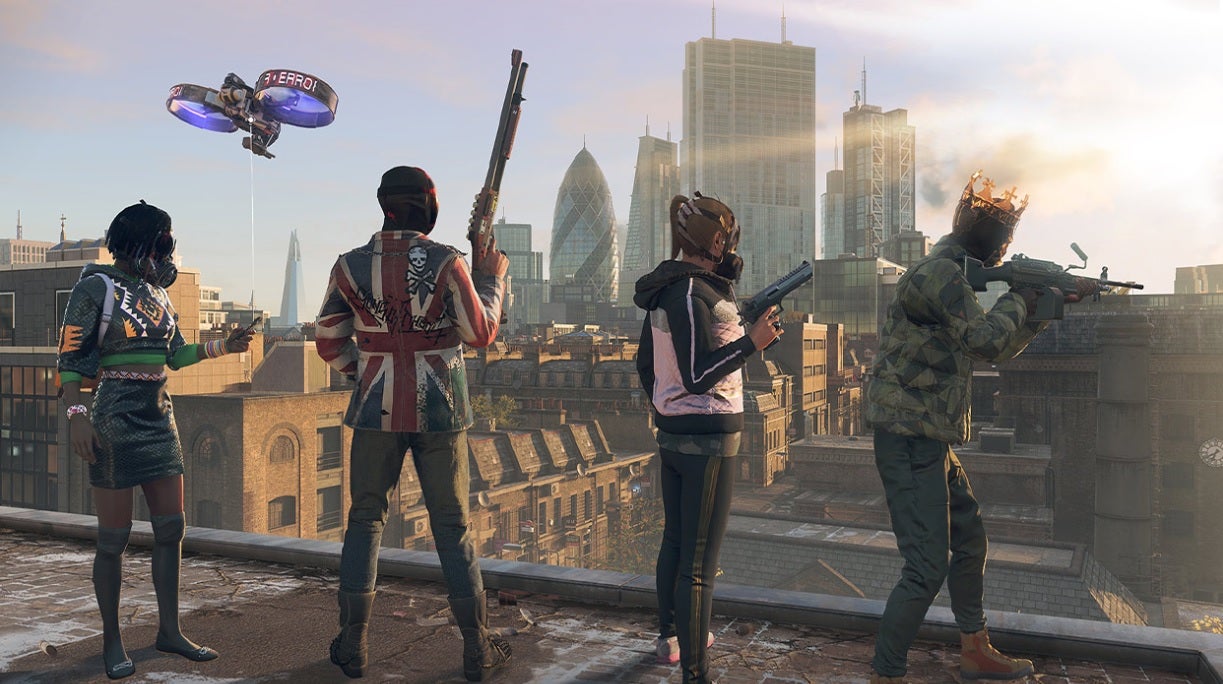 Despite that, Stewart clearly appreciated the game's play-as-anyone system, awarding Watch Dogs Legion a score of 9 out of 10.
"I felt like a kid in a candy store scanning Londoners thanks to the cool combinations of skills each can bring," Stewart said. "For example, one of my favorite members was a futuristic beekeeper who commanded swarms of robotic hornets. Techies hack devices faster, investors rake in more money, protesters can rally bystanders to fight, and spies bring gadgets and combat expertise. It's delightfully silly to command a group resembling a tech-savvy Village People, and the game doesn't take itself too seriously, making it fun to revel in the absurdity."
While the review scores were largely clustered around the higher end of the spectrum, there was far more diversity in just how reviewers engaged with the game's story. Stapleton briefly touched on "some overt political themes in play here," while Stewart avoided any mention of real-world parallels to the game's narrative entirely.
Alessangro Fillari delved deeply into the game's politics and how effectively it communicates them in an 8 out of 10 review for GameSpot.
"Watch Dogs: Legion does a lot to confront topics like fascism, inequality, and the idea that new technology exposes and amplifies old fears and hatred"

Alessangro Fillari
"[Watch Dogs Legion] might not interrogate the issues and explore the nuances with a great deal of depth, but the broad strokes of the brush are enough to blur the line between fiction and reality, and at that point you have to confront just how far our own society has fallen," Fillari said. "Ubisoft games have often used real-world politics as set dressing, but on this occasion, it feels like a genuine attempt to at least identify the problems it is leveraging as narrative milieu and present their cold hard truths."
Fillari added, "In the past, Ubisoft has had an unfortunate history of missing the mark when it comes to utilizing real-world events, politics, and other hot-topic issues for the backdrop of their games. However, Watch Dogs: Legion does a lot to confront topics like fascism, inequality, and the idea that new technology exposes and amplifies old fears and hatred. Legion not only does an effective job of showing the banality of evil in plain sight, but also, in a more optimistic light, shows how the citizens look to London's culture and to each other to overcome oppression."
VICE's Austin Walker similarly gave the game credit for unapologetically portraying anti-immigration stances, austerity policies, and imperialist nativism as evil, but felt the way it handled the core play-as-anyone feature failed to match its thematic message about the power of people collectively resisting oppression.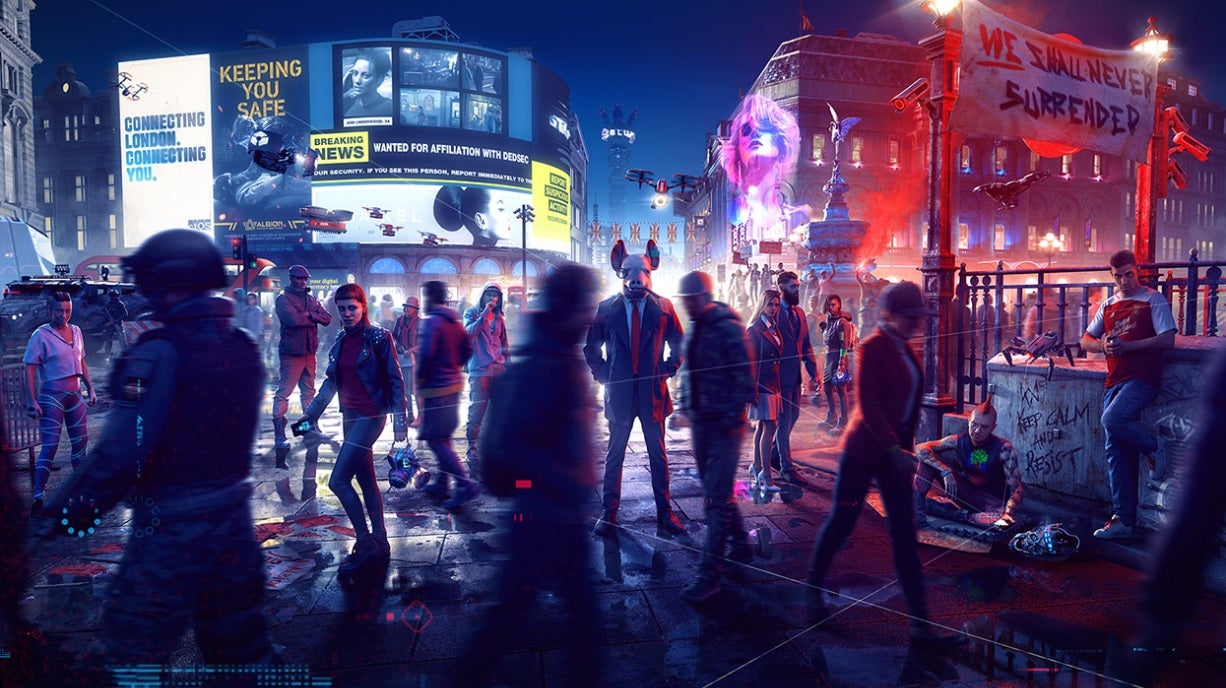 "One person doesn't have the skills you need to change the world," Walker said. "But this fundamentally misunderstands what makes collective power so strong. Whether you're coming together as a political party, a union, or an insurgent force like DedSec, it's not only that organizations can pull from their members' individual skillset, it's that cooperation allows for all new types of action... moments of victory never feel shared among DedSec members. I might have a deep roster available to me, but Legion is never a team sport."
Walker's review was also a rarity among the write-ups we saw in mentioning this summer's scandal at Ubisoft, in which Ubisoft Toronto VP of editorial Maxime Béland resigned and another Ubisoft Toronto employee was fired for misconduct, noting how those revelations undercut the studio's ability to credibly weigh in on issues of justice and equality.
Across the spectrum though, reviewers typically presented the game's shortcomings as issues that don't entirely negate its virtues. Many reviewers mentioned a sense of repetition that set in partway through the game, alternately attributing it to a lack of variety in the missions players run or repeating voices and dialog lines of NPCs.
VG247's Lauren Aitken had one of the lower scores on Metacritic when we looked, giving the game three stars out of five. "Between the short storylines, underwhelming tech and mission types and the general 'everything is on fire' vibe, it just doesn't rate highly for me," Aitken said.
Some reviewers also ran into tech troubles.
Stapleton mentioned the game's frequency of crashes on PC and Xbox One as a concern, and Eurogamer still hasn't published a review because of a game-breaking bug its reviewer experienced playing on the Xbox One X. The Guardian reviewer Keza MacDonald also reported running into that bug, which overheated the Xbox and left it unplayable for hours.
These issues aside, we would characterize the overall critical response to Watch Dogs Legion as comfortably positive.
As Stewart summed it up, "Legion feels like the realization of the hacker fantasy the first Watch Dogs tried to capture. Between the fun team-building, fantastic mission design, strong narrative, and a gorgeous world, everything comes together in a largely entertaining and cohesive package. Whether you're controlling a trained super spy or a gassy grandmother, Watch Dogs: Legion is a ton of fun."